ATLANTA -- There are more questions than there are answers about just who the Atlanta Falcons are in 2021. Arthur Smith was adamant throughout training camp and in the preseason games that the Falcons would play the preseason safe. Starters weren't going to get hardly any game reps. You sure as heck were not going to see Matt Ryan. And Smith was going to be very vanilla in his play calling.
All of this means we know very little about the identity of this team. Defensive coordinator Dean Pees probably said it best on Thursday: "I'm anxious to see where we are and what we have."
With that in mind, we've finally made it to the day where we can get just a bit more clarity on that identity. Kickoff is on Sunday. So, let's take a look at five things that will help us figure that identity out.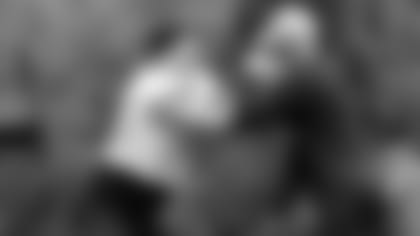 1. Jalen Mayfield's trial by fire
It was quite funny when Smith said early in the week that "everyone has to get baptized" at some point. He was talking about the undertaking Mayfield was going to have to endure Sunday at starting left guard.
It wasn't the original plan to have Mayfield start so soon in his professional career. Josh Andrews was set to be the Falcons starting left guard. But when Andrews landed on IR last week with a broken hand, Mayfield was thrust into the starting role.
It'll be a big day for Mayfield as he goes up against a player like Fletcher Cox. The Falcons understand there will be some growing pains with Mayfield, but they're hoping to limit them. It'll be a test to do so, though, against this Philadelphia front. The line between success and missteps for Mayfield and the rest of the Falcons offensive line is very thin.
2. What will the running back rotation look like?
I swear this has been a question of mine since the day the Falcons went out and got Mike Davis and Cordarrelle Patterson in free agency. Is Davis ready for a full RB1 role? How will the Falcons deploy Patterson? In what capacity can we expect to see him be a traditional back vs. a receiving threat? What will this workload for both even be?
We know Davis is the starter. And we can assume Patterson is going to play more of a running back role than maybe anyone thought he would when he was signed. But other than that, the questions all linger when it comes to what this rotation will look like.
As I wrote on Friday, Dave Ragone and Smith do not have a set number of carries for Davis or Patterson. They attack the plan for the running backs on a week-by-week basis. At the end of the day, the plan is actually pretty simple: Start Davis, and if he can't run the ball effectively...
"...another guy will carry the football," Smith said.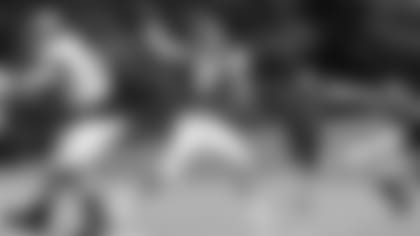 3. How in sync will Matt Ryan and Arthur Smith be?
When asked what the indicators were that he and Ryan were on the same page heading into the opener, Smith pointed to what he's seen from Ryan over the course of the last month of the preseason.
"You can just tell by his decision-making: The why," Smith said. "The why is big to me... here's why you're doing this, here's why I called this. Those are the conversations we have multiple times a day throughout the week. You can see it that we're in sync just by his decision-making, how he sees the play, how I see it."
Ryan said he really started to feel that syncing of the minds about halfway through training camp. Things were clicking at a quicker speed between play caller and quarterback.
At the end of the day, Smith said he's confident because this "isn't Matt's first rodeo." But it'll still be something to keep an eye on to see how at ease the two are together. This is an important relationship, and it should be taken note of in Week 1.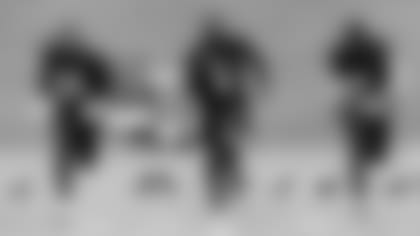 4. Dante Fowler at 100 percent
There's quite a bit of pressure on Fowler to bring the pressure in 2021. He took a pay cut this offseason because he didn't produce at the clip the Falcons needed him to in 2020. There's a lot for him to prove by way of being the pass rusher the Falcons need.
An interesting note to take into account was how Fowler was never really at 100 percent in 2020. It became clearer this offseason just how much an ankle injury, followed by a stint on the reserve/COVID-19 list, followed by a hamstring tweak discouraged Fowler from playing to his full potential.
Speaking after practice on Friday, Fowler was candid about those set backs. He said he's ready to go on Sunday just for the simple fact he is at 100 percent physically. It's something he said he hasn't felt in a while.
So, the question is whether or not health makes a difference for Fowler. Will we see a productive Fowler in pass rush on Sunday? Or do old issues flare up again? We will see.
5. Can this secondary hold its own?
There were too many mistakes made by the secondary early in the season last year. Can this new group rewrite the narrative?
The secondary's lineup has been pretty secure since even the first days of training camp. AJ Terrell has looked solid in his second year. Fabian Moreau won the starting job opposite Terrell. Isaiah Oliver has taken up residency at nickel. And Erik Harris and Duron Harmon are the featured safeties, with Jaylinn Hawkins playing a primary rotational role. It's not a question of who we will see in the secondary on Sunday, but how they perform collectively.
The secondary has been a weak spot for the Falcons for years. Call it a byproduct of a lack of pass rush, or failings in coverage, regardless it is imperative that this secondary doesn't break early. Terrell said during training camp the word for the secondary in 2021 is "savvy." That's what they want to be as a group. The savviness test starts now.