The Atlanta Falcons' 2020 schedule was released Thursday night and three things jump out right away when looking at the full 16-game slate:
The first two games. The Seahawks and Cowboys.
The last two games. The Chiefs and Buccaneers.
Oh, and three of those four games above are all on the road, too.
We all know how important it is for NFL teams to get off to a fast start to the season. We also know that that the Falcons have struggled in that area over the last couple seasons, too. Take a look at how the Falcons' started the last four seasons:
2016: Started 4-1
2017: Started 3-1
2018: Started 1-4
2019: Started 1-7
In 2016 and 2017, after getting off to strong starts, the Falcons went on to make the playoffs. In 2018 and 2019, the Falcons started slow and finished both seasons with 7-9 marks. Just in case you haven't memorized it yet, Atlanta's first four games in 2020 are as follows:
Sept. 13 vs. Seahawks
Sept. 20 at Cowboys
Sept. 27 vs. Bears
Oct. 5 at Packers on "Monday Night Football"
Can the Falcons come out of the blocks with at least a 3-1 start? If recent history is any indicator, that's exactly what they'll need to do. Especially when you look at the second half of the season, when they play four of their six NFC South games after the Week 10 bye – two against the Saints and two against the Buccaneers.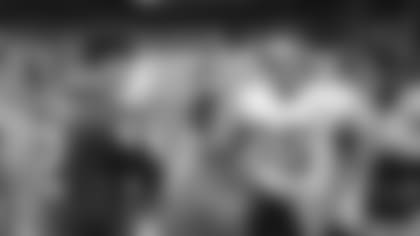 Speaking of those new-look Bucs, the Falcons will wrap the season squaring off against Tom Brady and Co. in two of the last three weeks. In between? A trip to Arrowhead Stadium to face the Patrick Mahomes and the defending Super Bowl champions.
While it's important to start fast in the NFL, it's equally important to be playing your best football in December and January. So how have the Falcons fared at that time of year the last four seasons? Very well, actually.
2016: Finished 4-0
2017: Finished 3-1
2018: Finished 3-1
2019: Finished 4-0
The final four games on this year's slate might be even tougher than the opening four. Three games are on the road, beginning with a trip to the West Coast to play in Los Angeles. Here's a look:
Dec. 13 at Chargers
Dec. 20 vs. Buccaneers
Dec. 27 at Chiefs
Jan. 3 at Buccaneers
The Falcons will undoubtedly need another strong finish in 2020, especially when you look at the opening stretch. How they fare in those eight games could ultimately define the season.
Countdown to kickoff. The Atlanta Falcons regular season begins at home on September 13 against the Seattle Seahawks. Check out all the 2020 match ups here.