The Falcons edge rushers are back at full strength. That happened on Saturday afternoon, when Steven Means was formally activated off injured reserve.
The transaction came the same week he was designated to return, putting the veteran in line to play Sunday's division clash against Tampa Bay at Mercedes-Benz Stadium.
Means suffered a knee injury late in a road victory over the Saints and missed the next three games on injured reserve. Now he'll rejoin a rotation that include Dante Fowler, Adetokunbo Ogundeji, James Vaughters and Brandon Copeland.
Means will provide the biggest impact in run defense and adding a body to the rotation will keep everyone fresher. That includes those playing more on passing downs.
That didn't happen in the next game at Jacksonville, where Ollison wasn't elevated after missing the practice week. As a note, teams aren't required to disclose injuries to players on the practice squad.
Getting elevated creates the expectation that Ollison will play and could get carries at Mike Davis' expense.
The Falcons run game is looking to build off a solid showing against the Jaguars, though that'll be a tough task against the Buccaneers' No. 1-ranked run defense. If the Falcons run game gets going and the passing attack finds an early rhythm, the offense could find sync required to compete with such a formidable foe.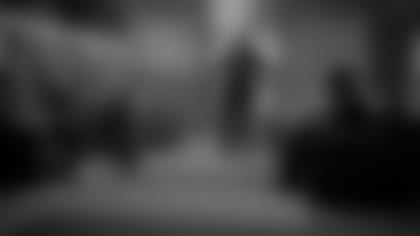 Part 1 | The Attitude
Chapter One in the story of the 1991 Falcons explores the attitude that made them the 'rudest team' in sports.