Terry Fontenot tried to taper expectations for what the Falcons would do on the first day of free agency while he, Arthur Smith and a contingent of Falcons scouts and coaches were in Indianapolis for the NFL Combine two weeks ago.
"Some teams feel like they are one player away and they're going to make a big splash in free agency and spend a lot of money. We're not at that point," Fontenot said. "We have to be patient. We have to be selective and we have to be cost effective."
Fontenot went on to say the Falcons have to find ways - "the right ways" - to create cap space. The 2022 salary cap is not as big of an issue this offseason as it was last offseason, but it's still something the Falcons have to work around. This means, as Fontenot said, there will be no big splash. But it doesn't mean that what the Falcons do in free agency isn't important. It is.
1. Re-signing their own free agents
Fontenot said back in January the best form of free agency is keeping players who are already in your building and know your system. The Falcons have decisions to make on a few players who fall into this category. Think Foye Oluokun, Cordarrelle Patterson, Younghoe Koo, Russell Gage, etc.
There are preliminary reports out there that the Falcons are willing to do so, too. ESPN's Jeremy Fowler reported on Sunday that the Falcons have "made progress in efforts to extend" Oluokun. What that entails is not yet concrete, though.
Last week, we broke down the situations for five Falcons free agents and the argument to re-sign them (or the argument not to). You can read that in full here.
2. Continuing to find value
Last offseason Fontenot and Smith were very transparent in the fact that because they didn't have the cap space to do much in free agency they would have to find mid-level veteran free agents that would be able - and willing - to sign a one-year, cap-friendly deal in 2021. Think Erik Harris and Duron Harmon. Think Brandon Copeland and Fabian Moreau.
The Falcons had to find players of this category to field a team in 2021. They may not be as significantly handcuffed by the cap as they were last offseason but this is a formula they may have to continue to follow to bring in key depth pieces, and perhaps even some starters. It'll just depend on who they find and what kind of deal they can strike.
"We have to make sure we're patient and find value," Fontenot said.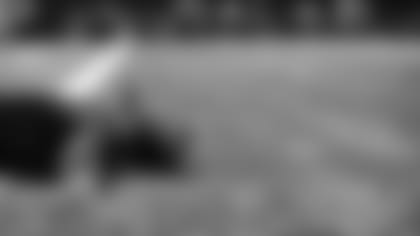 3. Replicating the CP effect
"That's the example of what we have to do this year in free agency," Fontenot said. "That was a situation where it was a month into free agency when we signed CP. He wasn't getting the offers he wanted. A month into it we signed him and we had a clear vision for him. It says a lot about him and the success that he had... It says a lot about our coaching staff that they were able to find what he does well. He had the most productive season of his career as an offensive player."
The Falcons would like to lean into this idea of taking a player in their twilight years and assisting them in seeing a reemergence of their career. It worked for Patterson, who's to say it can't work for someone else? That's the hope the organization is trying to sell.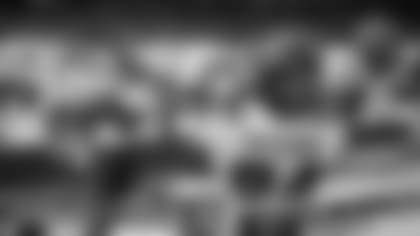 4. Finding depth at wide receiver
Calvin Ridley is suspended for the 2022 season. Russell Gage is a free agent. Olamide Zaccheaus is a restricted free agent. The only receiver currently under contract that caught a pass in 2021 is Frank Darby. The Falcons have work to do to strengthen this position group. Even if they bring back Gage or Zaccheaus or both it would perhaps behoove the organization to look for reinforcements through the Draft, yes, but also through free agency.
The Falcons wouldn't have to put significant money down on a receiver in free agent if they didn't want to, but it is an option if there is someone on the market they like. Again, they have a bit more cap space to work with this year than they did last year. If Darby is the only receiver left, refilling this position group would have to be a top priority of the offseason.
5. Two words: Pass Rush
The Falcons lack of pass rush is a problem. And it's something that will take time and money to fix. Like receivers, top tier edge rushers are an expensive commodity on the open market, perhaps too expensive for the Falcons right now. While the organization could go after an edge rusher in the draft, that lone rookie won't be enough to change the Falcons pass rush, regardless of how talented said pass rusher is.
The organization released Dante Fowler last month, and Steven Means and Brandon Copeland are free agents. The only edge rusher that you know will be back is Ade Ogundeji. The situation of the edge rushers slightly mimics that of the predicament of the wide receivers. It's going to take the draft and free agency to build this group back up. 2022 Season Tickets Now Available!
Our Longest & Most Flexible Ticket Payments
Instant Member Benefit Access
Best Available Seat Locations