INDIANAPOLIS, IN -- The last time we put one of these checklists together the offseason had just begun for the Falcons. Since then, not a lot has happened, nor has much shifted at all. However, with the NFL Combine kicking off this week, all of that changes. 
We have the Combine this week. Once it concludes, one week separates us from the start of the league year and the opening of free agency. 
So, instead of putting together 10 notes in one story (like we did last time), we're going to break it up. Five and five: Five things the Falcons need to check off while they're at the Combine. Then, five things they'll need to check off when free agency hits. The first runs today, and yep, you're reading it. The second will come next week in preparation for the start of the league year. 
So, let's dive into five potential things on the Falcons radar heading into the NFL Combine this week.
1. YAC bros
YAC, yards after catch. Receivers. Big body receivers that can take a hit and keep moving. That's what the Falcons are looking for this offseason. And that search begins at the Combine. 
Regardless of what happens in the coming weeks or months with Calvin Ridley, or Russell Gage in free agency, the Falcons need these type of bodies. If you need an example, think Arthur Smith's former receiver AJ Brown. 
2. Youth in the backfield
There's no guarantee that Cordarrelle Patterson or Mike Davis will be with Atlanta by the start of training camp this year. Chances are the Falcons can keep one on the active roster, but not both. 
With that in mind, could the Falcons be taking into account the young running backs at this year's Combine? One would think it wouldn't hurt. The Falcons could use some youth at the position, a position that hasn't had youth in quite some time even though it's one that arguably thrives best with it. 
This is a pretty interesting draft class at the running back position. Many have Kenneth Walker as RB1, but some other names to keep in mind are Isaiah Spiller, Breece Hall, Dameon Pierce, and at the Combine especially since he didn't play in the Senior Bowl: James Cook.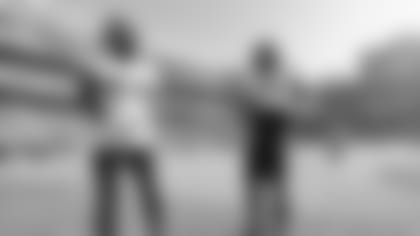 3. Two words: Pass rush
This is a deep class in regards to pass rush. There's a lot to be excited about with some of these prospects, too. And the Falcons are primed to keep an eye on a number of them this week. 
With Dante Fowler's recent release, the Falcons will be looking to replace and replenish their production on the edge. It is very likely that the Falcons will have to rebuild this position both through the draft and free agency considering Steven Means and Brandon Copeland are also free agents in 2022. The only outside linebacker that is sure to return to the active roster is 2021 draftee, Ade Ogundeji.
Are the Falcons willing to use their No. 8 pick on an edge rusher? There are a number of people who think players like Travon Walker, Aidan Hutchinson, David Ojabo and Kayvon Thibodeaux could all go in the first round, even somewhere in the top 10. The Falcons know this is a position of great need in 2022 and in years to come as they work to establish a productive pass rush.
4. Linemen... perhaps on both sides of the ball
We've talked about setting the edge, now let's discuss the interior. Grady Jarrett has one year left on his current contract (if he isn't given an extension), and though Marlon Davidson was drafted to fill in depth behind Jarrett, Davidson hasn't had a full year of health in the league yet. 
There are those who think Tyeler Davison will be a cap casualty this offseason. With a guy like Anthony Rush getting more and more playing time as the 2021 season went on, is that the prototype of what the Falcons are looking for in the interior? Is there someone at the Combine who the Falcons like enough to go after in the mid- to late rounds?? 
Then, there's the offensive line. It was another down year for the Falcons in terms of protecting Matt Ryan. There is a loud contingent of Falcons fans clamoring for the Falcons to draft an offensive tackle. Jake Matthews contract is up in 2024 (if like Jarrett, he isn't given an extension), and Kaleb McGary isn't playing at the clip some deem necessary in order to resign a former first round pick. Are the Falcons willing to use one of their second round picks on an offensive lineman because of this? 
Truly it feels as though the Falcons have to prioritize both lines of scrimmage this offseason. Exactly when and how is still up in the air, though.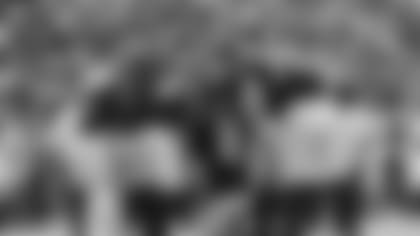 5. Can one ever have too many defensive backs?
There are a number of mock drafts circulating that have the Falcons taking either safety Kyle Hamilton or cornerback Derek Stingley. The Falcons went after AJ Terrell two years ago in the first round and it's a decision that continues to pay off as Terrell has turned into one of the most consistent cornerbacks in the league. 
What happens if he has a partner opposite him that follows in his footsteps and makes an impact early? That would help the Falcons defense tremendously. And even though the Falcons have used a few recent draft picks on safeties in the past (Jaylinn Hawkins and Richie Grant), there's always room for someone with Hamilton's skillset. It will be interesting to see where defensive backs are prioritized for this staff in 2022.
The Best Season Ticket Member Benefits are Back
We're offering our best season ticket benefits packages ever this year! Find the season ticket benefits that are most attractive to you.