FLOWERY BRANCH, Ga. -- Perhaps no one was more excited about the free-agent signing of Dontari Poe this past offseason than Grady Jarrett.
And Jarrett's reason is pretty simple.
"He's been where I want to go, you know," Jarrett said following Wednesday's minicamp practice session, referring to the fact that Poe is a two-time Pro Bowler. "It was very exciting for me and for our whole team and city when he came and signed with us. It's not going to do nothing but make us better."
Jarrett is entering his third year and started 14 of 16 games last season at defensive tackle. He saved his best for last, though, when he racked up three sacks of Tom Brady during the Falcons' 34-28 Super Bowl loss in Houston.
But Jarrett is hardly satisfied with last season's progress.
"As far as the Super Bowl, that was definitely a highlight of my career as far as the way I played," Jarrett said. "Like I said to everybody, I feel like the effort I gave – I wanted that win so bad and it just made me want it even more for this team, for the city. Being an Atlanta guy it means so much to me.
"It was an awesome feeling, but the work is far from over and we as a team know that, know where we want to be, and we're headed there we just got to stay on our grind and work day in and day out."
And the feeling has been mutual for Poe, who signed a one-year deal with the Falcons for a reported $8 million during free agency.
"When I came in [Grady] helped me out a lot," Poe said on Tuesday. "He's a young dude but he acts way above his years, plays way above it. So, like I said, I've come in and he can tell me everything to do, tell me how to do it, when to do it."
While both players have developed a bond on and off the playing field as well as in the weight room, they admit one is driving them both.
"I definitely have a vision of how I want this year to go for me, but I'm just going to keep my head down day in, day out, and keep working," Jarrett said.
Poe said "the sky's the limit" for this defense, but stopped short of saying just how good.
"I'll kinda leave it right there," Poe said.
The Falcons wrap up their three-day minicamp, the final phase of the team's offseason workout program, on Thursday. For more takeaways on Wednesday's minicamp, click here.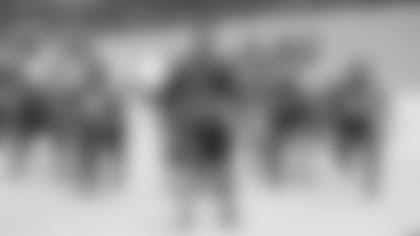 In a little more than a month NFL training camps will be in full swing. The Falcons' first preseason game is Aug. 10, against the Dolphins in Miami and the regular season kicks off in Chicago against the Bears on Sept. 10.
Click on the links below for an offseason scouting report on each one of the Falcons' 2017 opponents.
Sep 10 – at Chicago, 1 p.m. ET
Sep 17 – vs Green Bay, 8:30 p.m. ET
Sep 24 – at Detroit, 1 p.m. ET
Oct 1 – vs Buffalo, 1 p.m. ET
Week 5 – BYE
Oct 15 – vs Miami, 1 p.m. ET
Oct 22 – at New England, 8:30 p.m. ET
Oct 29 – at N.Y. Jets, 1 p.m. ET
Nov 5 – at Carolina, 1 p.m. ET
Nov 12 – vs Dallas, 4:25 p.m. ET
Nov 20 – at Seattle, 8:30 p.m. ET
Nov 26 – vs Tampa Bay, 1 p.m. ET
Dec 3 – vs Minnesota, 1 p.m. ET
Dec 7 – vs New Orleans, 8:25 p.m. ET
Dec 18 – at Tampa Bay, 8:30 p.m. ET
Dec 24 – at New Orleans, 1 p.m. ET
Dec 31 – vs Carolina, 1 p.m. ET