Welcome to Straight from the 'Beek! We might be a couple of days away from Super Bowl LII and putting a bow on the 2017 season, but the Falcons are already in offseason mode and busy preparing for the 2018 season. And you've got lots of questions. So, let's get to them. Just remember, all opinions you see in this space are mine, unless otherwise noted.
Mark from Clarksville, IN
Thanks for using our picture from the Bears game last season. That's me, my son, Brandon, and my daughter, Sydney. We have seen more road games than we have home games for our favorite team the Atlanta Falcons! With that said, I would like to know with Matt Ryan's experience in the NFL, do the Falcons allow Matt Ryan to call audibles at the line of scrimmage? It would have been nice to see in the Super Bowl and the recent NFC divisional playoff game against the Eagles. I think they should count on what he sees in the defense when hit gets to the line. Thanks for your time and your column.
Matt: Hey, Mark. That's awesome - and thanks for sharing that! I was just looking for a great shot of Falcons fans from last season (that I hadn't already used) and found that one. It was a perfect day for football in the Windy City that day - plus the Falcons won, which was even better. Looks like you guys had some pretty good seats, too. To answer your question, Matt Ryan most definitely has the freedom to change plays at the line of scrimmage. But keep in mind that there are a lot of factors in involved in doing so - time on the play clock, the personnel group on the field, down and distance, timeouts remaining, what the defense is line up in, and a few more - and these have to be determined in a matter of seconds. So, it's not just a matter of calling any random play, like many people tend to think. Thanks for reading and writing in, Mark! And here's the picture I used of your children in Straight from the 'Beek:
---
Hi Beek, I was so glad to read what Gregory from Louisville had to say about the fans doing their part to motivate, inspire, and support our team. I think the first year in the Benz was a true novelty for many fans where there was so much to offer in addition to watching the game. Now that we have that inaugural year under our belt we can focus on the main reason why we go to games, to cheer for the Falcons with all our might! Let's Rise Up Falcon Nation and "bring it home" in 2019!
Matt: Yes, Mercedes-Benz Stadium is unlike any other stadium out there with so many cool features, but if I'm going to see a football game, I am sitting in my seat and watching the football game. There's plenty of time to walk around before and after the game. That's just me. Hopefully your theory is right, Ray. Thanks.
---
I read Gregory's question on Thursday, and its tone strikes me as part of the problem with our fan base, in all honesty. What, exactly, is supposed to constitute, as he put it, a "TRUE fan?" If a fan doesn't commit to blind optimism or have a small fortune to drop on season tickets or refuse to question anything presented by the front office, are they something less than a "TRUE fan?" This "my way or the highway" mentality only creates division. Seeking Brotherhood, coming together despite our differences in philosophy, is the best way Gregory and any of us can better support the Falcons.
Matt: An interesting take, Brian. I said it Thursday and I'll say it again: A fan has to A) show up and B) support the team - through good and bad, highs and lows. It's that simple. The players and coaches feed off their energy. So do other fans. When the team is down, cheer 'em on. When the team scores, cheer 'em on. When the team walks off the field after a tough loss, cheer 'em on. When the team wins, cheer 'em on. To me, that's what a true fan who loves their team does. Cheer 'em on. And in order to do that, the fans have to show up and be in their seats.
---
Kendall from McKinney, TX
What position should the Falcons draft, defensive end or running back?
Matt: Well, Kendall, if those are my ONLY two options, I'd have to go with defensive end. Why? As Falcons coach Dan Quinn said during one of his press conferences this past season, you can never really have enough good pass rushers. And I believe that. Now, even though the Falcons appear set at running back heading into 2018 with Devonta Freeman and Tevin Coleman returning, I do believe they will draft a running back later in the draft like they did last year when they took Brian Hill out of Wyoming in the fifth round. And since you asked about the positions of need in the coming NFL Draft, it just happens to be the Straight from the 'Beek Question of the Day on Twitter (see below). And if you do not follow me at @MatthewTabeek, please do. I will be using some of the feedback in my questions in future SFTB posts.
---
Chazz from Tarpon Springs, FL
Hey, Beek! I just read an article about how the Kansas City Chiefs and the Los Angeles Rams will face off in Mexico next season, but the article also noted that a few other spots were open for other NFL teams to play there. Do you know if the Falcons will be one of the other teams or if they will play internationally at all next season?
Matt: Hey there, Chazz. You are correct about the 2018 NFL matchup in Mexico City - it will be the Chiefs and Rams. As far as the other games being played internationally, they are set as well. Here are the games scheduled to be played in the United Kingdom next year:
---
Hey Beek. Just a hypothetical question today. Let's say the Falcons have the choice of drafting a stud guard like Quinton Nelson or an elite defensive lineman like Bradley Chubb or Maurice Hurst. Which side of the line do you think the team would take precedent over given two equally solid choices?
Matt: Hey, Vince. Wow, you guys are dreaming big when it comes to the NFL Draft, and I like it. That choice would obviously depend on two things: where the greatest area of need is heading into the NFL Draft and what transpired in free agency. But for the sake of answering your question, I'll throw that out and play along. If for whatever reason all three of those guys were still available when the Falcons picked (which I do not think will be the case), hmm … that's a tough one and it would come down to Chubb or Nelson for me. In the end, I'd have to go with Chubb, since many of the so-called draft experts consider him to be the best pass rusher in this class. I think he'd make an immediate impact, which is what you want (and need nowadays) from a first-round draft pick.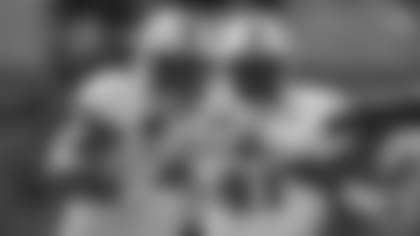 ---
Hey Beek, love your column! I'm very excited to see what Thomas Dimitroff and Dan Quinn do at the draft in April as well as capitalizing on a few free-agent picks! I'm a BIG-TIME fan of Alex Mack. Pumped that we have him through 2020. My question is in regard to our depth chart at center. Do you see the Falcons developing Ben Garland or going a different route? GO FALCONS!
Matt: Hey there, Daniel. I, too, am a fan of Alex Mack and think he is perhaps the second-most valuable player on this Falcons team - right behind Matt Ryan. If Falcons don't understand what Mack brings to the team, they should go read this piece by Will McFadden from earlier this season to get a little better understanding. Regarding Ben Garland, I think his biggest asset last season was his versatility to play multiple positions up front when the Falcons needed him to following injuries, etc. Keep in mind, too, that Garland is a restricted free agent. I think the Falcons will continue to work with him but will also look to bolster the overall depth along the offensive line during the offseason. In my opinion, it's the No. 1 area of concern - at least heading into free agency. We'll see what happens there.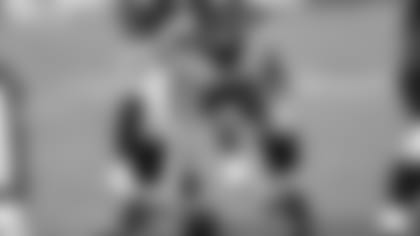 ---
David from Marshalltown, IA
Hello from the Hawkeye State, Beek! What are your thoughts on the 2018 schedule? Like every year, nothing looks easy. Do you anticipate the opening game being the Eagles vs. Falcons, if Philly wins the Super Bowl? Maybe a Saints vs. Falcons instead on opening day?
Here are the 2018 opponents and game locations:
Date/Time
Team
Location
TBA

Tampa Bay Buccaneers
Mercedes-Benz Stadium, Atlanta
TBA

Carolina Panthers
Mercedes-Benz Stadium, Atlanta
TBA

New Orleans Saints
Mercedes-Benz Stadium, Atlanta
TBA

Cincinnati Bengals
Mercedes-Benz Stadium, Atlanta
TBA

Arizona Cardinals
Mercedes-Benz Stadium, Atlanta
TBA

Dallas Cowboys
Mercedes-Benz Stadium, Atlanta
TBA

New York Giants
Mercedes-Benz Stadium, Atlanta
TBA

Baltimore Ravens
Mercedes-Benz Stadium, Atlanta
TBA

Tampa Bay Buccaneers
Raymond James Stadium, Tampa, FL
TBA

Carolina Panthers
Bank of America Stadium, Charlotte, NC
TBA

New Orleans Saints
Mercedes-Benz Superdome, New Orleans, LA
TBA

Cleveland Browns
FirstEnergy Stadium, Cleveland, OH
TBA

Philadelphia Eagles
Lincoln Financial Field, Philadelphia, PA
TBA

Green Bay Packers
Lambeau Field, Green Bay, WI
TBA

Washington Redskins
FedEx Field, Landover, MD
TBA

Pittsburgh Steelers
Heinz Field, Pittsburgh, PA
To answer your question, David, I have no idea who the Falcons will open with. Since the Eagles game is scheduled to be played in Philadelphia, I suppose that could be a possibility for the opener (if the Eagles win on Sunday, like you stated). I'll tell you one thing, I'd much rather play in Philly in September than in December. Then again, all five of the Falcons' non-NFC South away games are in cold-weather climates in 2018 - Cleveland, Pittsburgh, Philadelphia, Green Bay and Landover, Md. It'll be interesting to see how many of those five games end being played in November and December.
---
William from Stone Mountain, GA
What's going on Beek? I really enjoy the column and I'm glad to hear it'll keep going through the offseason. So, as we all know, next year's Super Bowl is in the ATL, but what is even better is that it will be on the same day as my birthday! My question for you today is: what do you think will be the toughest challenge the Falcons will need to overcome next season in order for them to win the Super Bowl next year? I really believe they can pull it off and make it one hell of a birthday for me but tell me what you think!
Matt: Well, I hope your birthday wish comes true, William, because that would be really cool for anyone! To answer your question about the Falcons' toughest challenge, I'd have to go with … themselves. Now, we don't know what's going to unfold in free agency or the NFL Draft yet - and those are two pretty huge factors - but the Falcons have a strong core returning on both sides of the ball. In short, I expect that they'll have enough talent and experience to challenge for the NFC South title once again and be in position to make the playoffs. All that matters is getting into the postseason, William, because anything can happen. You've got to be in it to win it. But the Falcons must stay healthy and execute, and that's why I say it's all about the Falcons. Hope that helps.
---
Jerry from Statesboro, GA
Hey Beek. A question about free agency. How would you feel if we targeted Tyler Eifert, Sammy Watkins, Michael Bennett, and Sheldon Richardson? I know getting all of these guys aren't feasible but pick two you would like to see in Atlanta.
Matt: Where have you been, Jerry?!? It's always great to receive a question from the lead Beeker! And I'm glad you noted that it's not feasible, because it isn't. But that all said, if you're asking me to pick two, I'd go with Tyler Eifert and Michael Bennett (but I'm pretty sure Bennett still under contract and not a free agent). I think, when healthy, Eifert is a tremendous tight end - and his absence really affected the Bengals offense this past season. And think about the added dimension he'd bring to the Falcons already-potent offense. And, well, even though Bennett is getting up there in age, he's still a really good player and can still wreak tons of havoc in the trenches. Those two would be pretty nice additions, but that's more like fantasy football talk.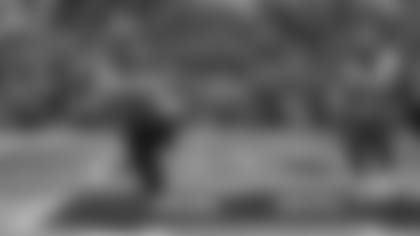 ---
Hi, Beek. Just a follow-up question about hanging the Falcons championship banners. Didn't they ever consider retractable banners that would roll up when other events are taking place in the stadium? Another question. Didn't the PSL fees paid by Falcons fans support part of the building of the stadium? If so one would think they would think of ways to accommodate this. Perhaps hang them along the sideline walls?
Matt: Hey, Vivian. I do not know if they considered retractable banners and, to be honest, I didn't know that even existed. If they do, that would be a pretty cool idea. I'll have to ask around and see if other teams have such a thing. Regarding the PSL fees and consideration to put them up along the walls (and I'm assuming at field level, right?), I do not know if that was a consideration, either. I will ask around though.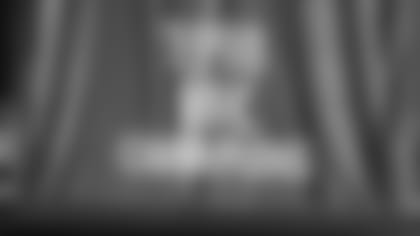 ---
Hey, Beek. So, I know this really has nothing to do with the conversations and questions going on at hand and I'm probably getting way off topic, but I was surfing Falcons news and stuff and just found out about this Alex Gray kid. The former rugby player now turned wide receiver. I started watching him and his story and kind of became attached to him. I like the kid. He seems like he can be great. But everyone's being pretty hush-hush about him. I mean, I know he's definitely not going be a top topic or even a focal point, but as a Falcons fan, I'd really like to see his progression and the possibility of him being an asset to this franchise. I just want to ask what his progression is and if you know anything of any late videos or anything in which I can watch him for myself. Thanks, Beek. We fans are lucky to have someone like you. Really.
Matt: Hey there, Zh'vae! I spoke with Alex Gray the day he was cleaning out his locker and getting ready to head back to England to train for 2018. He's definitely motivated to improve and believes he can be a contributor next year, and not just a practice squad player or backup. For a guy who never wore a football uniform prior to last year and had to learn so much in such a short span of time, it was pretty impressive to see him compete during practice at times. And you're also in luck because we just published a piece on Gray and his first season with the Falcons. He's got an interesting story and, like you said, he's easy to root for.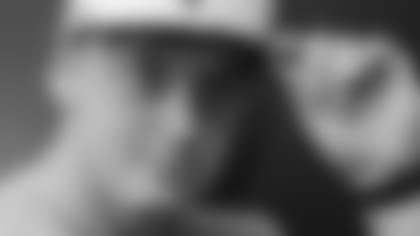 ---
Timothy from Valdosta, GA
I'm a regular reader of your column. I just have a few comments. I'm one of the silent majority who like our current uniforms and hope they stick with it. Uniform color change does not make the team play better or intimidate opponents. Flawless execution of plays accomplishes that. Also, too many fans on this site are not being fair to Steve Sarkisian. His offensive numbers for 2017 are very similar to Kyle Shanahan's 2015 season numbers, his first with the Falcons. I think his biggest failing was matching the plays with the appropriate personnel groupings that are best suited to execute that play. Plus, let's not forget the players this year did not play their best ball. But they still made to the playoffs and won a road wild-card game against a good team. I'm hopeful that Sark and the players will improve in Year 2.
Matt: That's great perspective, Timothy, and I totally agree with you about execution - that's what it all boils down to, not how a team looks. That said, the uniforms - the markings, colors, the logo - are a huge part of a team's identity and it's something fans (and players) care deeply about. So, I get that, and appreciate that as well. If you're regular here at Straight from the 'Beek, you know that I've spent a ton of time this past season talking about and analyzing the offense - and the job Steve Sarksisian has done. I've been accused (at times) of being a glass-half-full person when it comes to Sark, but I've always backed it up with numbers. And you're right about Shanahan's first season, too - fans were calling for his head, if many choose to remember that. It always comes down to executing - blocking, tackling, throwing, catching, concentrating and knowing the rules - not a play call or a uniform color. But I think we can agree they at least matter.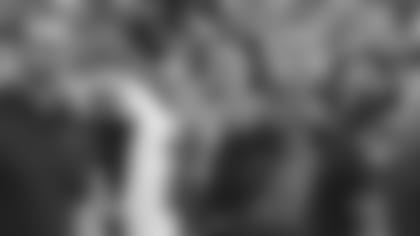 ---
Hey Beek, I love your column. I was wondering how you think the Falcons free agency/draft (besides in the trenches) will play out.
Matt: Hey, Kaden. Well, the two go hand in hand. What the Falcons don't accomplish in free agency will be addressed in the NFL Draft. And if I can't talk about the offensive and defensive lines - the two areas I think are the biggest areas of need - then I'll go with the secondary, receiver and running back as my next three. I could see the Falcons bringing in competition and depth at those three spots for sure.
---
Royce from Loganville, GA
Are they really going to trade Devonta Freeman? I sure hope not.
Matt: Royce! Where are you getting your Falcons information from? Just stick to the AtlantaFalcons.com, pal, and we'll keep you informed. We've made a lot of changes here and will continue to make more and get even better moving forward. Stay tuned. And no, I have not heard of anything even remotely related to that.
---
OK Matt, I've done some extremely in-depth research for the upcoming draft and believe I have found the key attribute to obtaining successful and impactful players for the Falcons. Only draft players whose first name is Matt. We have Matty Ice Ryan, Matty Ice Bryant, Matty Ice Bosher and now Matty Ice Beekster!! All winners, so when in doubt about who to get, go for a Matty!!
Matt: Haha! Now THAT is the in-depth and hard-hitting research that Falcons everywhere are craving, Gary! Except you forgot Matt Schaub. I'm not sure if he reads SFTB, but hopefully he won't take it too hard. That all said, the Falcons will undoubtedly bring in some quarterbacks for training camp to spread out the reps and there's always Idaho standout Matt Linehan, who's coming out. Just saying.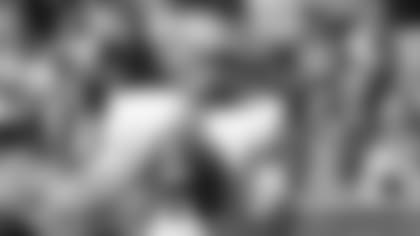 ---
Spencer from Bountiful, UT
Do you think the Falcons will draft a QB to be a to be a backup to Matt Ryan? If so, who would you pick?
Matt: I don't know if the Falcons will draft a quarterback, Spencer, but I'd love to see them do it if one they like is available later in the draft. Like I noted above, they'll bring in some extra arms during minicamps and training camp, but I think competition is good at every position - even at backup quarterback. Look at how fortunate the Eagles were to have Nick Foles this season. I think the Falcons have a lot of faith in Matt Schaub and believe in him, but if a talented signal caller is there, why not grab him? The position is too important.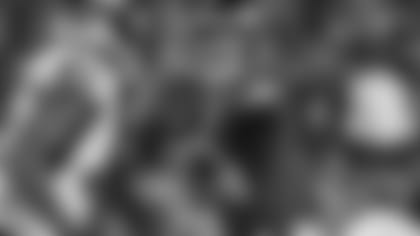 ---
Can y'all get a QB like Michael Vick?
Matt: Quarterbacks like Michael Vick don't come around very often, Lee. He was a special one on the field (regardless of what you thought about him off it), that's for sure. The closest thing to Vick coming out this year is Lamar Jackson, the Louisville product. It'll be interesting to see where he goes in the NFL Draft and how his skills translate in the NFL. I loved watching him play in college.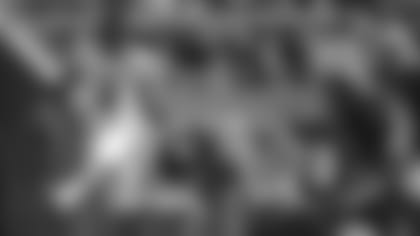 ---
What up Beek?! Writing in again. Do you believe the Falcons will be trying to get key free agents (such as Andrew Norwell or Jimmy Graham) or do you think they will rely on the draft to get new players?
Matt: Just based on what I've seen from the Falcons, I think they'll sign some free agents much like last year. But I also think they're not afraid to go after someone they really covet, even if that means spending a few bucks, like they did with Alex Mack. We don't know who will be available yet, but it'll be interesting to see how the market shapes up and where the dollars go. I'd much rather see a team build through the draft, for what it's worth. I know Mike Florio wrote about how the Falcons should go out and sign Graham, and I think that would be great -- but for the right price only. I honestly don't see it happening, but you never know when it comes to the NFL and free agency.