After a week or so away I finally get to type the words … Welcome to Straight from the 'Beek! I wish I could tell you I was off on a tropical retreat somewhere in the Pacific, but that's not the case. It was all business, folks. And speaking of business, the NFL Draft kicks off in just 25 days – and you've got plenty of questions. So, let's get right to them. Just remember, all opinions here are mine unless noted otherwise.
Jerry from Statesboro, GA
Hey Beek. It's been awhile. I was just wondering where you've been. I figured you had laughed your head off at some of the absurd recent articles. For example, the Odell Beckham Jr. trade to Atlanta for a 2018 first and 2019 first. Or how about Mel Kiper saying the Falcons will draft Calvin Ridley with the 26th pick? (Who the heck is Mel Kiper Jr. anyway!) LOL. Anyway. Do you think we make any WOW trades, pre-draft or during the draft?
Matt: Oh c'mon, Jerry. Fans eat up the speculation and love it when writers (or so-called draft experts) stir the pot – it not only makes for great conversation fodder for you guys but once in a blue moon the supposed unthinkable becomes reality – and trades and picks like the ones you mentioned actually happen. Now, do I think Beckham is coming to Atlanta or that the Falcons are taking Ridley in the first? Um, no. But that's just my opinion. Do I think the Falcons general manager Thomas Dimitroff is capable of making a "WOW trade," as you put it? Absolutely. I mean, 2011 wasn't that long ago, was it? Who could forget the Falcons trading up 21 spots – moving from the 27th pick to No. 6 overall – for receiver Julio Jones? In return, the Cleveland Browns received Atlanta's first-, second-, and fourth-round picks in that draft plus a first- and fourth-rounder in 2012. To answer your question, Jerry, I don't see a move like that one unfolding, but it wouldn't surprise me at all to see the team move around in the draft – especially if it means landing players who fit their blueprint. Thanks for writing in, Jerry.
---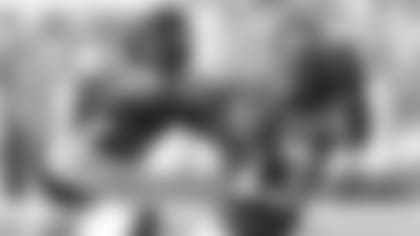 (AP Photo by Brad Penner)
Richard from Henderson, NV
Why wouldn't the Falcons give up the first-round pick to the Giants for Odell Beckham? Remember what we gave up for Julio Jones and that has worked out pretty well. The offense would be unstoppable.
Matt: Hey, Richard. I certainly remember the Julio Jones pick (see above). And if you're referring to the trade proposed by The Ringer, it was much more than just this year's 26th overall pick. It was also a 2019 first-round pick, 2019 second-round pick and guard Ben Garland. OK, I get it, the offense with Beckham and Jones on the outside would certainly be extremely potent. But Beckham wants to be paid an awful large amount of money -- and that would be sacrificing keeping core players around. You know, robbing Peter to pay Paul. And who wants to do that? There are a number of key young players on the Falcons who are up for new contracts this year and next. If you tie too much money up in two, three or four players, how can you expect to keep a top-10 defensive unit together? You can't. The Falcons have done an excellent job in recent years of drafting well – and I expect they'll continue to. And it's a real luxury for teams when they hit on a draft pick and they're playing on that rookie contract. But eventually those players will need to be paid, too. But back to Beckham and this proposed trade. Not only is Beckham going to be expensive, but the Falcons would also have to believe he'd fit in the locker room as well and be a team player. Let's be honest, there's a reason why the Giants have not signed to him to a long-term deal as well as all of these trade rumors. All of those off-field shenanigans take a toll on teams. The Giants have a great group of receivers (talent-wise) and, well, it didn't exactly translate into a ton of wins.
---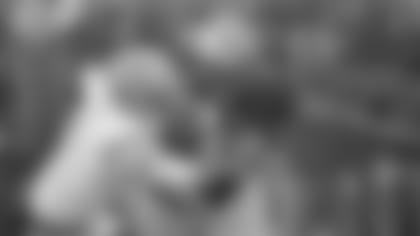 (AP Photo by Elaine Thompson)
Beek tha Freak! (You know you listened to Rick James back in the day.) As always, LOVE your insight on our beloved Falcons!!! Question: I believe our biggest need is at DT position. Do you think, because we weren't able to make a big splash in free agency that maybe, we'll try to make a big splash and go after and trade up for Vita Vea (who I believe is THE best DT in the draft)? Or, staying at 26th pick, who would YOU pick, if available, Payne, Hurst or Bryan? (Side note, I REALLY hope Shaquem Griffin is on Dan Quinn's radar!!!!)
Matt: Who needs coffee in the morning when Buc from the ATL is sending in questions! The Falcons' top priority during the offseason is getting Matt Ryan a new contract and then focus on keeping their key players in the fold – so there's your big splash, as you call it. It's not that the Falcons "weren't able" though, and that's an important distinction. I think Vita Vea, the former star at the University of Washington, is a great player, Buc. However, I think there are other players at that position who might be better fits in the Falcons scheme – players who are more versatile as far as where they can line up and the number of clubs they have in the proverbial bag vs. being a one-trick pony. If it were me picking, I'd probably lean towards the three players you also mentioned – Taven Bryan, Maurice Hurst and Da'Ron Payne. The was some concern surrounding Hurst when he was sent home from the NFL combine when he was reportedly diagnosed with a heart condition, but he was later medically cleared to participate in Michigan's pro day. If he's completely healthy, he'd be tough to pass on. Oh, and of course I listened to some Rick James, Buc.
---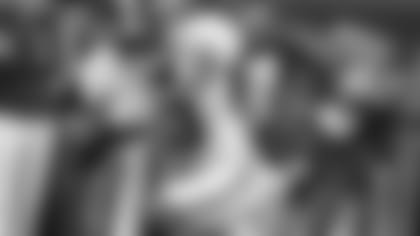 Dwight from Naval Air Station Patuxent River, MD
Hey Beek! I'm stoked about the 2018 season and cannot wait for the draft. I truly believe that this team's front office has successfully built one of the finest teams in the NFL, certainly in the history of the franchise. A team that fans can be proud of. A team that is young, talented and fast. Well coached at all levels. Doubts on our QB and OC need to stop, but I understand fan concerns when comparing 2016 to 2017… but if you really analyze (week to week) both seasons, fans will see the similarities and more importantly, the continuity between the two teams … and it's still the same core of exemplary players coached at an elite level. They need to execute. Period. And we win. Simple. I believe they will and 2018 will be a great year. My question, Beek, is on pass catching. No doubt that Julio Jones is still the game's best pure receiver. He'd like to have a few plays back from 2017, guaranteed. I really like Mohamed Sanu and Austin Hooper. Like Jones, I know Sanu and Hooper would love to atone for a several key drops/deflections that plagued the team last year. Do you think that the Falcons will pull the trigger on an elite pass catcher if one drops to them in the first round? A Calvin Ridley, D.J. Moore, Courtland Sutton, Mike Gesicki, Dallas Goedert, etc.? Or do you think we will continue to address the trenches (which I love) and then see what's left in the second and third rounds?
Matt: Hey, Dwight. As a friendly reminder to you and all of the Straight from the 'Beek readers let me preface this with a reminder that I am not privy to the Falcons' draft board whatsoever. Now that we've gotten that out of the way, I'll say this much: I think you've got a fairly good read on the team's needs heading into the draft. Falcons general manager Thomas Dimitroff has stated repeatedly that whatever the team does in free agency will affect the draft. On the flip side, if this draft class is particularly strong at a certain position or two, that could also affect what they do in free agency (especially if the market is thin or too expensive). So, that all said and based on all of the moves so far, it sure looks like to me like that the Falcons will address the defensive tackle position early. And, yes, I do think they'll add a receiver as well. And I think it'll be in that order: DT, then WR. But keep in mind that there are always some surprise moves (trades) and picks in the draft that could affect some draft boards and how teams pick. Stay tuned.
---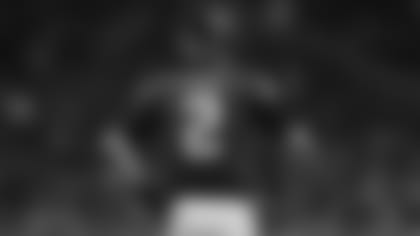 (Photo by Aaron M. Sprecher via AP)
Michael from Sandy Springs, GA
This has been a big topic of conversation in my office and I am curious as to your take. Quarterback contracts are becoming bigger and bigger with no signs of stopping. I understand part of it grows with cap space and the other part is based off what other guys in the league are getting paid. My question is this, do you think there will reach a point where owners and GMs just say it's not worth it? Matt Ryan for example is going to get paid around $30 million a year with probably around $100 million guaranteed. In my eyes I would take a serious look at drafting a WR in the first round, someone to add more depth to the O Line in round 2 and maybe take a chance on a risky free agent (cough cough, Manziel or Kaepernick) – both very low cost with a potentially high ceiling. See how the next year goes then draft a QB in round 1, take all that Matt Ryan money to sign a tight end and resign Coleman. That would still leave plenty of money for us and not cripple our cap space. That may all sound insane, as I type it I feel like it does. Standing by!
Matt: Look, let's cut to the chase here. Matt Ryan is going to get a new contract. He's the best quarterback in franchise history and is still playing at an elite level. He is going to get a fair and competitive deal that will make him one of the highest paid players at his position, if not the highest paid. Again, I'm not privy to any inside information here. And I am convinced it'll be done in a way that allows the team to remain flexible in signing other key players down the road. You mentioned an important point, too, Michael about the salary cap. As long as the league continues to prosper and the cap continues to increase, star players – especially ones at key positions like quarterback – will continue to earn larger contracts. And, yes, your other theory was a bit insane. Your words, not mine. Thanks for reading! HAVE A QUESTION?