The Atlanta Falcons addressed what many viewed as their top need in the first round of the 2020 NFL Draft by selecting former Clemson cornerback A.J. Terrell with the 16th-overall pick.
After parting ways with veteran cornerback Desmond Trufant during the offseason, the Falcons had an immediate hole to fill opposite third-year corner Isaiah Oliver. In Terrell, they presumably have a starter penciled in that spot for Day 1.
Although some of the immediate reviews of the Terrell selection are mixed, the Falcons clearly like what they are getting in the 6-foot-1, 195-pound cornerback who ran the 40-yard dash in 4.42 seconds.
"We went into this draft with a couple of needs, and our main need was at corner," Falcons general manager Thomas Dimitroff said. "And we were very excited to have the opportunity to pick A.J. Terrell at 16. We hung tough, and we had entertained other opportunities to think about potentially moving up but this is where we wanted to be. This is a player we had targeted from the beginning of our draft preparations here. … He's going to be a very important part of our defense."
A two-year starter for one of the top college football teams in the country for the better part of the last decade, Terrell was considered among the best cornerbacks at various points throughout his career. During his three seasons at Clemson, Terrell recorded 101 tackles, 13 pass defenses and six interceptions.
In each of his two seasons as a starter, Terrell played in the College Football Playoff National Championship Game. He believes those types of high-pressure matchups will help him transition to life in the NFL.
"Just within my three years we made it to the playoffs all three years," Terrell said. "I was able to play in many big games and on the biggest stages and make a lot of plays. I do feel like it'll be beneficial for me going into the league knowing that every game is straight competition. That's what brings out the best in any player."
Of course, Falcons coach Dan Quinn believes there's something else that will help his newest player get ready for the rigors of facing some of the elite receivers that populate the NFC South.
"There will be a lot of coaching for him on and off the field," Quinn said. "Off the field with Joe Whitt and Raheem [Morris] and their experience there. And you know who else on the field? What better team to come on than to go on the field and line up across from Calvin [Ridley] and [Julio Jones]. What's kind of special about Julio is he not only is going to be involved with the offensive players but as a defensive one too. Talking through releases, going through things – what worked, what didn't work."
It remains to be seen when Terrell will actually get the opportunity to line up against Jones and Ridley, given the restrictions on social interaction in the face of the coronavirus pandemic. In the meantime, Quinn says the newest Falcons players will have up to five hours a day of online coaching and training for up to five days a week.
As a native of Atlanta, Terrell will also benefit from the proximity of his new teammates. Quinn believes that once NFL and team restrictions are loosened, Terrell will be able to learn from some fellow Falcons in the area before he's able to have direct interaction with the coaching staff.
However, on the surface, Terrell seems like a natural scheme fit, given his combination of length and speed. He has plenty of experience pressing opposing receivers at the line of scrimmage, something the Falcons like to do, and also playing deep zone coverage, which the Falcons also like to do. This should help flatten his learning curve and get Terrell up to speed quickly, which the Falcons will need.
"He's played a lot of press coverage, so that's good," Quinn said. "He has some experience playing that, so it's not necessarily teaching a new technique. We certainly have expectations for him to come in and play well, based on what we've seen and how he's played."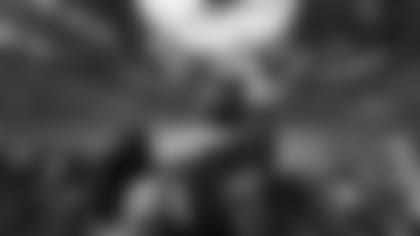 2020 Season Tickets
See the Falcons battle divisional foes along with the Bears, Lions, Broncos, Raiders and Seahawks at the best venue in sports.