FLOWERY BRANCH – Today's Early Bird Report includes Deadrin Senat's preparation for the upcoming season as well as Dan Quinn's comments on Matt Ryan's leadership and Sean Payton's unique motivation for the Saints.
Following Dontari Poe's exit in free agency, the Falcons are looking for someone to step up and take over the defensive tackle spot opposite of Grady Jarret. Perhaps third-round draft pick Deadrin Senat is the right man for the job.
He's certainly preparing as if he's going to be seeing plenty of minutes on Sundays, as he's often right behind Jarret going through individual drills and working with him on other various techniques.
"I'm embracing it and I'm just taking my (opportunities)," Senat recently told D. Orlando Ledbetter of The Atlanta Journal-Constitution. "I have a great (opportunity) here. I'm getting a lot of reps here with the veterans. It's going really, really good for me."
Senat is learning that in the NFL everyone's technique is crisp and every move must be intentional, but he's putting in the work to get up to speed. An all-conference first team selection as a senior at South Florida, Senat was a stout run defender who showed some pass-rush potential for the Bulls.
Senat played in 49 games and registered 179 tackles, 23.5 tackles for a loss, seven sacks, two forced fumbles and one fumble recovery.
Here are some other articles for Falcons fans to check out today: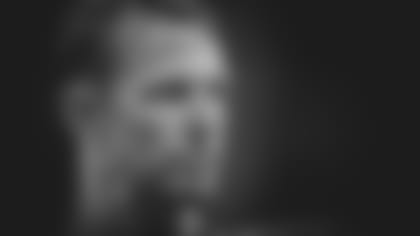 ESPN: Quinn on Ryan's leadership: 'He's a wolf in sheep's clothing'
For those who have spent enough time around Falcons quarterback Matt Ryan, Dan Quinn's comments should come as no surprise. The former NFL MVP is as competitive as they come, and he's meticulous in a manner that only the best in their respective fields can match.
"Here's what I love about him: You wouldn't know because outside, nice image, clean, but he's a wolf in sheep's clothing," Quinn told ESPN's Vaughn McClure of Ryan. "Out here, his presence and his command are really on point. You feel how important the practice is, the performance is for him. If it doesn't go right, he's going to rip your ass."
To read more of McClure's piece about Ryan's leadership, click here.
AJC: Ryan, Jones making up for lost time
Multiple times during Sunday's practice at Mercedes-Benz Stadium Falcons quarterback Matt Ryan and receiver Julio Jones were seen talking with one another and motioning as though they were discussing specific football-related topics. With Jones now back in the fold for training camp and fully healthy, he and Ryan can begin to re-sharpen their timing and prepare for the season.
"Dialogue back and forth and being on the same page is key," Ryan said, per D. Orlando Ledbetter of The Atlanta Journal-Constitution. "It could be about anything: run plays, to pass plays, to body position. We talk about those things all the time."
NFL.com: Payton using 'Minneapolis Miracle' pain as motivation
Falcons fans certainly don't want the Saints to have any additional motivation this season, but New Orleans head coach Sean Payton seems to have found a way to do just that. The Saints' 2017 season ended in the blink of an eye after Minnesota Vikings receiver Stefon Diggs scored a game-winning touchdown on the final play of an NFC Divisional round game, a play which has since been dubbed the "Minneapolis Miracle."
Payton joined NFL Network's Inside Training Camp Live on Monday and explained that he wants his players to use that play as motivation.
"There is nothing wrong with still having that taste in our mouth," Payton said. He then went on to elaborate a little more on the subject. To see what else he had to say, click here.