FLOWERY BRANCH, Ga. – It might seem crazy to think the 2018 Winter Olympics in PyeongChang, South Korea, would have any connection to the Atlanta Falcons, but the two are linked.
Elana Meyers Taylor, a driver for the Olympic bobsled team, is the daughter of former Falcons running back Eddie Meyers.
If Meyers' name doesn't sound familiar to Falcons fans, it's because he never actually appeared in a meaningful NFL game. A star runner for Navy in the 1980s, Meyers had to spend his first six years after college serving in the military. Each summer, however, he used his leave from the Marines to join training camp with the Falcons.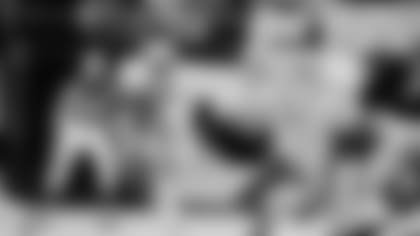 Despite his best efforts to make it onto the field for a regular-season game, Meyers never accomplished that goal. But, his time with the Falcons has helped his daughter make a run at her Olympic dreams.
After Meyers Taylor decided on pursuing a spot in the Olympics as a member of the bobsled team, her father recruited an old teammate to be her fitness coach. That old teammate? None other than Falcons great Billy "White Shoes" Johnson.  
"My father's NFL dreams never really felt like motivation to me, but it was something to aspire to," Meyers Taylor told NBC Sports' Nick Zaccardi. "He was such a great athlete, the least I could do is try and use my athletic talent to represent my country in a different way. He represented as a Marine. Maybe I could do something to represent as an athlete."
Meyers Taylor participated in both the 2010 and 2014 Winter Olympics, but the Sochi Olympics marked her first run as the driver of a bobsled. Although she led the bobsled event after three of the four runs in Sochi, Meyers Taylor made a mistake on her final run and finished one tenth of a second out of first place, earning a silver medal.
Now, she has the opportunity to make up for that mistake and cement her place in Olympic history as a champion. After the first two runs in this year's women's bobsled event, Meyers Taylor and her partner, Lauren Gibbs, currently sit in second place with just .07 seconds separating them from the leaders. The final two runs of the event will take place on Wednesday at 6:40 a.m. ET.