The Falcons' offense will look familiar next season, but there may be a few new elements added to the mix in hopes of helping the unit be even more productive in 2018, particularly in the red zone.
Speaking at the NFL head coaches breakfast during the league meetings this week in Orlando, Falcons head coach Dan Quinn explained the team's approach to improving and tweaking the offense heading into the new season.
"The style should feel similar but there'll definitely be some wrinkles," Quinn said. "Style meaning the way we want to run the ball, the way we want to come off the ball. At the end of it, can we execute better? They'll be some new wrinkles for sure. We're not doing triple option or anything with Matt Ryan. But there will definitely be some new parts of the offense this year. How do we feature the running backs, how do we feature the guys in different ways?"
Atlanta's offense may have taken step back last season from the juggernaut it became during its run to the Super Bowl in 2016, but it was still among one of the better groups in the NFL. In their first season under new offensive coordinator Steve Sarkisian, the Falcons averaged 364.8 yards per game, which were the eighth-most in the league, and they had the league's best third-down offense, converting 44.67 percent of their attempts.
The style should feel similar but there'll definitely be some wrinkles. Dan Quinn
What didn't come as easily for the Falcons last season were touchdowns, particularly in the red zone. Atlanta scored a touchdown on 50 percent of its trips inside of the red zone in 2017, which ranked 23rd in the NFL.
Adding a few wrinkles to the playbook should help keep opponents on their toes, but there are some other factors that should give fans optimism for the offense.
With a full season of NFL experience under his belt and a complete offseason to reflect on and address some of the problems that appeared last season, Sarkisian will be more familiar with his players and utilizing them in the best fashion. He will also benefit from having those players available for offseason workouts, including star receiver Julio Jones who missed last offseason and was limited in training camp while recovering from foot surgery. The Falcons have also added a veteran quarterbacks coach in Greg Knapp, which should only aid Sarkisian and the entire unit.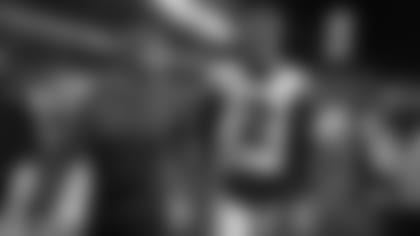 Having the offense together heading into workouts will allow them to immediately begin re-igniting their chemistry on the field and working on those new wrinkles.
"The chemistry that takes place between receivers, running backs, coaches, everybody, it's important," Quinn said. "For instance, [Matt Ryan] and Julio have lots of hours logged together through the years. There's nothing that takes place of on-field practice."
Table inside Article

| TEST COLUMN | TEST COLUMN |
| --- | --- |
| TEST ROW | TEST ROW |
| TEST ROW | TESTHaving the offense together heading into workouts will allow them to immediately begin re-igniting their chemistry on the field and working on those new wrinkles. "The chemistry that takes place between receivers, running backs, coaches, everybody, it's important," Quinn said. "For instance, [Matt Ryan] and Julio have lots of hours logged together through the years. There's nothing that takes place of on-field practice." ROW |