FLOWERY BRANCH, Ga. -- Following each Falcons game, head coach Dan Quinn will break down a play from the game in which he feels was a key play in the game.
This week, Quinn selected Vic Beasley's strip sack that Desmond Trufant recovered for a touchdown at the beginning of the third quarter.
Green Bay (1-1) started with the ball in the second half and this defensive play by Atlanta (2-0) really hurt any chance of the Packers gaining some momentum back.
Here's Quinn's breakdown:
• Play: Second-and-five on the Packers 22-yard line
• Time: Third quarter, 14 minutes and 14 seconds left
"On the play, it was a three-step pass," Quinn said. "And [Green Bay's] offensive line was cut blocking both of the defensive ends. It was a great example of coverage and pressure working together."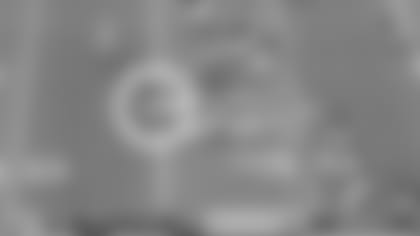 The ball had already left Rodgers' hands when Beasley brought him to the ground. Trufant scooped up the ball, not knowing if the refs would rule the pass incomplete, and ran into the end zone.
The ruling on the field was a touchdown, and after replay, the ruling on the field stood.
"What a heads-up play by Tru because we teach the players in that instance, you don't know if it was a forward pass which it would have been incomplete, a backwards pass or a fumble," Quinn said.
"What you have to do is make sure you recover it so we have the possession and go score with it and then let the referees determine what happens," Quinn said. "It was a very clear illustration of him taking that coaching to the field."