FLOWERY BRANCH, Ga. – The Falcons' rookie minicamp is officially in the books. A total of 67 players – including six draft picks, free-agent signees and about two dozen tryout players – tried their best to make lasting impressions on the coaching staff during the two-day event.
And while some definitely did, Falcons coach Dan Quinn said it doesn't make the roster decisions any easier.
"It's a good day and, also as a coach, it's a tough day," Quinn said. "There's 60 men here today and some are under contract, what I told him, and some aren't. So for the ones that aren't, sometimes you don't get the ending that you want."
Still, Quinn said, "a very large number" of those players helped themselves and that a number of them – specifically, players that the coaching staff didn't know a whole lot about before minicamp – "are now on our radar" as the Falcons head into OTA's and training camp.
"There's some guys that proved that they could play," Quinn said.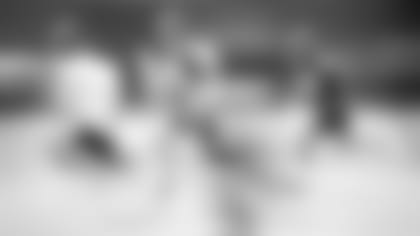 Falcons looking for speed, effort and versatility
One word Quinn repeated several times the last two days was "speed."
"We wanted to see the guys move, we wanted to see their speed," Quinn said. "Whatever speed they have, we want all of it. And that included the kickoff drill you saw at the beginning, full-speed routes, full-speed bursts."
It's clear the Falcons have a pretty good idea in what they have in receiver Calvin Ridley and on Day 2 of minicamp, Quinn said they wanted to feature some other guys to better evaluate them.
Speaking of Ridley, Quinn said the first-round pick out of Alabama will be looked at in a number of positions including kick returner, punt returner, slot, outside receiver – and that will continue through the OTA's.
Another speedster who was moved around quite a bit during minicamp was sixth-round pick Russell Gage. On Friday the LSU product played cornerback. On Saturday, the Falcons lined him up at receiver.
When he asked if he had a prefeerence for one side of the ball or the other, Gage said he didn't.
"I'm asked that a lot and it's hard to pick," Gage said. "Just when I played as a kid, you played everything; it didn't really matter. For me it's the same mindset everytime. I just love to play and I love to win."
So where will the Falcons ultimately line Gage up? Quinn said that it's too early to tell and wants to watch more tape of him in practice but added that he'll probably know by the time training camp rolls around.
"I thought he had a good day defensively yesterday and I didn't get a chance to look at the tape yet, I know by the time we leave to break before training camp it will be decided well before then," Quinn said.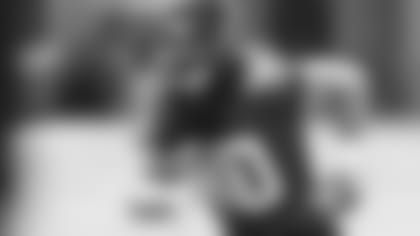 Battle at fullback 'is going to be a big one'
The Falcons have two rookies in camp vying for the starting fullback position – Luke McNitt out of Nebraska and Stanford product Daniel Marx (pictured above) – and Quinn said it's definitely not too soon to start breaking down that competition.
"Let's be honest, that's one of the real competitions that we're going to have," said Quinn, who added that it could be a while before that one is decided.
"The things I've learned in two days is that these are two really bright, competitive guys," Quinn said. "We felt their urgency out of the stance, both can catch well, and special teams is going to be a factor in that as well. It's going to take all the way through the games at that position. … That's going to be a big one.'
Quinn excited about addition of McClain
On Friday, the Falcons turned some heads when they agreed to terms with veteran defensive tackle Terrell McClain. The 29-year-old has played seven seasons in the NFL and will work into a defensive line rotation that includes Grady Jarrett, Jack Crawford, and third-round pick Deadrin Senat.
"Sometimes it seems like the right guy at the right fit at the right time and that certainly feels like the case here," Quinn said of McClain, who also visited with the Dallas Cowboys, San Francisco 49ers and Miami Dolphins before signing with the Falcons.
The 6-foot-2, 302-pound McClain played for the Washington Redskins in 2017, recording 20 tackles, two sacks and a fumble recovery.
"I know he did his research, too, to make sure it would be a good fit for him and we're really pumped to have him as part of our group," Quinn said.
To make room for McClain, the Falcons waived receiver Detrich Clark on Saturday.