FLOWERY BRANCH, Ga. -- Falcons coach Dan Quinn addressed the media on Monday, following the team's 20-17 loss to the Panthers, their first in divisional play this season.
Quinn was very up front about some of the problems the Falcons (4-4) have faced through the first half of the season and the mistakes that he views as correctable moving forward. With five division games remaining, everything is still on the table for Atlanta.
After the road loss, Quinn explained as much to his team, adding that it's up to them to clean up their execution and play up to their standard.
"It comes down to us and the way we execute and the way we attack," Quinn said. "That's what I told the team today. Where we go from here will depend entirely on the room and how we go and attack.
"We're at the midpoint right now but by no means has the story of 2017 been written, and only the men in our building can control how that goes. It's our focus, it's about our preparation, about the things that we need to improve on."
Quinn outlines three main areas of concern
In discussing the Falcons' first-half performance, Quinn touched on three key areas he wants to focus on improving.
"There's a number of spots that I think we can improve on, but that's at the top of the list – third-down and red-zone emphasis for us and the turnover margin," Quinn said. "If I had to put three things in after eight games of the '17 season, and these parts we're going to improve on: Third down, offensively and defensively, red zone, offensively and defensively, and our turnover margin. Those are the three areas. I think if that part come alive like I think it can, we can be the team we can be."
Atlanta had difficulty in at least one of those aspects of the game in most of the four losses it has suffered this season. Most recently, the Falcons converted just 33 percent of their third-down opportunities against the Panthers, stalling drives and limiting their total number of plays.
What Quinn saw on the short-yardage woes
Several of the Falcons' failed third-down attempts came with just 1 yard needed for a new set of downs. One particularly notable series occurred late in the second quarter. Atlanta ran the ball twice on third- and fourth-and-1, getting stopped for no gain on both attempts.
Immediately after the game, Quinn said he'd wait to watch the film before diagnosing what went wrong on those two plays. On Monday, he provided his answer.
"Obviously, there's going to be some type of technique error or breakdown that doesn't allow you to get the distance that you want," Quinn said. "On both of the runs that came up short on third-down-and-1 and fourth-and-1 sequence, both those issues had come up – where we either got beaten by a play or lost on a technique of a play. As we're going back through it, we're going to go look to see how we can do it differently, better, but there was definitely issues technique-related in the play."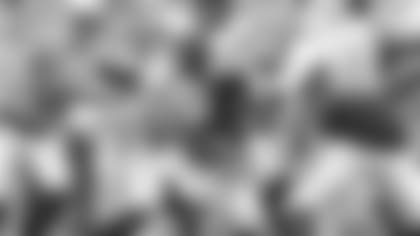 Penalties limiting the Falcons' consistency
Outside of the third-down struggles, penalties were the most notable issue for the Falcons against the Panthers.
Atlanta has committed 52 penalties this season, which is among the lower penalty totals in the NFL, but the Falcons have committed no fewer than six penalties in their last four games. While that number can certainly be lowered, the penalties have been very impactful at times, wiping out some big plays or extending drives for the opposing team.
"The other part of that is special teams," Quinn said of penalties impacting the offense and defense. "We've seen a play that's a 70-yard penalty on a touchdown return. Those are ones that are really difficult to overcome. It's the pre-snap ones that we're in complete control over – a jump offsides, a neutral zone infraction. Extending a third down, that's a real penalty from a defensive standpoint where the result of the penalty is a first down.
"Yesterday, we had a sack by Adrian Clayborn to knock them back [and] we had a defensive holding, that's a big play. It goes from being a long distance to convert to a first down. Those are small examples of [the importance of] really stay consistent in our technique. What I shared with the team is: Consistency is really the key ingredient to be great at anything. And if you can keep doing it over and over, doing it right over and over, it will work out. But when those little bumps come where it's not as consistent, like a penalty, that's where it sets you back."
Julio receives major support from teammates after drop
There's no need to rehash what happened when Matt Ryan's pass connected with Julio Jones in the end zone during the fourth quarter on Sunday – If you're reading this piece, there's a strong chance you remember that play vividly.
When Quinn was asked about what he saw on that play, he revealed a nice story that illustrates how the Brotherhood this organization has worked to establish is much more than a motivational ploy.
"It's one that he wanted back, for sure, because it was the right look for the right [defense]," Quinn said. "Probably the best that came out of that was in the locker room, and I thought it was probably one of clearest demonstrations of respect and love for a teammate. For how many guys wanted to come over and just tap him on the shoulder, and [let him know] we got your back 100 [percent] and just that kind of support. They know what he stands for as a competitor, and probably as important, they know what he stands for as a teammate. So that was their way to demonstrate that respect for him. Behind the scenes, that was a pretty clear example of how important he is to the guys on our team."
Falcons have to be ready for Cowboys' run game
With the Dallas Cowboys coming to Mercedes-Benz Stadium on Sunday, the Falcons have to show marked improvement against the run.
Carolina gained 201 rushing yards and averaged 5.3 yards per carry against Atlanta, and Dallas currently has the No. 2 rushing offense in the NFL, averaging 148.1 yards on the ground. "That's really the strength, or one of the strengths, of their team is their ability to [run the ball]," Quinn said. "I've got all of the confidence in our guys to [defend the run], but we really have to make sure our gap control is correct and right. For us, losing some contain plays yesterday, quarterback draws, outside runs, they featured Cam [Newton] in a way that suited his style and we didn't answer on those – that was difficult for us. You can make sure we better have our run game in order against a talented front."