FLOWERY BRANCH, Ga. -- For the first two preseason games, Falcons fans have seen very little from the team's projected starters. Matt Ryan has seen one series in each game, Julio Jones has yet to play and the starting defense has often been off the field by midway through the first quarter.
That's a common approach for most teams across the NFL. More often than not, that changes for the third preseason game.
Several organizations use the third preseason game as a sort of dress rehearsal for the regular season, leaving their starters in for the first half and sometimes a series or two after halftime. This allows the players to get better acclimated to the flow of the game, while also leaving one final contest to evaluate players before making roster cuts.
With a lot of depth to evaluate, the Falcons' approach may vary from the standard practice across the league. Coach Dan Quinn explained how he and his staff will use their third preseason game during a conference call on Monday.
"Our approach will be more on an individual basis – who we really want to try to feature," Quinn said. "Sometimes you see that postgame when you see, boy that guy had a lot of plays in the game, that may have been a player we were really trying to find out about. … There's a number of guys that we're really trying to dig in on and find out what they can do. That's as important to me as what they can't do, because you have to find out both and what can they do and how can we feature them."
Since Quinn's arrival, he has largely followed that blueprint for the third preseason game. In 2015, Atlanta's defensive starters played much of the first half and even into the third quarter, while the offense had certain players stay on the field longer than others. Ryan played four series, Jones less than that, and the offensive line played nearly the entire first half.
Last season, things looked a bit more routine. Both the starting offense and defense appeared to play six series and left the game following their first possessions in the third quarter.
Each year is different, however, and there's no general rule for approaching the third exhibition game.
"You can't put a big blanket on the whole thing, because there's a lot of guys on the team that are in different stages of their development," Quinn said. "A first-year player is still trying to figure out where's the bus going to the game, and the veteran player is trying to really be sharp in their approach."
Thus far in the preseason, the Falcons' starters have looked sharp. The offense has scored on its first possession of each game, while the starting defense opened both contest by forcing a three-and-out. If Quinn and his staff are comfortable with their established pieces, they may choose to give more opportunities to those competing for spots further down the depth chart.
Players who stood out against the Steelers
During the conference call, Quinn named several players who stood out to him on film during the Falcons most recent game against the Steelers.
"On the linebacker side of things, I felt like Kemal Ishmael really had a deliberate mindset for the football," Quinn said. "He was somebody that had real intent about him all the way through. I though Josh Keyes, in the special teams, really looked like he had some speed. Quincy Mauger (below) was one; although he had a couple of missed assignments, he really had good intent for the ball.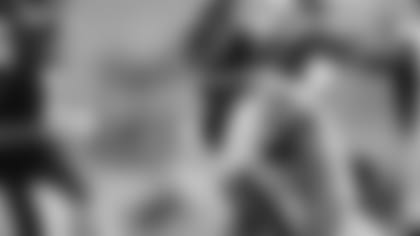 "On the offensive side, I would say I liked the strain from some of the receiver spots. I thought Reggie Davis, on offense, had a big play down the field. Offensive line-wise – it wasn't in the second half – but both (Ben) Garland and Wes Schweitzer I thought had a real physical approach to their game. That part was encouraging. I though Sean Harlow had an improved game from intent and physicality; he had a lot of snaps all the way through. … I thought on special teams, Brian Hill had a real competing, tough day, in terms of the way he competed there."
Ishmael and Keyes tied for the team lead with four tackles, apiece, while Mauger came away with one of the Falcons' two interceptions on Sunday. Davis was Atlanta's leading receiver for the second week in a row, hauling in three catches for 74 yards, including a 44-yard reception. Garland and Schweitzer continue to battle for the starting right guard position, and Quinn said he would wait until later on in the week before deciding which of them would see the field first on Saturday.
As for what Quinn and his staff are looking for during the evaluation process, he explained it's as much about seeing what a player's strengths are as much as it is their areas of weakness. Players can carve out a role based on their strengths, and that is what Quinn looks for during games.
"He may not be this on punt, but he can play this on kickoff return; he may not play this on offense, but he can really split out wide as a tight end and make an impact," Quinn said. "We're still trying to feature guys in the very best way who we don't know enough about. And then for the players who we do have lots of information on, it's about their readiness to get ready for the regular season."
By not entering the game with a pre-determined script for playing time, Quinn will be able to adjust based on where he believes each player is in their development. Consistency is something Quinn looks for during this time, so allowing a player to receive more snaps during a game will help him have a greater sample size to base a decision on when it's time to trim down the roster. "The first-year players need more, because it's their first time in the system," Quinn said. "Offensively, defensively, covering kicks, that will happen naturally. As far as a pre-determined amount, that will happen on a case-by-case basis than just by a general statement of 'offense is going to play this much, defense is going to play this much.'"