FLOWERY BRANCH, Ga. – If there's one thing Dan Quinn knows well, it's defense. It's his calling card. And, as Quinn likes to say, you can never have enough guys who can get to the quarterback.
"If you know any pass rushers, tell them to give me a call," Quinn has quipped on more than one occasion during his press conferences.
Someone must've called Quinn, because on Wednesday morning former Oakland Raiders and Seattle Seahawks linebacker Bruce Irvin agreed to terms with the Falcons on a one-year deal. Irvin, who was waived on Monday afternoon and went through the 24-hour period without being claimed by another team, became a free agent and opted to reunite with Quinn in Atlanta.
As most people know, Quinn and Irvin have a history together, albeit a short one. Not only do they maintain a mutual friendship, they also won a Super Bowl together.
Before Quinn took over as head coach of the Atlanta Falcons in 2015, he made his mark as the defensive coordinator of the Seattle Seahawks from 2013 to 2014. The year before, the Seahawks made Irvin the 12th overall pick in the 2012 NFL Draft and during two seasons playing under Quinn, the West Virginia product recorded 88 tackles, 8.5 sacks, five pass defenses, three interceptions and two touchdowns.
And, as noted above, the Seahawks played in back-to-back title games – Super Bowl XLVIII and XLIX – in 2013 and 2014. And in 2013, Quinn's first as defensive coordinator, Irvin and the Seahawks defense led the NFL in fewest points allowed (231), fewest yards allowed (4,378) and takeaways (39), becoming the first team since the 1985 Chicago Bears to accomplish the feat.
Quinn left for the Falcons job in 2015 and following that season, Irvin left Seattle and signed a four-year deal with the Oakland Raiders in 2016. In seven seasons in the NFL, Irvin has 264 tackles, 40 sacks and 15 forced fumbles.
Now at age 31, Irvin arrives in Atlanta hoping to make another run at a Super Bowl with Quinn. While he's not the same player he once was, the hope is that Irvin can inject some life into the Falcons' pass rush.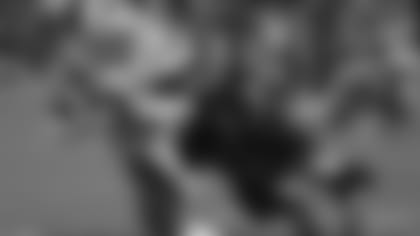 So how exactly will Irvin fit in with the Falcons?
"We know exactly how Bruce will fit into our team on the field, and just as importantly into our locker room," Quinn said.
When Irvin came out of West Virginia and into the league, he was mostly seen as a pass rusher. But the Seahawks decided to move him to linebacker and make him an every-down player. And Irvin flourished playing the strongside in Seattle's 4-3 defense next to middle linebacker Bobby Wagner and weakside linebacker K.J. Wright. With the Falcons, however, expect to see Irvin lined up on the end, getting after the quarterback. And that's good news for a Falcons unit that's currently ranked 27th in the league in sacks with 17. Second-year defensive end Takk McKinley leads Atlanta with 5.5 sacks.
"He will add to our rotation along the defensive line, while adding to our pass rush," Quinn said. "He is familiar with our scheme and we are familiar with his strengths, so we are looking forward to getting him on the field as soon as possible."