The 2012 Atlanta Falcons Cheerleaders team was named during final auditions at the Arthur M. Blank Family Office in Atlanta on Thursday night.
The final 40 ladies were reduced down from 65 finalists, who were decided from more than 270 that auditions during preliminaries Sunday.
All the veterans who auditioned made the 2012 squad, which left 18 rookies to be added to the team.
"I think we have a beautiful, talented, amazing team. There was a lot of talent in all the girls I saw," three-year veteran Alicia D. said shortly after being named back to the team. "I was impressed. ... I know that we have a stellar team."
The 2012 team will get together in a few weeks for their annual team-building retreat, and AtlantaFalcons.com will be there to introduce you to the new members.
For now, here are the 2012 Atlanta Falcons Cheerleaders (click the image below to see a larger version):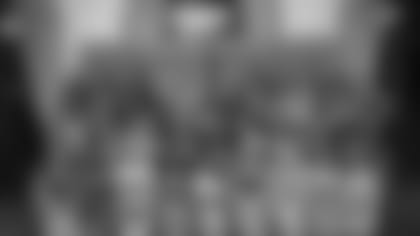 ](http://www.flickr.com/photos/atlantafalcons/7140538907/in/photostream)
Names from left to right:
Front Row: Zorah B., Kelly P., Natalie B., Denita C., Natalie D., Sabrina C., Shauna K., Brittiney W., Emily Bl.
Row 2: Kelsi S., Alice F., Kristy B., Lindsay M., Melissa Z., Erin P., Kadija J., Natalie S., Amber B.
Row 3: Emily Br., Irina K., Dana L., Loren C., Ashley G., Cecilia B., Kristen J., Tiffany M., Haley D., Rie O., Ashley Y.
Back Row: Alicia D., Avis H., Cameron A., Kat M., Katie V., Jonna B., Kiley B., Kelsey G., Ariel A., Heather K., Sydney H.