FLOWERY BRANCH, Ga. -- In his first year as a quarterbacks coach at the professional level, Charles London said he's learned a lot in his first months on the job. And it's a few months in which the Falcons have seen their backup quarterback role fluctuate.
AJ McCarron was the No. 2 behind Matt Ryan up until the second week of preseason games when he tore his ACL against the Dolphins.
"Any time something like that happens that's non-contact, it's tough when you know what these guys put into it," Arthur Smith said at the time. "I feel for AJ. We'll obviously get the MRI to confirm, but he's heartbroken."
The MRI confirmed McCarron was done for the season, so the Falcons went back to drawing board with only Feleipe Franks in the room with Ryan. They needed a backup quarterback, and they found Josh Rosen on the open market, brining him in the following week. On a short week in Atlanta, Rosen was thrown into the thick of it against the Browns in the final preseason game.
Since then, a lot has changed. Rosen has placed himself into position to be the Falcons backup quarterback. While the Falcons coaching staff has tried out something new with Franks. He no longer wears a red jersey at practice as he plays a role on the scout team and has even run a few routes at tight end in games throughout the season so far.
On Friday, London sat down for a quick Q&A to share updates on Rosen's development, Franks' move and the trust he's seen develop with Ryan and the Falcons rookie tight end, Kyle Pitts.
Editor's Note: This Q&A has been edited for length and clarity.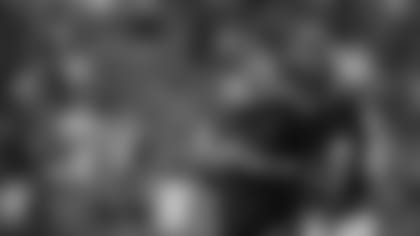 Tori McElhaney: Where is Josh Rosen in his development in comparison to where he was when he came in during the preseason to where he is now as Matt Ryan's undisputed No. 2?
Charles London: Obviously it's night and day for him. He was here maybe three or four days before he played in that first preseason game. What I really appreciate about Josh is he's done a great job of 1) playing catch up, to get caught up to the point of where he is today. And 2) he's in a tough spot being a backup quarterback. He always has to be ready to play at any point without getting the reps during practice. I think where Josh has grown considerably is in his prep each week and learning the game plan, knowing the ins and outs of the game plan, but doing it without getting the reps during practice. His reps come during the scout team when you're trying to mimic another team's offense. I think that's where he's taken leaps and bounds.
McElhaney: How do you evaluate he comfort level in Arthur Smith's scheme when he does only have a limited number of reps in practice within Smith's offense?
London: What we do a lot with Josh during the week - especially with our offense - it's really mental with him. There are mental quizzes with him on every play. This is the play call, so what's your progression? What are you looking for here? Or, what would you do in this situation? Here's the protection, what are you doing here? We play the mental game with him as he's watching these reps. He's getting quizzed every moment during practice. He's getting quizzed after practice. I think you have to keep him sharp and always keep him on his toes, and make him have to make the same calls that the starter has to make but he's doing it without actually being out there.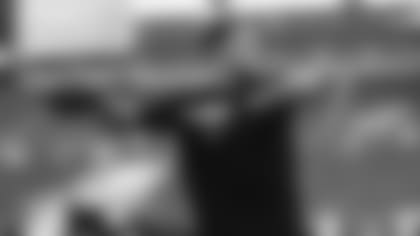 McElhaney: Now, flipping to Feleipe, we know how you all have been moving him around for the last month. What does a practice look like for Feleipe when he's asked to wear a couple different hats?
London: Everything that he's been doing so far is going to help him as a quarterback. He's seeing things from a different perspective. But yeah, he does have a hectic practice. He's going to a whole bunch of different areas. But he's willing to do whatever he can do to help the team, and I think that's the most important thing as he continues to develop.
McElhaney: I think it was Arthur Smith who said a couple weeks ago that you all wouldn't be doing this with Feleipe if you weren't comfortable with Feleipe knowing the offense from a quarterback standpoint. In that vein, how do you feel about Feleipe's progression as a quarterback?
London: If we weren't confident in his development as a quarterback we probably wouldn't try these things with him. He's coming along, and he got a lot of good experience in the preseason. He played basically three quarters in the Miami game, and then played the first half in the third preseason game. He got a lot of good experience there that a lot of guys don't have the opportunity to get.
I think Feleipe is in a great spot. He's soaking up all the knowledge that he can, but also learning some different things whether it be on special teams, the tight end position or whatever it is.
McElhaney: I've asked about Josh and Feleipe. I guess now I need to ask about Matt. Seeing him from the outside looking in to now being in the room with him on a daily basis, what have you learned about Matt that you maybe didn't know before?
London: I don't think people understand the preparation that he takes every week to play a game on Sunday. He doesn't just roll the ball out there and show up and go. His preparation is unbelievable. It starts the Monday after a game and then goes all the way through Saturday leading up to a Sunday game. His dedication, preparation, the amount of time that he puts into film room, the amount of time he goes back and researches things, it's what a professional quarterback does. If you look up 'franchise quarterback' in the dictionary, that's Matt Ryan.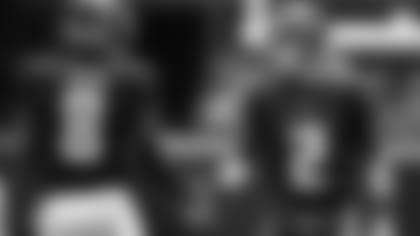 McElhaney: We've seen the development in Matt's trust in Kyle Pitts, and I thought it was exemplified recently when he had 0.4 yards of separation against Xavien Howard in the fourth quarter of the Miami win and Matt still goes to him, trusting that he'd come down with the catch. How have you seen that trust evolve between those two?
London: It really started back in May during OTAs once Kyle was drafted. Just the two of them working out, working together, figuring each other out. It was Kyle figuring out where Matt was going to throw the ball. Matt figuring out where Kyle was going to be. You just keep doing that day after day after day. I think that (moment against Miami) was a great example of you being able to see the trust that Matt has in Kyle that - look - 'I'm going to put this ball to a spot and he's going to go up and get it. And if he can't get it, he's going to make sure they can't get it.' That's just the trust that the two of them have developed over the last few months. The more they continue to work together I think the better it's going to get.