FLOWERY BRANCH, Ga. -- The second practice of the 2017 AT&T Atlanta Falcons Training Camp is in the books, and there were plenty of exciting moments and bits of information to dissect.
Injury report: leaves practice
The Falcons defense looks faster and more physical than ever, and several defenders made big plays that drew cheers from the fans gathered here at the training complex. It wasn't all about the defense, however, as Steve Sarkisian's offense had its share of victories as well. The team will enter their first full-pad practice on Saturday with minimal injuries, and it's sure to bring out a new level of intensity.
Settle in, because it's time to recap the five biggest takeaways from Friday's practice. 1. The Falcons have undeniable team speed
The NFL has evolved from a league that valued "4 yards and a cloud of dust" to one focused on spacing the field and putting players in favorable matchups. In today's game, speed can be the great equalizer. Coach Dan Quinn's team may just be the fastest in the league.
Starting cornerback Desmond Trufant said Thursday that this was the fastest and deepest defense he's ever been a part of. With young players like Deion Jones, Keanu Neal, Vic Beasley and Grady Jarrett continuing to improve, this is a unit that looks poised to make a big jump in 2017.
Rookie linebacker Duke Riley has especially stood out over the first two days as a player who is as fast as advertised. The LSU product ran the 40-yard dash in 4.58 seconds at the NFL Combine, and he looks like a blonde-haired blur on the field.
Offensively, Reggie Davis showcased his ability to separate and made two nice plays. The former Georgia receiver drew praise from Quinn after practice for his performance.
"Reggie's speed today, his opportunity is now here. He can really go," Quinn said. "He had a nice catch on a deep ball today. When guys prove they can have a bigger role, we give them reps up." 2. Taylor Gabriel's role may be expanding
Speaking of speed, the coaching staff appears to be looking into new ways to utilize Gabriel, one of the Falcons' fastest players.
Early in practice, the 5-foot-8, 167-pound receiver was taking reps at fielding punts. After a breakout season in which he scored six touchdowns and raced past defenders, Quinn explained they would like to get him more touches this fall. One way to do that is having him return punts.
"As a punt returner, he will (be in that mix)," Quinn told reporters. "That's one of the jobs we can look at, and it creates more touches. So if that's an op(portunity) to get more touches for him, that's definitely something we want to look at."
After practice, Gabriel met with the media and said that he has experience returning punts and kickoffs. He did so in college and was used in that role a little bit while with the Cleveland Browns; Gabriel said he was "comfortable" being back to field punts.
Gabriel is one of just three players that the Falcons listed as limited coming into training camp, along with Julio Jones and Takkarist McKinley. He's dealing with a lower leg strain but said he felt good.
"I'm close, man," Gabriel said. "Just going out there and getting my confidence back with my cuts and coming in and out of my breaks, so I'm close." 3. The defense continues to make big plays
It's fairly common for defenses to look good when going head-to-head against the offense early in the preseason. Because offense is so predicated on timing and fully learning a scheme, it can take a while longer for that side of the ball to start firing on all cylinders.
That being said, the defense has been balling out these first two days. After watching undrafted rookie safety Deron Washington make a highlight reel-worthy interception on Thursday, fifth-round draft pick Damontae Kazee took it upon himself to snag a one-handed interception.
His wasn't the only interception of the day, either. Robert Alford stepped right in front of a Matt Ryan pass and would have had a good shot to return it all the way in a real game. Both interceptions came off of passes from Ryan, but I have a feeling the reigning NFL MVP isn't too hung up about it.
Newly promoted defensive coordinator Marquand Manuel explained to reporters after practice what he's looking for from his players.
"Are you tough, and will you compete," Manuel said. "That's the bottom line of it; are you tough and will you compete? And if you can do those things, the big plays and things of that nature, and you're doing your job -- competing and battling and leaving it out there for one another -- looking at your coach, looking at your player, the relationships that we have, the communication that has gotten ten times better, that is what you guys are starting to see."
To see all of Manuel's post-practice interview, click here. 4. Steve Sarkisian finding things to improve upon
One of the most interesting storylines for the Falcons this season will be the offensive changes that accompany Sarkisian's arrival in Atlanta. The team does not want to stray too far from what made the offense one of the best in NFL history last season, but Sarkisian will still make his mark.
He spoke after Friday's practice and provided an update on where things stand with the offense after two training camp sessions but also noted that Saturday's full-pad practice will be "huge" for evaluating the players.
"There's plenty of stuff to work on, but there are some bright spots as well," Sarkisian said. "So, the key is to continue to build on those bright spots but then finding those things that we need to improve upon and get better at them, not let them linger. I thought some of the things we wanted to address from yesterday, coming out today, the guys did a nice job doing so."
For those who may be concerned that Sarkisian is looking to retool an offense that scored nearly 34 points per game in 2016, he said that he and Quinn are on the same page when it comes to the philosophy of the offense.
"My goal was to come in and get comfortable with what they had done," Sarkisian said. "And a lot of what they had done, philosophically, really sat well with me, because I had done a lot of it in my past. And then it was starting to incorporate some of the things that I really thought could help the offense and help it grow."
5. HIGHLIGHT: Check out Kazee's slick one-handed interception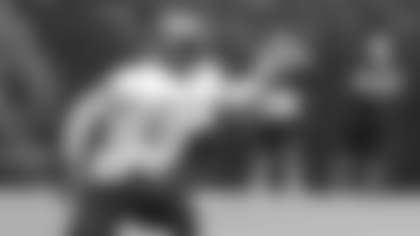 Before closing the book on Day 2, be sure you take a second to watch Kazee's incredible pick. The rookie had a whopping 15 interceptions over his final two years at San Diego State, and he's already flashing that big-play ability.