FLOWERY BRANCH, Ga. -- Rain forced the Falcons into their indoor practice facility for the 11th practice of training camp, but the change in routine did not seem to faze the players or coaches one bit.
Despite practicing indoors, the Falcons stuck with their regular game plan, going through individual position work and various situational drills. Coach Dan Quinn said he was glad to see his team focused and motivated during their final full practice before their first preseason game at Miami on Thursday at 7 p.m. ET.
With Thursday's game approaching, the team still focused on internal improvement, and there were several takeaways from Tuesday's practice.
1. Quinn looking for 'crispness' and 'speed' against Miami
Although it's exciting to have live football games again, the preseason is about evaluation more than anything else. Outcomes don't matter in the preseason, players do.
A consistent string of performances can help a player edge out another in a tight position battle, while a handful of reps will allow a veteran to get back up to game speed. This period is an important one for Quinn and his staff, and he briefly explained what he's looking for on Thursday.
"Offensively, It's really that tempo in and out of the huddle," Quinn said after practice. "Always going to be about the ball, but we're looking for that crispness – the sharp, out of the huddle, at the line of scrimmage, the communication. That part's important to us.
"Defensively, I'd love to see our speed come to life. Here's our first chance for some tackling, and we've worked hard at it. The leverage, those are things we'll be looking for defensively. And then past that, evaluations. There's so many evaluations to get on all the players. I do love this time, and so many guys are going to be going for it, trying to put their best foot forward, and for a coach – and certainly with our staff – it's an exciting time. We love seeing these games."
Training camp practices can provide small glimpses into a player's abilities and the team's progression, but they are nothing compared to watching live action.
So, what exactly do Quinn and his staff look for? This early in the year, they've got a pretty clear idea of what they want to see.
"We want the guys to be really clear-headed, in terms of going in," Quinn said. "So the plan and the scheme, in this time, isn't as important as the evaluation and a guy (who) can feel like he can really let it rip. So, the scheme part, there won't be any new concepts and game plans, so to speak. We want to stay almost in our camp mode of doing things. How aggressively, how fast, how explosive can you play? That's where the real importance lies.
"Now, situations are going to come up – third downs and two minutes and short yardage – so that's important. But past that: Man, can they really haul?"
2. How things stand with the battle at right guard
The Falcons released their first unofficial depth chart of the preseason on Monday, giving a small look at the status of the right guard competition. Ben Garland was given the starting nod over Wes Schweitzer for this first game, but before jumping to conclusions, this battle is still very much ongoing.
Quinn explained that their positions on the depth chart was more out of respect for Garland's lengthier time with the team.
"I think that's fair," Quinn said of giving Garland the first reps. "Coming into camp, both he and Wes were right in the middle of it. We could have went either way with it, really. But I thought Ben was the one we named coming into training camp, based on his experience playing last year, so that's why we went that way."
Although Garland will head out onto the field first, he isn't expected to have any advantage in the number of reps he gets.
"Both of them should see about the equal amount of time," Quinn said. "We've got to get a good evaluation on these two guys."
3. Sarkisian will coach from the box, Manuel from the field
One priority for Quinn this preseason will be determining where his new coordinators are most comfortable and effective while calling games. Some coaches prefer to be down on the field among their players to provide hands-on direction and tap into their emotion, while others feel they are more effective in the coaches' box, where they have a better view of the unfolding action down below.
New offensive coordinator Steve Sarkisian and first-time defensive coordinator Marquand Manuel will alternate between the sideline and the box during the preseason, giving them an idea of which they prefer moving forward.
For Thursday's game, Sarkisian will coach from the box and Manuel will be down on the field.
"Sark will be up, and Marquand will be down," Quinn said. "And then we'll probably flip (them), maybe even in the next game. It's a good opportunity. We've got some new guys, a new staff, and (we'll figure out) how they fit in that role on game day."
4. Allen praises Neal's improvement: 'He makes it much easier for me'
Coach Quinn has often spoken to the sizeable improvement he believes a player can make from his first year to his second. The Falcons have a young defense that may show just how big that jump can be.
Keanu Neal embodies Quinn's belief in improvement. Now entering his second season, the Falcons' starting strong safety has impressed his partner in the defensive backfield, Ricardo Allen.
"Just noticing the defense more, noticing offensive formations," Allen said of the areas where Neal has progressed. "The communication is up to par, man. You don't have those rookie jitters, anymore. He's just ready to go. He was already a guy who played at a very fast speed, so now, (there's) no thinking at all."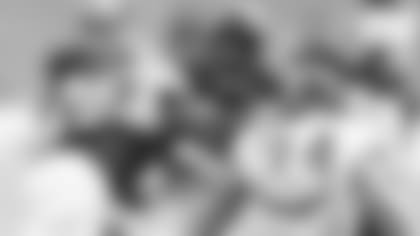 The safety position is an important one from an on-field organizational standpoint. As the starting free safety, Allen could see the entire field clearly from his position and help orchestrate where his teammates needed to be. With several rookies starting last season, Allen had to focus on many different things at once.
Now that Neal has a better understanding of the game from a mental aspect, he can help organize his teammates and allow Allen to concentrate on his assignment.
"He makes it much easier for me," Allen said. "He's out there, and I don't have to worry about the run alerts and all that kind of stuff. I can just strictly focus on pass alerts, and he's done a really good job of both saying run – because he does a really good job of studying – and also pass. He's helping me a lot with his communication, because he's noticing a lot." 5. Falcons sign Taylor and add to running back depth
Prior to Tuesday's practice, the team announced it signed running back Kelvin Taylor. The former Florida Gator is the son of Fred Taylor, one of the most accomplished running backs in NFL history.
"We signed Kelvin after the workout this morning," Quinn said. "He came in and did a good job, he looks even leaner than I remember him from last year and, in the workout, moved good, caught the ball well and did enough that he could get a few reps even in the practice today.
"Let's see where he goes tomorrow, and if we can get him into Thursday, in for the game and have some plays that we would feel comfortable with him, we'll let him do it."
For more on Taylor's signing, click here. 6. Julio and Gabriel will not play against Miami
Atlanta will take the field without two of its most dynamic offensive weapons on Thursday. Receivers Julio Jones and Taylor Gabriel have been limited at various times in camp, and they are among the players who won't see any action against Miami.
"I can give you a couple (of names) that won't make it to the game to play," Quinn said when asked about player availability. "Some will do some significant work Thursday before the game but won't play, like at receiver, Julio and Taylor. We won't play them, but they'll get some work as far as the pregame stuff with Matt (Ryan).
"A couple of guys we're going to rule out: Kevin Graf, offensive tackle, we're hopeful he'll be back for Sunday – that will be the next (opportunity) for him to get back and really get going. Martin Ifedi was one, a (defensive end). Both of these guys are busting it in terms of their work to get rehab, but they're not quite ready, so we're going to really take care of them and make sure they're at full strength. And then the last one is B.J. Daniels, (who) is struggling with a groin. So he'll be out for the game as well, and that was part of the reason for bringing Kelvin in."
For more on Julio and Gabriel sitting out, click here.