Third down disparity started on first down
One of the most obvious differences in the game was third down conversions: The Falcons went 1-for-10, and the Vikings converted 6-of-12. I think it really boils down to something fairly simple. The Vikings offense's success on first down, compared to the Falcons lack of success on first down offensively. And in recent weeks, the Falcons had been doing a good job on second down if they weren't successful on first down. That didn't happen today either.
The Falcons just couldn't do enough to get any rhythm going. Give the Vikings a ton of credit. They're the number one defense on third down, and they kept Atlanta in uncomfortable third down situations. And the Falcons choices weren't easy ones. If you're going to throw the ball past the sticks, you've really got to be willing to hold it longer to let that develop if it's third and long. If you're going to throw it short of the sticks, you've got to get it to a guy that's quick enough to make a play for the first down marker.
Against a team as good as Minnesota, you have to seize the opportunities you are given
There were opportunities to make big plays in the game, but when you're playing a good team like this, those are small windows. That's why the Vikings are 10-2. There aren't a lot of screw ups on their part. When they do give you an opportunity, you have to make them count. There were too many dropped passes and too many penalties. Those penalties don't allow you to stay on schedule, and you end up in bad down and distances.
The Falcons overcame three major penalties on the opening drive to get a field goal. That is monumental. Normally if you overcome one, that's impressive. But there were too many mistakes and penalties in the game. The reason the Vikings are 10-2 is they don't make a lot of mistakes. And the reason the Falcons came into this game having won three in a row is they weren't making those mistakes.
The Vikings limited Julio Jones because they limited the Falcons offense
People will look at Julio Jones' number, especially coming off his monster game last week, and say that Minnesota limited his impact on this game. I think the Vikings limited the team, not just Julio Jones. He was only targeted six times, so even if he had caught all six we would have been saying 'Wow, Julio didn't catch 12 passes again today'. He dropped one on the opening drive that might have ended up being a touchdown.
Atlanta caught them in zero coverage on the opening play, Julio is running a slant inside against Xavier Rhodes and the ball was just above head-high and it went right through Julio's hands. He might have scored on that play if he hauls it in.
Later on in the first half, Mohamed Sanu drops one very similar, right through his hands. And then Matt Ryan missed them a few times, including one where he missed Sanu on an over route where got some pressure in his face. There were just enough of those plays where the Falcons didn't take advantage of opportunities.
Minnesota is a good defense and they make you uncomfortable. When you get a play that is there, you've got to seize it.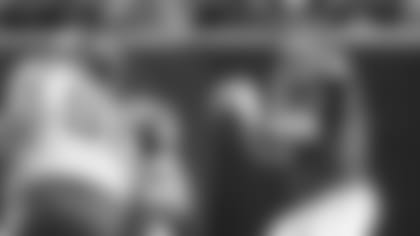 Minnesota's defense won the battle upfront
Atlanta had a tough time blocking Minnesota upfront today. I thought the Vikings generated pressure up the middle. You can avoid pressure off the edge, and they have two big-time rushers off the edge (Danielle Hunter and Everson Griffen), but when you get interior push, now you're disrupting the quarterback. That's right in his vision. You can slide and let things go by you, but if it's interior pressure, and you're not a guy that's going to scramble very much, now you're moving backwards or trying to slide and putting yourself in uncomfortable throwing positions.
Andy Levitre wasn't in for most of the game, but I don't know if it would have been much different. Ben Garland came into the game, and I thought Ben fought his rear end off, and Atlanta's interior guys were all battling, but I thought Minnesota won the war there in this game.
The no-call on Xavier Rhodes' hit on Devonta Freeman was a big miss
Atlanta was approaching the red zone in the second quarter. And I think a no-call there had an impact on the game.
Devonta Freeman was a defenseless receiver on the hit by Xavier Rhodes that didn't get called. I thought that was a bad miss by the officials. The officials got involved early in this game, and it seemed like every penalty was against Atlanta. Both teams were committing fouls. But when Ryan tried to loop the ball over the top to Devonta, Rhodes came up and hit him in the head and knocks him to the ground, but no call.
That was a miss by the officials. Those kinds of things get magnified in or near the red zone in my opinion. It gets tighter down there. Minnesota is one of the top scoring defenses in the league for a reason. And when those plays go against you, it makes it even tougher on that part of the field.
Atlanta's defense made the Vikings earn what they got
Atlanta's defense did a good job of limiting the gains. There were no explosions. They made Minnesota earn whatever they could get. It was fight all day long. I thought the Falcons defense did a really good job of hanging in there and fighting them. And then at some point they were able to find a play to stop them. If you only give up 14 points, you're supposed to win.
Falcons defense generated pressure against one of the league's best offensive lines
I thought that certainly in the first half Atlanta pressured Keenum really well. They got the sacks from Grady Jarrett and Takk McKinley, and they made Keenum have to move around to throw the ball. He did a nice job of buying some time, but I did think they got away with some holding penalties that weren't called.
And the Vikings were using some max protections. They ran a number of plays where they showed play action with a six-or-seven man protection, meaning the tight end and the running back are involved in the protection, and the Falcons were still able to generate pressure. I thought Atlanta did a nice job of making Keenum uncomfortable in the first half, but they probably would have liked to see more of that in the second half.
Case Keenum played a great game, but Atlanta's coverage need to challenge more throws
I thought Case Keenum was huge in this game. He took care of the ball, the ball placement was good. I thought one thing Atlanta needed to do was to contest more catches.
There were too many catches where guys were clean and they were catching the ball before a defender was there. You didn't see a lot of plays where Vikings were catching the ball with a defender draped on them. I just thought it was too clean for Minnesota.
And I thought the Falcons didn't execute a couple of coverages, including the touchdown pass to Kyle Rudolph. Atlanta had three defenders on that side against three receivers, and two defenders went with the same guy, so Rudolph comes clean down through the middle. There were mistakes.
Now, the Falcons were banged up in the secondary. They had to move guys around. Does that limit the coverages they can call? I don't know. That's a good question for defensive coordinator Marquand Manuel.
Ricardo Allen did a nice job at nickel back, but you would prefer to see him at safety
I thought that Ricardo Allen did a good job moving from the safety spot to the nickel back. But let's face it, you would like to have him in the back end. He's the guy calling the shots in the back end of the defense. You would like to have him back there, coming up and maybe jarring a ball out instead of having to play a guy man-to-man or playing underneath zone.
At 7-5, Falcons don't have to look hard to find a good precedent
If you're looking for the silver lining, the Falcons are 7-5, like they were a year ago. And I think they're playing better defensively.
In terms of mindset, the team has reason to believe they can make a run. Remember, last year Atlanta lost in their own building to Kansas City in a really screwy game. Similarly, this is a game that the Falcons could have won. So the feeling is the same, and now you have four division games coming up. You've got to win your division games, but your entire destiny is right there in your hands.