Editor's note: Archer's Take is a weekly series in which Falcons analyst Dave Archer provides insight and analysis of each Falcons game.
Sarkisian had a lot up his sleeve for the Redskins
You could tell that he spent a lot of time in the laboratory. He came up with a lot of different looks, I thought he had the Redskins swimming. Now, you have to have success, and Matt Ryan was really good about getting the ball out, getting the ball to guys quickly. He wasn't waiting to try to shoot the ball down the field; when he saw a guy quick in the flat, he got him the ball. I thought Matt's decision making kind of accentuated what Sark had come up with. Those two guys were in lockstep with one another with what they wanted to accomplish with the early part of the game plan, and that was to throw the ball on first down against a big-bodied defense. They made Washington's defensive coordinator get to their Nickel group, and they're not very deep in the secondary where they don't have a lot of personnel. Their front seven is the strength of their team, and so you kind of took them out of their personality and it got them discombobulated. What was cool is that when they came back out at halftime, their No. 1 concern was to get to the passer. "OK, we've got to get to the passer, because we're not getting to Ryan." Ryan had thrown for 240 yards by halftime. And they completely neglected the run game. The opening drive of the second half, Atlanta goes right down the field and shoves the ball down their throat in the run game. Now, you don't know what to do defensively.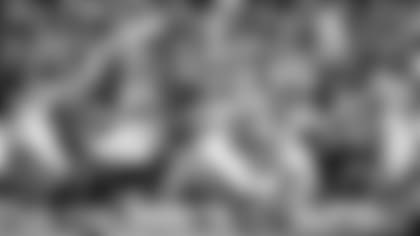 The defensive game plan took away the Redskins' identity
Team defense again. Credit Marquand Manuel's ability to use 20 players on the defensive side, rotate the defensive linemen, keep them fresh. You knew there were two things that you needed to take care of. You knew that you needed to stop the run. You knew that Adrian Peterson was kind of the bell cow and was playing well coming off a 150-yard performance against the Giants. So you expected, "OK, they're going to try to feed us and beat us through the run game." The defensive line coming off the ball, they shut that down right away. They were in the backfield, Grady Jarrett, Deadrin Senat, Jack Crawford, the two edge guys were in the backfield the whole time. No clean running lanes, whatsoever. Second thing you had to do is they were going to throw the short-passing attack. They were going to throw the quick outs, the quick slants, the tight ends over the ball, checkdowns. Atlanta hugged up on those plays for the most part. They tackled, for the most part, OK. There was a little moment there where we didn't tackle very well in the second, early third quarter. They sealed that up and began to tackle better. The guy that was hurting Atlanta was the venerable one, if you will, Vernon Davis. The big-time tight end had his best day as a Redskin in this game. They matched him up with a linebacker, Bruce Carter, De'Vondre Campbell. They had a safety come down, Jordan Richards. They even had Sharrod Neasman try to play him a little bit. Finally, Marquand Manuel makes a great substitution that probably slipped right under the radar for everybody. He said, "Screw that, I'm bringing in an extra corner," and Blidi Wreh-Wilson comes in. And Blidi makes the play, tips the ball in the air, where Damontae Kazee comes in and makes the interception. So, give them credit for understanding, "OK, we've tried different players on him, he's still hurting us, let's get a different player on him. Let's get a cover guy." And Blidi Wreh-Wilson came in there and did a great job on him.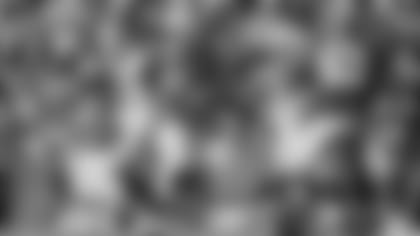 The offensive line got after a big-time run defense
The first thing that sticks out is the concentration with the two guys who are going to fill in in the middle. You're essentially playing with two guys who are not your starters to begin the season at guard. Wes Schweitzer on one side, Ben Garland on the other side. We knew that this was a defensive front that could come off and push, but we didn't see any interior push of any kind. They completely shut down gigantic guys trying to come at the quarterback to start off with. The game plan was to throw the ball on first down. Against that big group, that base look, throw the ball on first down. And then when you're going to run it, we sub in sub package and go Nickel. That way we run the ball against Nickel. That was the way it went in the first half. So, the offensive line was the key to the whole thing. Were they going to be able to hold up? They did. From the jump, they held up and did a good job. At that point now, as a play-caller, my comfort to now begin to call anything that I want to call expands. And so now I can use different packages and different players. They had seven different guys catching passes, three different guys catch touchdowns. Tevin Coleman and Ito Smith running behind a really good offensive line coming off the ball. That was the best we've seen them run the ball since the Carolina game. It's the most yards rushing that this Redskins team have given up all year. In fact, the most they've ever given up all year long was in Week 2 against Green Bay and it was only 104 yards. They've held teams to under 100 yards in five of their seven games.
This was a stout, big-time run defense, and the Falcons' offensive line got after them. And I thought that the backs ran accordingly, I thought that the backs were decisive in the way they ran, both Ito and Tevin, when they decided to take it wide they put their foot in the ground when they found the crease. And Tevin even showed a little Devonta Freeman in for us today, as he got to the cutback a couple of times, which is Devonta's forte. And that hasn't really been Tevin's deal, he's a stretch guy, hit it one time and get it up the field, which he did well today. But he got to the cutback a couple of times that was provided by the offensive line. So the star of the game is the offensive line and then, subsequently, what Steve Sarkisian was able to do play-call wise.
The play-calling and execution were perfectly in sync
It looked like they had a decided idea that they were going to run the football north and south. I think in the second half you got a little bit more to the wide-toss play. It was interesting because most play callers, the good ones, are going to try to minimize your damage on third down. We wanted to throw the ball on first down. Five straight times when we had an incompletion on first down, we ran the ball on second down. And so, that's fine and dandy but you have to get something out of it. And the shortest gain we got on those five plays was about 4 yards. So now, if I'm Steve Sarkisian, I'm third-and-6, I'm third-and-5, I'm third-and-4. You go eight-for-eight on third down in the first half? Man, that's unbelievable. So now they're reeling. They can't get any type of footing to heat your passer up because you're staying in manageable third-down situations. Because you can still run it on third down, you can throw the screen on third down, you can throw the ball down the field. That slows the pass rush down. I thought Steve Sarkisian was brilliant. When he didn't get what he wanted on first down throwing the ball he came back and ran it to put it back to that medium situation where you had something to convert on third down. So, the play calling coupled with execution, that's what big-time football looks like. When you get both working at the same time, man-to-man, it doesn't get any better than that.
The Falcons' defense is coming together under good coaching
It's just the team defensive scenario where you're wrapping it up. And this is a group that's coming together. Coach Quinn and Coach Marquand Manuel told us, "OK, listen, let's get these guys up to speed. We've got a lot of guys that haven't played together. We've got a lot of guys that are maybe playing out of position. We've got a lot of guys that we've never had to count on before, that haven't had to be counted on." So they're going to have to learn to get up to speed. All of a sudden you saw them start fitting the run properly, hustling to the football as a team, leverage tackling inside, outside. You see that starting to take effect with this group, that they finally kind of slapped together. And give them credit now, you're talking about 20 different guys playing on defense. That's a helluva job coaching to get those guys all dialed in when they're on the field to understand what their responsibilities are and then to play as a unit.
Everybody was happy to see Julio get into the end zone
I think he wanted to get in the end zone. Give Jake Matthews a ton of credit, because he dropped the hammer on Josh Norman. He's the kickout guy on the play, the left tackle. Ryan shows action right, Julio starts off like he's going to run the fade, retraces and comes back to the line of scrimmage. Ryan puts the ball on him with a defender in his face, because you turn loose the defensive end. Jake Matthews steps around the defensive end, so the defensive end is coming clean. Ryan has got to throw the ball around the defensive end, I don't remember if it was Preston Smith or Ryan Kerrigan, but they're coming clean in his face. He put the ball right on Jones. And so Matthews is out there and he cleans up Josh Norman, I mean drops the hammer on him. And then Julio was able to step up on the accelerator, and it's Alabama-on-Alabama crime on the back end because Ha Ha Clinton Dix tries to drag the big fella down. But once he got inside the 10-yard line, the beast was not coming to the ground. He was going to get the ball into the end zone. It was cool to see all the guys go down there. He knows that there's been a lot of conversation, the whole team knows there's been a lot of conversation about Julio not being in the end zone. He's the ultimate team player, Julio Jones. And for the guys to respond that way, they knew how important that was for him to get in and kind of get the naysayers off his back by getting into the end zone. Credit the entire team for the way the responded, I thought that was pretty cool.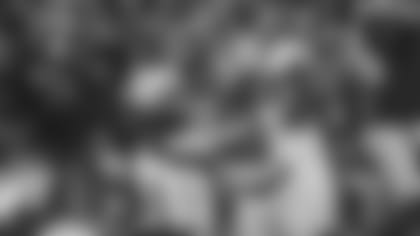 Jarrett is a difference-maker for the Falcons' pass rush
There were some injuries up front and they were trying to slap their guys together a little bit. They had a number of guys go down in the game, and this was an offensive line coming in for the Redskins that was among the most-penalized for holding calls in the league. I think they were 25th or 26th in the league in holding. So, you knew if you pressured them, you were going to get some calls. Those are effort penalties, though. Those aren't penalties where OK, the guy just grabs you and then we'll get the call. That's with guys finding the edges of offensive linemen so they can rush, hitting gaps hard, coming in off the edge hard. You generate those fouls, those aren't just fouls that happen. When you get seven holding calls in a game, that shows you how hard all those guys are working. Grady has made a difference. Grady is a difference-maker. Those guys kind of feed off Grady, and I think he and Jack Crawford really play well off each other. Not to take anything away from McClain or any of the guys who were inside, Deadrin Senat, because those guys performed well as well. But those two guys have a little bit of a chemistry now brewing between them in the interior, and you couple that with Vic and Takk on the edge, and it's a group that's starting to come together and know what each other can do. I saw one time where we rushed three guys to one side and Grady looped all the way around and forced the quarterback out of the pocket and he had to throw the ball away. They're really working in concert well together.
Tevin's first touchdown was a group effort
The first thing is, it was a look evidently that Washington had not seen, because the defender had a tough time getting lined up. So give Steve Sarkisian credit, the formation was evidently an unscouted look. They didn't have enough numbers out on the play to begin with. Then, Hooper and Sanu, after the ball is thrown to Tevin and he steps back on the screen, Hooper and Sanu get the two key blocks. The closest cover guy has got to get a hat on both of those guys. Tevin was able to split them. The play is not over, you've got Ben Garland and Wes Schweitzer 20 yards downfield both making blocks. Two big guys, two big eaters are downfield making the two key blocks to spring it. Garland dives or catches a part of Ha Ha Clinton Dix to slow him down just enough that Tevin was able to cut back into that little seam and step on the accelerator and score. Now, does Tevin score without those blocks? Probably not, I think he probably gets dragged down inside the 10-yard line. So the effort for those two key blocks and the effort of the big guys to get downfield and be a part of it, I mean that's awesome. That's team football, man. And when Tevin gets into the open field he's as dangerous as there is.
Calvin again shows understanding of the game beyond his years
Calvin belies his years in the league, because he understands timing of routes. He and Sanu are lined up tight right to Ryan and as they come of the ball in tandem together, vertically. When they're playing man coverage if the inside guy gets a good solid push up the field, he's going to get tangled up with the other defenders or you can get the two defenders tangled up with one another. If you go back and look at it, that's what happens. But the key is, and we've seen this before out of Calvin, is you've got to have patience. And so Calvin can't immediately come inside, because now the cover guy will jump to the inside because he's not affected. But because Sanu and Calvin came off together and got a good vertical push and Calvin waited and came underneath it got Washington tangled up trying to cover man coverage. And as it turns out, Sanu's cover guy knocks Calvin's cover guy off. And then of course Calvin, when he catches the ball on the run, there's not anybody on the field that's going to catch him. He catches that on a dead run, give Ryan a ton of credit to get him the ball on the move. He didn't have to stop, he got the ball on the move going downhill and stepped on the accelerator and put it in the end zone. But, again, it's team football. It's not one individual player, it's a group of guys working in concert with one another. Timing is proper, good protection, Ryan hits him on the move. Boom, you're in the end zone. Third-and-long, by the way. That was a third-and-9, it was a huge play.
Campbell has taken his mental game to another level
Well De'Vondre, I think he gets undersold for how smart he is. The guy is as intelligent as the day is long. I think he studies the game. He and Debo are two guys that work really well together. A lot of that responsibility has fallen on De'Vondre Campbell. But there were several plays, and you could tell that he had studied tape and studied formation, where about a second or two before the snap, he stepped up and slid the line one direction or the other because there was something he recognized on tape, and they ran right into where he had switched the line. That's just recognition by a young linebacker that's now becoming a veteran leader on this team. Understanding that I've got to get my guys in the proper position for us to be successful. And that's another example of a guy understanding I've got to take my game to another level. It may not just be the physical part of it but maybe the mental part of it. De'Vondre Campbell is doing those kinds of things.