Editor's note: Archer's Take is a weekly series in which Falcons analyst Dave Archer provides insight and analysis of each Falcons game.
Rams' pass rush controlled the line of scrimmage
We knew that it was going to be a bit of a tall task to try and protect against this team, so you have to be able to mix in the screen and run game. Unfortunately, Atlanta was unable to block them in the run game, which forced the Falcons to throw the football. Their ability to rush five and get the Falcons' offensive line into one-on-one situations was huge. Aaron Donald and Dante Fowler are both matchup nightmares, one-on-one. The Falcons tried to do a number of things like chip and release, but just didn't play well up front to allow some adjustments to happen.
Here is an example: Jake Matthews is a solid left tackle, but in a number of his protections he was too soft, which allowed the defender to push towards Matt Ryan. It also prevented Devonta Freeman from chip-releasing. He has to set a little stronger and allow Free to chip that outside shoulder to allow him to stay in front of the guy. Because it was too soft, it opened the gate and allowed the edge rushers to get up field, which forced Ryan to move up in the pocket and guess who's coming from the interior? Aaron Donald – that is what the Rams want. You have to be stouter on the outside, try to chip-release with the tight end and the running back.
The running back caused a couple problems as well. I saw Freeman actually pick Kaleb McGary off as Freeman was trying to get in position to chip block, but was too far inside. Fowler took an inside angle and Devonta was just in the way, which led to McGary not being able to stay on Fowler. Little technique things like that created some problems, but ultimately the Rams won the line of scrimmage. Without a run game, Ryan was under siege for the entire game – nine hits, five sacks.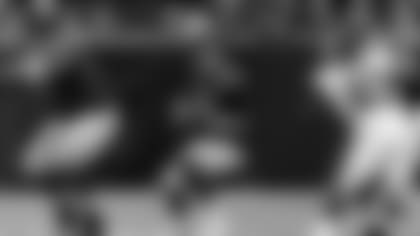 The numbers didn't tell the story
Normally, I like to get put this article together right after the game as quick as possible to let the fans and readers digest the game as quickly as they can. For this particular game, I wanted to go back and look at the tape again. The numbers weren't necessarily lining up with my perception of how the game went. I looked at it, and I rewinded plays back-and-forth, and for this game the numbers are not telling the story.
I know the Falcons lost 37-10 and that usually means you got your rear end kicked. The third down numbers didn't look how they were supposed to look like, both offensively and defensively, but as you dive deeper into it – when you start looking for improvements, you have to ask is the team giving themselves a chance to win the game?
On the defensive side of the football, I would have to say yes. But the score got out of hand because the Falcons offense and special teams didn't uphold their end of the bargain in this game.
When I looked at the defensive tape, and really ran plays back-and-forth – there were a number of hits on the quarterback. Did they sack Goff? No. But we saw Damontae Kazee coming with pressure, linebackers came in, and Ricardo Allen came to put a number of hits on Goff. And I know that the numbers are glaring. Only five sacks registered in seven games played and that is just not good enough. But they affected Goff.
Throughout the game, Goff had to err away from the defender, instead of throwing a lollipop in there to the receiver because the coverage was tighter. That led him to missing some throws. Those moments are there for the Falcons' defense and there is improvement in that area.
Ultimately, Atlanta's defense has to find a way to get off the field on third down and that is not happening at a high enough level. Teams are converting at about 54% on third down and that is not good enough. Atlanta had a number of stops in the red zone as they forced the Rams the kick four field goals.
I feel like when I look at the tape, and I see guys flying around and blitzes coming, and coverage is being played tighter – those things are happening on defense. They just aren't happening enough in this game, to win this game.
I'm telling you the guys are playing hard and to say that they are close is disrespectful to the fans, but there are some things I wish I could be able to show the fans that they are very tight and close to doing somethings, but this season is starting to get away because they aren't executing consistently.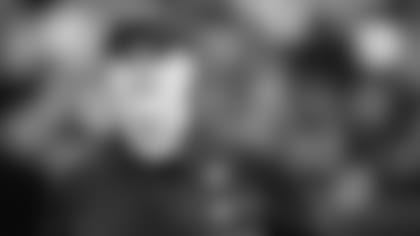 Quinn distributing play-calling to assistant coaches, bottled up Gurley well
Dan Quinn acknowledged after the game that he has begun to share the defensive play calling duties with a couple of defensive assistants. It's tough tell exactly where that is showing itself, but I did see something that I thought was a real cool design. The Falcons number one priority was to take Todd Gurley away. Gurley normally stirs the drink for this Rams offense – they want to run the football and run play-action off of Gurley, so they have to get Gurley established.
There was a plan to blitz Deion Jones through the A-gap as soon as he read run and he came through. He made 11 tackles in the game and three of which were for losses. Jones also disrupted a lot of plays where Gurley had to bounce the ball outside or someone else made the play because Debo was right in his face. That design of taking away the run game was brilliant, because they could not run the football at all. Ultimately, they did get some plays in the play-action calls, but not a ton. So, I thought that design, was a little bit different from in the past.
Now, is that an adjustment that the Falcons made in-game? I don't think so. It was designed during the week and practiced so the Falcons could take away the Rams' run game.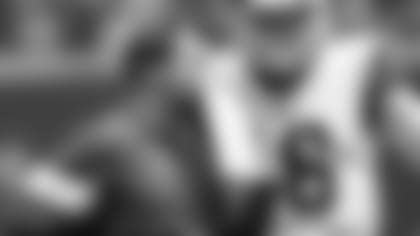 Rams fake punt was a pick play
First off, the fake punt was an illegal play – I ran the play back about ten times and looked at it. The Rams had split out and made it look like punt team and Hekker then stepped up in a shotgun quarterback situation. The Rams released the upback into the flat. Well Atlanta has man-coverage on it, in fact, Sharrod Neasman has the upback in man-coverage. But the outside receiver and the slot to the Falcons' left side comes down and sets a pick on Neasman. He gets bumped and tries run underneath. Now he is out flanked by the receiver, Hekker gets him the ball and they convert for a first down, an illegal play and it should've been flagged for pass interference.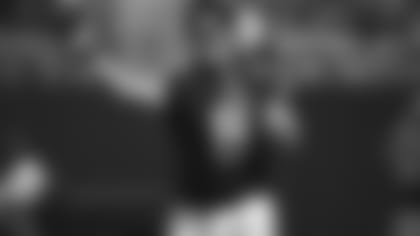 Next man up, Matt Schaub's number is being called with Matt Ryan's injury
Matt Schaub is a veteran, a former pro-bowler, and he was a Pro Bowl MVP. He has two 4,000-yard passing seasons in his career. So, this is a guy who is a very accomplished player, who understands the offense and has the ability to step in and do the same things that Ryan has been doing. Maybe not quite as mobile in the bootleg game and isn't much of a scrambler, but he does understand getting the ball out on time. He's been here long enough where he understands the receiving corps body language and the things they are trying to get done.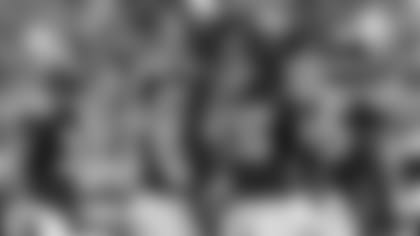 Where do the Falcons stand and what to expect moving forward this season
You only have so many opportunities to play this game, so to say that the season is over, let's look to next season, isn't reality. The players have to look at it as they will be one-year older next year. At some point you begin to diminish the older you get. You only have so many times to play this game and there is a pride factor that kicks in. This isn't a college season or an NBA season where you got extra guys on the bench you can throw in the game and not play your main players. It's disrespectful to the younger players and every player whoever wore a Falcons jersey to just simply quit midseason. There is a tremendous amount of pride to play this game and it's a team game – that's what it's about. These guys are going to come in and work hard this week, they'll get prepared to play a really good Seattle team and arguably the best quarterback they've seen all season along. They'll be ready to play this week; they'll play hard and that is what I expect from the Atlanta Falcons team standing at 1-6.
Adversity is tough, but it molds you and shapes you. You are never judged when everything is all fine – you are judged by how you respond when you are kicked to the ground. I expect these guys to respond in a very professional way and a way with a lot of pride.