ATLANTA -- My roommate isn't a die-hard watcher of Falcons games, so I will preface this by saying that. Her boyfriend is a Ravens fan, so that's usually the team she watches on Sundays. But with the Falcons playing on Thursday night and with no other games on, she told me she was going to watch the game as I ran out the door on my way to cover said game. It was a game the Falcons ended up losing 25-0 against the Patriots.
When I woke up on Friday morning (OK, technically afternoon because I didn't get done with work until 3 a.m. (all working journalists curse you late-night games)), she was already in the office working. I asked her about watching the game, and the word she used to describe it was "messy." I found that interesting as she added:
"Even with untrained eyes it felt messy," she said.
I popped on Arthur Smith's press conference immediately after our conversation and interestingly enough, Smith seemed to feel the same way about the game. Though he didn't use the word "messy," it could probably be inferred.
"That's the frustrating part," Smith said. "It's hard enough to beat good teams, but when you're sitting there handing them things and I am talking about the pre-snap stuff, those self-inflicting wounds... That's what the Patriots have feasted on for 20-plus years. That's what's frustrating."
There were other "frustrating" parts of not just Thursday night's loss to the Patriots, but Sunday afternoon's 43-3 loss to Dallas, too. So, let's go through the context of both. I'm not promising that it will be fun, but perhaps you'll learn something about where the Falcons are.
"I will hear no defensive slander!!!"
OK. So, if you've been around me at all in the last 12 to 14 hours, I have said this ad nauseam.
I tweeted it at the end of the third quarter with the Patriots leading 13-0 at the time. I ranted about it in our Falcons Final Whistle podcast. I stood proudly on my soapbox this afternoon as I did a radio show in Macon.
And here I sit, saying/writing/believing it again.
This Patriots offense was humming as it came into Atlanta, outscoring their last four opponents 150-50. This Falcons defense stepped up. The issue, though, was that the Atlanta offense didn't. And I'm not saying anything Smith himself didn't say.
"I thought the defense fought and played pretty well (Thursday), and we haven't put a game together recently with all three phases playing (well)," Smith said. "They gave us a chance and we didn't take advantage."
I went back and looked at some of those chances Smith is referring to. The defense only gave up one touchdown. One. This defense forced three timely three-and-outs throughout the game, giving the ball back to the offense. All three times, the offense went three-and-out in return.
The first time, Matt Ryan was sacked on third down. The second time, Russell Gage and Tajae Sharpe collided on third down and the ball fell incomplete. The third time, Ryan threw an interception.
Then, there was AJ Terrell's interception that he returned to the Falcons 48 yard line. Atlanta put together a few plays, but stalled out on third-and-one and then gave the ball back to the Patriots after not converting on fourth-and-one.
So, no. I will not say a bad word about the way this defense played on Thursday night. Not a single word.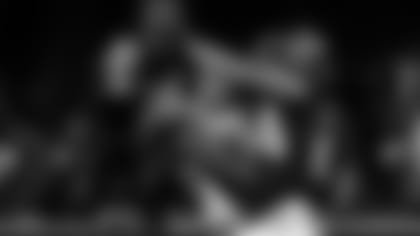 "How many third down conversions have the Falcons had through two games?"
I wrote this question down in the margins after Ryan's pass intended for Olamide Zaccheaus was tipped into the waiting hands of J.C. Jackson. I knew the number couldn't be high. Against the Cowboys on Sunday, the Falcons went 1-for-11 on third down. Against the Patriots, that stat line wasn't much better. The Falcons were 2-for-11 on third down on Thursday. That brings us to 3-for-22 on third down through two games.
Smith said there are certain stat lines that someone can manipulate. This is not one of them.
"Clearly when you put those kind of numbers in back-to-back weeks that's how you get the results you've gotten," Smith said.
I wouldn't say the problem is on third down conversion alone, though. The Falcons are having a hard time moving the ball on first and second down. It's something I wrote about and asked about after the Falcons loss to Dallas. It was something that still rang true five days later against New England. The Falcons offense is consistently putting itself in too many third-and-long situations.
"When you're constantly creating self-inflicting wounds, the pre-snap penalties, you're in second-and-15s, first-and-15s, it certainly makes it hard, especially when you're playing a good team," Smith said. "To overcome those odds over and over in a game that field position is going to be critical when you're playing a team like New England..."
It's been an emotionally stifling five days
Smith was very candid about the emotional rollercoaster this team has been on since its win in New Orleans two Sundays ago. Smith talked about getting back to .500 after that victory, feeling pretty good about a "big divisional win." But then, in five days, feelings shifted.
"And then you play Dallas and then on a short week you come back and play New England," Smith said, "it's about as rough as you could feel after the emotions of getting back to 4-4."
Smith said simply that the Falcons deserve to be where they're at, with a now 4-6 record.
"We haven't played well enough," he said.
But Smith also added that you have to keep a little perspective, especially when considering how much parity there is in the league this year. He said the Falcons have to wash what was a "frustrating" five days and two losses without scoring a touchdown.
On Thursday night, Smith said that though it feels "ugly," the Falcons are "going to figure this out." He reiterated that same sentiment on Friday. The Falcons are not 1-9, he said. If they swing it, they're still in it. But there are things that need to be fixed in order to do so.
"You have to have perspective that we have seven games to go," Smith concluded. "We're going to swing at it. All that matters is you go down to Jacksonville and get back in the mix." Falcons Final Whistle | A Postgame Podcast
Break down the hottest topics surrounding the Atlanta Falcons and how they can impact the team's success with Atlanta Falcons Insiders Scott Bair, Tori McElhaney and Kris Rhim. Like and subscribe to join us for the lively debate on Falcons Final Whistle.
Welcome to Falcons Final Whistle – an Atlanta Falcons football postgame podcast during the season that shifts gears in the offseason to answer a pressing question about the team's future each week through free agency, the NFL Draft and the offseason program.