Performing in her Falcons cheerleader outfit in front of thousands of people at the Georgia Dome field as a 7-year-old, [Natalie S.](http://www.atlantafalcons.com/cheerleaders/Natalie S./e9a94172-7eb7-484a-9a11-349595cfd295) couldn't believe where she was.
Now, 14 years later, when she goes out onto the same field on gameday to do the same thing, she still gets just as excited.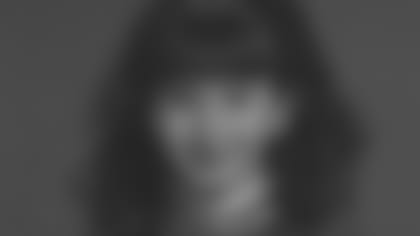 "I feel like I've literally grown up with the team," Natalie said. "I was a baby when I first started this team. I'm always in awe when I go out on gameday. Like, how am I standing here?"
If anyone knows what it's like to be a cheerleader for the Falcons, it's Natalie. For three seasons from 1999 to 2002, she was a Junior Falcons Cheerleader and then transitioned into an Atlanta Falcons Cheerleader when she officially joined the squad in 2011.
"When I did Juniors, it became a dream to be with the Falcons," she said. "The Falcons cheerleaders were there for every practice so they mentor you. They're very inspiring because they all have these amazing careers and were all very educated. They were just a great influence on younger girls. It was awesome to be around them and be surrounded by them, so it kind of made me want to be that."
Although Natalie grew up as a dancer and did it competitively for six years, Kim Holland, a former Atlanta Falcons Cheerleader and a coach at her dance studio, encouraged her to try out for the cheer squad after she graduated.
Once she turned 18, Natalie went to try out for a spot on the Falcons cheerleading squad and was the youngest to audition. Now, three years later at the age of 21, she's still the youngest on the team.
Despite being considered a veteran, she still looks up to the rest of the cheerleaders, just like she once did as a 7-year-old.
"Being around these women that have these great careers, it's helped me grow as a person," she said. "It's been such a phenomenal experience."
Just like they still inspire her, she realizes that there are Junior Cheerleaders who now look up to her the same way and dream to be where she is. Although she encourages them to pursue their dreams, she also wants them to realize that being on the team goes beyond what you do on the field, despite what age you are.
"Just stay in school and get an education because cheerleading for the Falcons isn't just being pretty and being physically fit and your ability to dance," she said. "It's about what you do outside of that, outside of the performance aspect of it. So be career oriented and get your life together before you audition because it's so much more than a performance."