The announcement that Corey Peters will miss the first portion of the regular season didn't come as a tremendous surprise. Peters, injured during the offseason, has missed all of training camp and the preseason and head coach Mike Smith said on Monday they put Peters on the reserve/non-football injury list to ensure the third-year defensive tackle has enough time to get full healthy.
His absence means others have to step up. Peters started all 15 games he was available for last season and had three sacks and one interception. Since his arrival in 2010, he's been a critical member of the Falcons interior D-line rotation. While he'll be missed, there are some young players on the roster that the vets believe are ready to fill the void.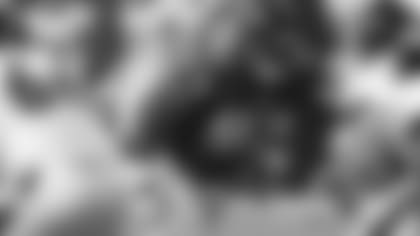 "It's going to be a big loss for everybody," defensive end John Abraham said. "We've got to pick up after him. We've got some young players that have shown they can step their game up. We're going to try to get them mentally prepared, but physically they're ready."
One of the players that has been a pleasant surprise during the preseason is seventh-round pick tackle Travian Robertson. While his stats aren't eye-popping, he's been active on the line and involved in plays in the backfield.
"Robertson has done a nice job," Smith said on Monday. "We've given reps to the other two defensive tackles (Vance Walker and Peria Jerry) as well behind Jonathan (Babineaux). When you get those opportunities and those reps, you've got to make the most of them."
No player wants to see a teammate get injured, even when playing time is on the line. Robertson has used Peters watching practice as a resource and he sees the chance for more playing time as an opportunity to continue to impress the coaches.
"Corey's been teaching me on the sidelines and in the meetings the things I need to work on," Robertson said. "Anytime I mess up he's helping me out. It's just a blessing in disguise for me. I've got to step up and be ready. Injuries happen on every team. It's just an opportunity for me to step up and play my part."