Welcome to Straight from the 'Beek! The Falcons are knee deep into preparations for the Carolina Panthers – their first divisional opponent this season – and you've got questions. Just remember that all opinions you see in this space are mine, unless otherwise noted.
So, let's get to them. We begin with an Ezekiel Elliott question.
Kyle from Flowery Branch, GA
Beek, help a brotha out. Is Zeke going to play against the Falcons or not? All these appeals ... will we see him suit up at MBS?
Matt: If you're having trouble wrapping your head around what's happening with Ezekiel Elliott's legal issue – or simply haven't been paying that close attention to it over the last year or so – do yourself a favor by watching this 60-second video by the *Star-Telegram* for a brief summary and key dates. 
This is what we know for sure. Judge Katherine Polk Failla denied the NFLPA's request for a preliminary injunction on Monday, putting Ezekiel Elliott's six-game suspension into effect again. He would not be eligible to play until the Cowboys' game against the Raiders on Dec. 17. Failla then stayed the decision for 24 hours, which allowed Elliott's side one day (24 hours) to consider appealing, which they did Tuesday. That stay was reportedly denied.
What happens now? According to reports, the NFLPA expected the decision and will go to the Second Circuit Court of Appeals with an emergency motion asking for an injunction pending the appeal in that court. So everything hinges on what happens with the Second Circuit. And in case you forgot, that's where the NFL won the "Deflategate" case. Until we know what happens there, the suspension is in effect and Elliott will miss the upcoming games against the Chiefs, Falcons, Eagles, Chargers, Redskins and Giants. Makes you wonder if division rival Philly had some, ahem, other motives when it decided to trade for Jay Ajayi on Tuesday.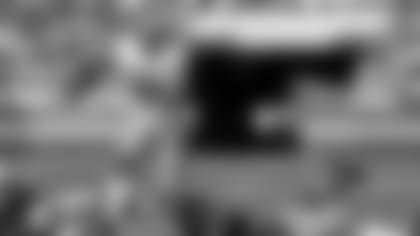 ---
Beek, even though we won Sunday, I feel like it was a hollow victory, by the way we struggled to beat a 1-6 team in the rain. I tend to notice people's action and reactions. As the TV cameras spanned the field, I noticed tension between Julio Jones and Matt Ryan on the sidelines (they were not smiling) and one time where it looked like Dan Quinn was yelling at his coaches to change a defensive setup. By those two observations, I sense some sort on internal tension among the team and coaches. Did you see that? The Panthers will be a true test of where we stand in our division, especially the way their defense is standing tall right now.
Matt: Whoa, whoa, whoa. Back up for a minute, Clint. I think I saw more positive emotion on the sidelines during the Falcons' win over the Jets – who are now 3-5 after the loss and not a 1-6 team – than I have all year, especially during the fourth quarter. I certainly didn't sense any tension and, well, coaches do yell on the sidelines from time to time. It's what they do in the heat of battle. Both teams did play in a steady downpour all afternoon – just miserable conditions, so if anyone look less-than-thrilled on TV for a second, that might have been the reason why. Just a wild guess.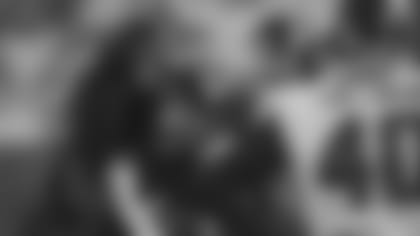 ---
Hello! Love the "Straight from the Beek!" GENIUS WORK! 1.Ice-breaker If you could live anywhere in the world, where would you live? 2. Why do our fans bash on our OC? The plays are there, our PLAYERS are (supposed to) make the plays! Do you agree? 3. Do you think the (fairly new) play calling is a bit complicated for the O-line or Matt Ryan? 4. If you had to choose which CB should guard Julio Jones on first-and-goal, who would it be (Alford, Trufant or other)? 5. What is your opinion on Cam Newton and company? Strengths, weaknesses?
Matt: OK, well, this is different. But I'll play along. And I don't know about "genius work" … but if you really think so, remind me to send you my boss's email. Now to your questions: 1. While there are a lot of places I want to see, I'll go with where I've actually been and pick Maui. 2. I think Steve Sarkisian is an easy target for the fans and media, and I think it's kind of lazy, too. There's been a lot more that's contributed to the some of the struggles early on – not simply the play calling. And, yes, in the end the players need to execute. 3. No, the play calling is not any more complicated than it was last year – and I only say that because the players and coaches have told us repeatedly that it's basically the same offense. 4. I'd go with Desmond Trufant. Thanks, Luis.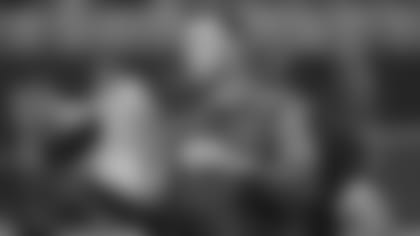 ---
When can we get Takk McKinley mic'd up?
Matt: You know, I wouldn't mind watching and listening to Takkarist McKinley mic'd up every game just because he's so intense, passionate, colorful and funny at times, too. But I don't make those calls, Will. Anyway, here's Takk from the NFL Draft. Enjoy.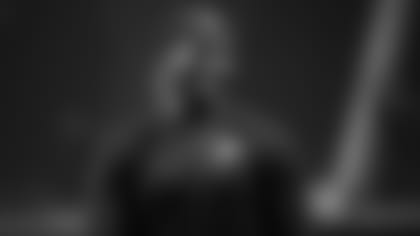 ---
Preston from Lincolnton, GA
Beek, do you think there will be any one thing our offense will focus on this week going into Carolina, seeing that the Panthers' defense has been strengthening up more here lately? I predict a win for us, but am curious at the same time.
Matt: The Panthers still have Cam Newton and added a nifty playmaker coming out of the backfield in Christian McCaffrey, but you're right – the defense is what pops off the screen to me, especially their front seven. I'm going to focus a lot of my attention on the trenches come Sunday because I want to see how the Falcons' offensive line performs there, especially against Julius Peppers and Co. And, in case you missed it, Will McFadden outlined five players on the Panthers who Falcons fans should know about.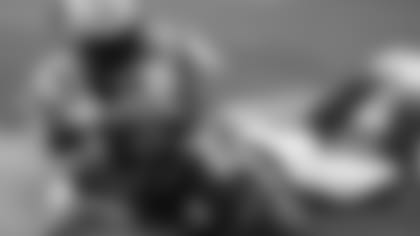 ---
Tony from Penonomé, Panama
The horrible weather during the Jets game and all the miscues made me wonder. When practicing for a bad weather game, do the Falcons do special prep? Do they wet the balls for practice? Do receivers wear wet gloves?
Matt: Hey, Tony. Yes, the Falcons said they prepared for the wet weather by doing just that – using wet balls during practice. Obviously, those conditions are tough to simulate on sunny days in Flowery Branch, Ga., but the miscues nearly cost them a win. And, according to special teams coach Keith Armstrong, if players are going to wear gloves during games they are required to wear them in practice as well (so they're used to it). Hope that helps.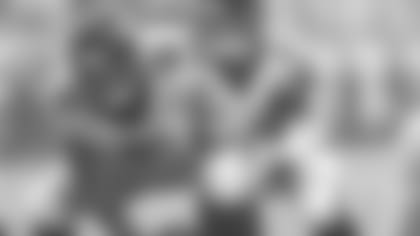 ---
To win on the road in a hostile environment is tough, but to battle the elements they faced made it even harder. So it was nice to see the team grind out a much-needed win. With that being said, can you see this as the type of win that can rebuild their confidence and get things going in the right direction?
Matt: Hey, Percy. Winning always helps. I don't think the Falcons had any issues with their confidence, but I think losing does make you second-guess your approach at times. The coaches are always evaluating and looking for ways to get better, but winning has a way of reinforcing what you do and how you do it. So, yes, a win is a step in the right direction after losing three straight.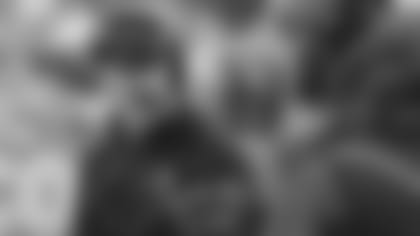 ---
What changed this week? Matt Ryan was finally throwing like himself, the defense came alive, and the whole team played inspired! New energy pill in the Gatorade?
Matt: Haha, no, I don't think so, Dick. Teams evolve through the course of every season and that's what you're seeing with the 2017 version of the Falcons. You have to go through certain situations sometimes – players and coaches alike. Plus, things happen along the way that you just can't plan for – injuries, bad weather, etc. Hopefully the Falcons can string several wins together now and keep building on what they accomplished up in New Jersey, Dick.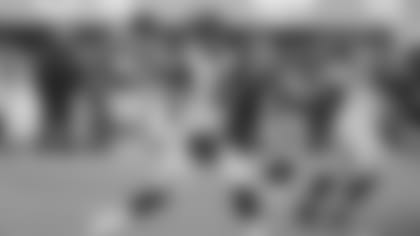 ---
On third-and-1 and at the goal line, why don't we put Dontari Poe in the backfield and use both running backs to get the ball in the end zone? I never understand why the Falcons line up with no running backs in the backfield. To me, it is already a sign that we will pass the ball. It certainly helped the Jets sack Matt Ryan.
Matt: Wait, just to be clear, you're asking why the Falcons don't put Poe, Coleman and Freeman in the backfield at the same time? I'll give you this much – it would be fun to watch. We do know that Poe has the ability to pass (or at least shot-put) it. But in all seriousness, when you spread the formation out like that, it forces the defense to put a man on every receiver – and if they don't, it's an easy completion. It also allows the Falcons to identify any mismatches or advantages in those situations. That all said, I would prefer to run it in short yardage situations, too. And the Falcons have two solid backs to get it done.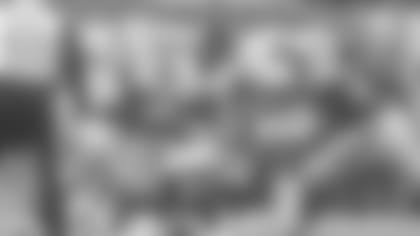 ---
Hey, Beek. Love column. Question, why do people seem to forget how good Tevin Coleman is? I think he's just as more as important to this offense. Do you agree?
Matt: Thanks, James. I totally agree with you.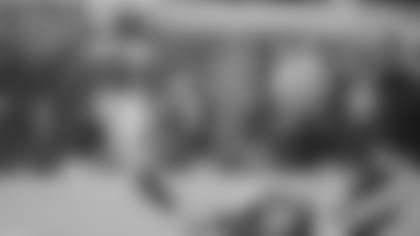 ---
If the Falcons win this weekend, sweep the Saints, and split their 'murderers row' of remaining games, they sneak into playoffs as lowest-seed division winner. Unlikely as a wild card. Without Kelvin Benjamin, the Panthers are even weaker. But if we don't beat the Panthers this weekend, and split with Saints, do you realistically see Falcons making playoffs?
Matt: I think it's too early to speculate on playoff scenarios, Rich. The Falcons still have nine games to play and we don't know how the rest of the NFC is going to shake out yet, either.
---
Do you see the offense taking more shots down the field as the season progresses? I know the running game will help set that up with play action, we have the best RB duo in the game, in my opinion hands down. When do you see us going for the big plays down field more often than not? I'm glad to see Julio Jones get one on the Jets, but I would just like to see more and not just from Julio.
Matt: Hey, Travis, if you didn't read Kelsey Conway's piece on what we learned from the Falcons' win over the Jets yet, give it a gander when you get a minute. Conway explains how the Falcons had 10 explosive plays (passes of 16 yards or more and runs of 12 yards or more) on offense. That's a decent number is adverse conditions, no less.