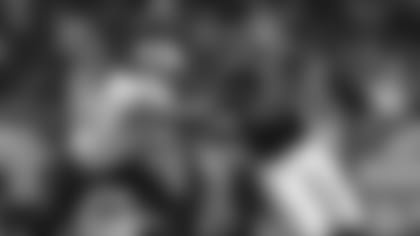 Atlanta's offense hasn't looked nearly as explosive in recent weeks as it did to begin the season. The playmakers are all still there and most of the offensive numbers are trending toward career-high statistics for many of the players involved on that side of the ball, but something's been missing.
For starters, the offense only converted one of their 11 opportunities on third down against the Saints. During the last three games, they've been converting those chances around 40 percent, well below the 48-50 percent range they began the season at. Missing third downs ends offensive drives and the Falcons have looked at ways to correct that over their mini bye from Thursday to now as they prepare for Sunday's opponent, the Carolina Panthers.
Julio Jones on Wednesday said the offense fell victim to over-thinking things a little over the last few weeks and they need to get back to doing the things they know they can do well as start dictating to opposing defenses again.
"We've got a lot of creative minds on offense," White said. "Sometimes we go out there and overthink some things. It's just part of football. Late in the year you think everybody's watching 13 games and they have you figured out, so you try to change things up and go in different directions. You've got to get back to the basics and do what we do well and learn from that."
Including doing what they do well, the Falcons, especially the wide receivers, are focusing on the fundamentals in this week's preparation. A few dropped passes and failures to secure the catch have led to stalled drives and turnovers recently. Their checklist isn't complicated and they're all things they've executed in the past.
"I think sometimes we tried to get too fancy with things and come up with all these great ideas that we think are going to make it instead of sticking to the things that got us there," White said. "Get the ball out of Matt's hands, giving him time and just us do our thing with the ball. That's the basic thing that I think we're going to get back to this week."