If a Falcons tight end makes a big play, odds are another tight end will be the first to give some form of congratulations: a pat on the helmet, a high five, a hug in the end zone. Levine Toilolo, used primarily as a blocker, has offered plenty of congrats this year to Jacob Tamme and Austin Hooper — both of whom have been valuable in the passing game.
On Sunday, it was Toilolo's turn to ignite one of their celebrations.
With the score tied at 17 late in the third, Matt Ryan fired a deep throw to the 6-foot-8, 265-pounder, who managed to get wide open on the left side of the gridiron. Toilolo made the catch, rumbled down the field and scored, creating the longest play of the afternoon and his career.
Hooper and Tamme sprinted to the end zone as No. 80 got shoved across the goal line. And as Toilolo got back on his feet and jumped up, his position-mates met him in the air to enjoy the moment together.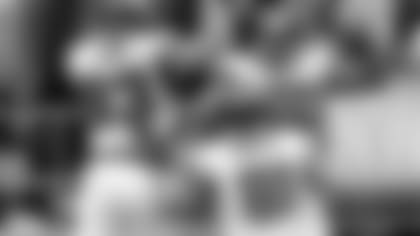 "We just tried to take advantage of some of their single high coverage," said Toilolo, who finished the contest with three grabs for 69 yards. "When you have players like Julio (Jones), (Mohamed Sanu) and Tamme, people kind of get locked on those guys, so it's nice to be able to make a play like that."
"That was a great play by Levine to keep his feet and get into the end zone," Ryan said. "Our tight ends have done a great job this year. We've been in a lot of three-tight-end sets when their numbers have been called on, so I was really happy for Levine."
Indeed, Atlanta's tight ends have been crucial to the team's offensive success in 2016. The trio has combined to record 30 receptions for 418 yards — a 13.9-yard average — and four touchdowns.
"I think it says a lot about the tight end group, not just the players but also coach (Wade) Harman," Toilolo said. "We take pride in that. (It was great) to be able to celebrate with those two guys, being the first ones in the end zone. We take pride as a group just to be able to go out and make plays and help the team any way we can."