Thomas Morstead hasn't been an Atlanta Falcon for long. Just over a week, in fact.
The veteran punter has already made quite an impression in such a short span. The 13th-year veteran was awesome in his Falcons debut, making vital contributions in a 21-14 victory over the Jacksonville Jaguars.
He placed three of his five punts inside the 20-yard line, with a long punt of 55 yards, and never gave the Jaguars possession beyond their own 30-yard line.
That effort was widely recognized, earning Morstead NFC special teams player of the week honors in his first game as a Falcon. He signed with the team to replace Dustin Colquitt, who was placed on the reserve/COVID-19 list on Nov. 22.
Head coach Arthur Smith praised Morstead and the scouting staff that identified him as the right guy to sign.
"He's a pro and he made an impact on the game," Smith said. "Not that Dustin Colquitt hasn't punted well either, but that's why we have a good staff. Everybody's collaborative, and [Falcons General Manager] Terry [Fontenot] and his staff and all the coaches, we all collaborate. Those are underrated moves that nobody thinks about, but he had a huge impact on this game."
Morstead enjoyed his first game with the Falcons after a long tenure in New Orleans and a short stint with the New York Jets.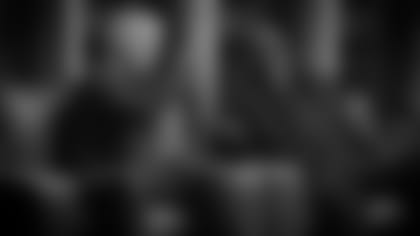 Part 2 | The Season
Chapter Two in the story of the 1991 Falcons explores the impressive season, including an unprecedented run against the 49ers and the entire west coast.