FLOWERY BRANCH, Ga. – With one of the league's most complete rosters, the Falcons might end up only making a few tweaks in free agency. As teams have learned in the past, however, an impactful free agent can mean the difference between watching the postseason from home and hoisting the Lombardi Trophy.
After a bit of research and debate, we've compiled a list of the 10 best free agent signings in Falcons history.
A quick note, though: Only a player's performance as a member of the Falcons and their importance to the team was considered, their overall career nor the contract they signed to come to Atlanta were taken into account. This list also does not include players who were acquired mid-season, only offseason free agent acquisitions.
Before we get to our main list of 10, here are a few honorable mentions (listed in alphabetical order):
Ashley Ambrose, CB – (2000-02: 48 starts, 133 tackles, 12 INTs, 10 PD, 2 FRs, 1 FF, 1 TD)
Patrick DiMarco, FB – (2013-16: 30 starts, 1 Pro Bowl, 37 Rec., 273 YDS, 4 TDs)
Ovie Mughelli, FB – (2007-11: 38 starts, 1 Pro Bowl, 38 Rec., 295 YDS, 4 TDs, 30 Att., 70 YDS, 1 TD)
Brady Smith, DE – (2000-05: 78 starts, 170 tackles, 32 sacks, 6 FFs, 2 FRs, 1 INT, 1 TD)
Todd Weiner, OL – 2002 (2002-08: 96 starts)
No. 10: Cornelius Bennett, LB (1996-98)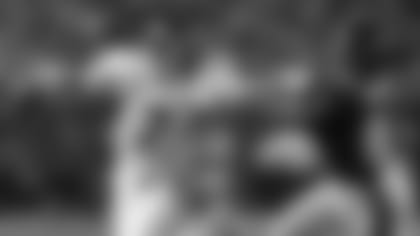 A college football standout with the Alabama Crimson Tide, Cornelius Bennett became one of the top linebackers and pass rushers in the NFL with the Buffalo Bills, making five Pro Bowls and helping lead them to four straight Super Bowl appearances. Although he was on the downswing of his career upon signing with Atlanta in 1996, Bennett continued to contribute in all facets of the defense.
Bennett started every game for the Falcons during his three seasons with the team, recording a total of 242 tackles, 11 sacks, five fumble recoveries, four forced fumbles and an interception. In his final season with the Falcons, he helped the organization reach its first Super Bowl and played a big role on defense, registering 92 tackles, recovering two fumbles and earning one sack.
No. 9: Eugene Robinson, FS (1998-99)
Although he will unfortunately always be remembered for the night prior to the Super Bowl, Eugene Robinson had a great career in the NFL – mostly with the Seattle Seahawks. Two of his final three years were spent with the Falcons, including his Pro Bowl season of 1998, in which he recorded 68 tackles, intercepted four passes – returning one for a touchdown – and forced and recovered two fumbles.
Robinson started all 32 games at free safety during his two seasons with the Falcons and missed just two starts in his entire 16-year career after becoming a full-time starter in his second NFL season. While his time in Atlanta was short, he made a big impression, registering 160 tackles, seven interceptions, three forced fumbles, two fumble recoveries and a touchdown.
No. 8: Allen Rossum, KR/PR (2002-06)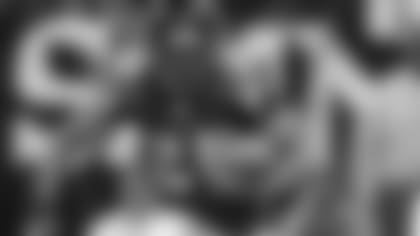 Allen Rossum earns a slight edge over Robinson because of the time he spent with the franchise, during which he was one of the most electric return men in the NFL. After spending two years apiece in Philadelphia and Green Bay, Rossum signed with Atlanta in 2002. In each of his first three seasons with the Falcons, Rossum finished in the top 10 in both kickoff and punt return yardage.
In 2003, Rossum led the NFL with 545 punt return yards and finished fourth with 1,291 kickoff return yards. In 2004, Rossum was named to the Pro Bowl for the first and only time in his career after finishing third in the league with 457 punt return yards and sixth in the league with 1,250 yards on kickoff returns. At the Pro Bowl, Rossum won a 40-yard dash competition, earning the title of "Fastest Man in the NFL." He finished his Falcons career with 154 punt returns for 1,723 yards and two touchdowns as well as 250 kickoff returns for 5,489 yards and a touchdown.
No. 7: Ray Buchanan, CB (1997-2003)
After spending the first four years of his NFL career with the Indianapolis Colts, Ray Buchanan signed with the Falcons in 1997 and soon proved he could live up to his nickname of "Big Play Ray." In his first year in Atlanta, Buchanan intercepted five passes. He topped that number in his second season with the Falcons, snagging seven picks en route to his first and only Pro Bowl nod while helping his team make the Super Bowl.
Buchanan started 99 games during his seven seasons with the Falcons, including every game during his first five years with the team. He finished his time in Atlanta with 411 tackles, 30 interceptions, three fumble recoveries, two forced fumbles and a touchdown.
No. 6: Rod Coleman, DT (2004-07)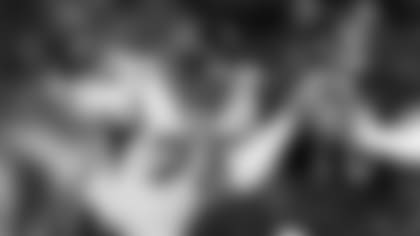 Unlike some of the others on this list, Rod Coleman's spot at No. 6 isn't because of the time he spent in Atlanta but rather the impact he had during that time. While he spent only four years with the Falcons after leaving Oakland and signing with Atlanta in 2004, Coleman was a disruptive force at defensive tackle.
Coleman played in just 13 games in his first season with the Falcons, but he registered a whopping 11.5 sacks, six pass defenses, three forced fumbles, one fumble recovery and a pick-six. For comparison's sake, Aaron Donald recorded 11 sacks in 2017. In 2005, Coleman's second season in Atlanta, he once again excelled at getting to the quarterback, notching 10.5 sacks, forcing four fumbles and earning his only trip to the Pro Bowl. In four seasons with the Falcons, Coleman registered 112 tackles, 30 sacks, 19 pass defenses, nine forced fumbles, four fumble recoveries and a pick-six.
No. 5: Warrick Dunn, RB (2002-07)
The 12th overall pick in the 1997 NFL Draft, Warrick Dunn spent the first five seasons with the Tampa Bay Buccaneers before signing with the Falcons in 2002, becoming part of one of the league's most exciting offenses. Paired with quarterback Michael Vick, Dunn helped the Falcons have a dominant rushing attack during his time in Atlanta.
Despite being among the smaller backs in the league, Dunn was a fearless runner between the tackles and able to break a big gain on nearly every play. From 2004-06, Dunn started every game for the Falcons and gained over 1,000 rushing yards in each of those seasons, including 1,416 yards in his Pro Bowl season of 2005. During his career in Atlanta, Dunn started 83 games, carried the ball 1,413 times for 5,981 yards and 30 touchdowns while catching 204 passes for 1,635 yards and six touchdowns.
No. 4: Terance Mathis, WR (1994-01)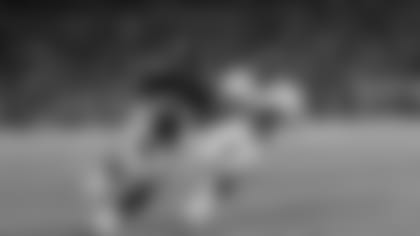 After spending his first four seasons with the New York Jets, Terance Mathis signed with the Falcons in 1994 and ended his time in Atlanta as the leading receiver in franchise history. In his first season with the Falcons, Mathis caught 111 passes for 1,342 yards and 11 touchdowns, becoming the first Atlanta receiver to gain over 1,300 yards since Alfred Jenkins in 1981.
Mathis was named to the Pro Bowl in his first season, beginning a stretch in which he established himself as one of the Falcons' top weapons. During the Falcons' run to the Super Bowl in 1998, Mathis caught 64 passes for 1,136 yards and 11 touchdowns, adding another 18 catches for 229 yards and three touchdowns in the postseason. He finished his career in Atlanta with 573 catches for 7,349 yards and 57 touchdowns.
No. 3: Morten Andersen, K (1995-00, 06-07)
Arguably the greatest kicker in NFL history, Morten Andersen came to Atlanta in 1995 after spending 13 years with the rival New Orleans Saints. His first season with the Falcons was among the best in his career. He made a whopping eight field goals from 50-plus yards and earned his seven Pro Bowl selection and third First-Team All-Pro selection.
Of course, Andersen's biggest moment as a Falcon came in the 1998 NFC Championship Game, when he hit "The Kick" – a 38-yard, game-winning field goal in overtime to send the Falcons to their first Super Bowl in franchise history.
No. 2: Alex Mack, C (2016-present)
A strong case could be made for Alex Mack as the No. 1 player on this list, and he's likely more of a 1B than No. 2, but he's still got time to climb to the very top. The marriage between Mack and the Falcons was seemingly a no-brainer during the 2016 offseason. Not only was Mack already a three-time Pro Bowler at the biggest position of need for the Falcons, but he had a previous connection with then-offensive coordinator Kyle Shanahan.
Since arriving in Atlanta, Mack has continued to play at the high level he displayed in Cleveland. He has started every game for the Falcons over the past two seasons, including starting in the Super Bowl with a broken leg. The center position is among the most important in football, and it's no great mystery why the Falcons have made the postseason in both years since Mack's arrival.
No. 1: Michael Turner, RB (2008-12)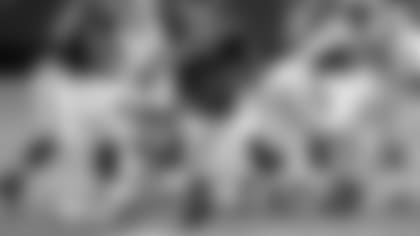 Matt Ryan deservedly receives a lot of the credit for the Falcons' success over the past decade, but it was Michael Turner who jumpstarted the run. After signing with Atlanta as a free agent in 2008, Turner showed why he was such a coveted player, despite spending the start of his career as a backup to LaDainian Tomlinson in San Diego.
In his first season with the Falcons, Turner led the league with 376 carries for a whopping 1,699 yards – the third-most in a single season in franchise history – and a single-season record 17 touchdowns. Turner's debut was enough to help the Falcons rebound from one of their darkest seasons and return to the postseason, despite starting a rookie quarterback. For his efforts, Turner was named to his first Pro Bowl and honored as a First-Team All-Pro. Over the next five years, Turner continued to perform at an exceptionally high level. He gained over 1,300 yards in back-to-back seasons in 2010 and 2011, earning his second Pro Bowl nod in 2010. Turner finished in the top three among all NFL running backs three times during his run with the Falcons, becoming exactly what the Falcons hoped he would be. When he wrapped up his career in Atlanta after the 2012 season, Turner had carried the ball 1,411 times for 6,081 yards – the second-most in franchise history – and a franchise-record 60 touchdowns.