Of all of the assistant coaches on Dan Quinn's staff, offensive line coach Chris Morgan might be the one with the biggest responsibility heading into the 2020 season.
Atlanta's offensive line has to play better for the team to get back to playing football in the postseason, it's plain and simple. For two seasons now, Matt Ryan has been sacked more than 40-plus times. They've also finished at the bottom of the league in rushing offense in back-to-back seasons.
Morgan is a proven offensive line coach in the NFL and when the Falcons enjoyed their most successful season on offense in 2016, his leadership with his position group was an important piece of why the team went on to win the NFC Championship and earned a trip to Super Bowl LI.
With five former first-round picks at his disposal now, Morgan has the talent he needs to put it all together. And more importantly, he has the buy-in and belief from his players to do just that.
"I think he's the best coach for me to develop and maximize myself," said Chris Lindstrom, the Falcons' starting right guard. "He's teaching the fundamentals necessary to play offensive line in the NFL and the urgency and toughness you need to play with as an offensive line. We know we need to do better as a unit and we're being accountable for that. Coach Morgan is a great leader for our room, he's the best coach for me to be the best I can be in my game."
After Ryan was sacked 42 times in the 2018 season, Falcons general manager Thomas Dimitroff and coach Dan Quinn knew they needed to rebuild their offensive line. They went out and signed veteran guards Jamon Brown and James Carpenter in free agency. A month later, they drafted guard Chris Lindstrom with the No. 14 overall pick and traded back into the first round for right tackle Kaleb McGary with the 31st pick in the 2019 NFL Draft.
Things didn't quite go as planned for McGary and Lindstrom and what the Falcons hoped they would be together on the right side of the offensive line. McGary underwent a cardiac ablation procedure in early August and missed all of training camp. He was able to return for Atlanta's final preseason game before starting in Week 1 against the Minnesota Vikings. Little did the Falcons know that in that same game, they were about to lose their other first-round pick for majority of the season.
Lindstrom suffered a foot injury in the Falcons' 28-12 loss to the Vikings and was placed on injured reserve for 10 weeks. When he returned to the lineup, the Falcons went 4-0 to close out the year and finished 7-9 for a second straight year. After their first season in the NFL going any way but how they imagined, both Lindstrom and McGary are ready for a fresh start. Atlanta's offense needs them to be dominant on the right side and that's exactly what they plan to do.
"We expect them both to make really big jumps this year," Morgan said. "They've both come back really just so far ahead of even where they finished last year. The chips on their shoulder have actually gotten bigger. They make each other better. We're really excited to see these two grow."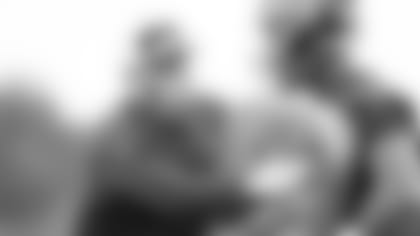 The Falcons return all five starters along the offensive line with really only one question: Who will win the starting left guard job?
Carpenter, Brown and Wes Schweitzer all spent time starting at that position in 2019. All three suffered injuries at various points last season and were forced out of the starting lineup. Matt Gono also remains on the roster and saw action at left guard in the Falcons' regular-season finale against the Tampa Bay Buccaneers.
In hopes to solidify this position in between Pro Bowl center Alex Mack and left tackle Jake Matthews, the Falcons drafted Matt Hennessy in the third round of this year's draft. Hennessy was one of the nation's top centers in college football last season. Through the first week of padded practices during training camp, it appears it will come down to Carpenter, Gono or Hennessy.
Regardless of who wins the job, the Falcons now have depth along the offensive line at almost every position – something they've long needed. Atlanta surrendered 50 sacks in the 2019 season, with 48 of them on Matt Ryan, a career-high for the franchise quarterback.
In addition to the need to improve in pass protection, the Falcons need to get back to running the ball more effectively. After finishing No. 30 in the league in rushing offense, the team went signed Todd Gurley in free agency to help re-energize their run game.
Gurley's health became a headline after a report surfaced in 2019 stating the running back has arthritis in his knee. Questions began to arise after the three-time Pro Bowler saw a decrease in carries in 2019 with 223 carries for 857 yards. In 2018, Gurley rushed for 1,251 yards on 256 carries, down 23 carries from the 2017 season. Gurley remains confident heading into his first year with the Falcons and says he's in the best shape of his life.
Improving in the run game won't just come down to one person, though. It will be a collective group effort and something Quinn's team will emphasize more than ever in the upcoming season.
"It will take rep after rep over these next three weeks to begin for our running game with one new runner in Todd Gurley," Quinn said. "Incorporating Ito (Smith) back into it and the development of Qadree (Ollison) – all of it goes together. Chris (Morgan) is certainly a proven guy on the offensive line, but it takes all of us. It just takes time and we're really committed to that."
The Falcons are hoping with more talent and experience in the scheme, all levels of the offense will be better. Offensive coordinator Dirk Koetter says he'll be a better coach in Year 2 of the offense and he'll work closely with Morgan to improve specific areas. Quinn, Koetter and Morgan have all mentioned having continuity on the offensive line and re-defining their identity in the run game this year will be critical.
Former Falcons guard Andy Levitre can speak to why that's a recipe for success. Levitre started at left guard for the Falcons for three seasons and when the Falcons had the league's best offense in 2016, Atlanta's starting offensive linemen didn't miss a game. Chris Chester, Ryan Schraeder, Mack, Matthews and Levitre started all 16 games. The Falcons finished No. 5 in rushing offense averaging 120.5 yards per game and Ryan was sacked 37 times, 11 less than he was in the 2019 season.
"To have a season like that is unbelievable," Levitre said. "We all believed in each other and trusted each other. It was seamless for us to go out there. It was some of the most fun football I've ever played."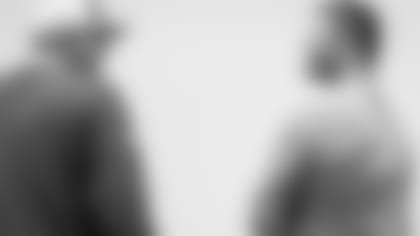 In Atlanta's wide-zone scheme, the way offensive linemen come off the ball is one of the biggest areas of emphasis. The system isn't for everyone and that's why the Falcons acquire players with specific traits at this position. In order to be successful in running this scheme, athleticism is key. That's why the Falcons acquired players like Mack, Lindstrom and Levitre – all guys who can move with ease.
Levitre said if executed the right way, this system can bring out the best in offensive linemen. Why? Because of the way Morgan teaches it and the Falcons are banking on that being the case in this season.
"It starts with coming off the ball," Levitre said of Atlanta's run scheme. "Getting guys to commit to laying it all out there every play. He preaches that a lot. It felt like more often than not I was in the right position to block guys. It helped me feel like I was more successful. The way he coaches put me in the right position to be successful. I give him a lot of credit for that."
There were highlights from the offense and defense during the first team scrimmage on Day 14 of AT&T Atlanta Falcons Training Camp.