In 1991, doctors told Don Tialavea he wouldn't live to see his children grow up.
The man known as "Sweet D" had been diagnosed with cardiomyopathy, a disease that affected his heart muscle. According to specialists, he had just a few months left. But Don beat the odds year after year, and as he endured, as he went in and out of wheelchairs and care centers and hospital rooms, his family grew remarkably close.
So it's no wonder Don's son, DJ, wanted to share the biggest moment of his career with loved ones.
That moment came on Saturday, when the Falcons tight end scored his first NFL touchdown on his first NFL catch during his first NFL game. As he processed what happened, the first thought that crossed his mind was his father. Then he looked up to Section 522 of Bank of America Stadium and pointed to his mom, Tami, his sisters, Abigail and Julianne, and an empty seat.
That fourth chair was left vacant on purpose. DJ knew only Tami, Abigail and Julianne would make it to Charlotte for his debut, but he bought an extra ticket so his dad could have a place in the crowd, as well.
Don, unfortunately, would never get the opportunity to see DJ in an Atlanta uniform. He passed away in 2013 after more than 20 years of poor health. Yet the many lessons he taught his son, through words and actions, in good days and bad, continue to resonate with the Tialaveas – and, following three seasons of uncertainty, made last weekend's feat possible.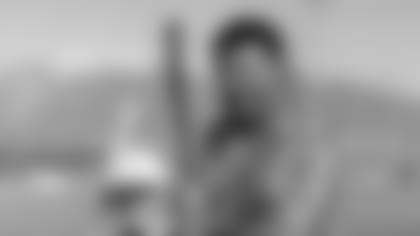 "Don would always say, 'DJ, daddy doesn't want to be this way, but I have to do it. You have to make the most of things,'" said Tami. "DJ has had to learn from not making the roster [out of training camp]. He's had to figure out what he's supposed to learn from this. Instead of getting all mad and giving up, he keeps working harder. My husband was always thinking about what he could do, not what he couldn't do. And he made it happen."
In the hours leading up to the Falcons' contest vs. the Panthers, Tami kept thinking about a piece of encouragement Don would frequently tell DJ: "You be ready when they call your number." DJ was never the most athletic guy on his team, but Don knew his son could go as far as he wanted in football as long as he was prepared.
DJ has thought about that sentence every day since his father died. It helped him persevere on the nights he slept on a basement floor. It sharpened his focus as he worked two jobs for 15 hours a day. It kept his confidence intact as he went undrafted and patiently waited for Atlanta to call him up.
Tami knew Don would have reiterated that message if he could have been in Charlotte on Saturday, so when the family met up before opening kickoff, she shared it once more.
And DJ was nothing if not ready. With 5:42 left in the second quarter, on a 3rd and goal from Carolina's one-yard line, he corralled a Matt Ryan pass in the end zone to give the Falcons a 19-3 lead. He didn't think Ryan would target him on that play, but he was ready when, finally, someone called his number.
Naturally, his mother and siblings, who hopped on a plane last-minute to be in attendance, went wild.
"When DJ played, we just watched him. I felt like I had to be like my husband and only watch just how he did. So, of course, we saw exactly when he made the touchdown," Tami said. "We were around a bunch of Panthers fans, but we just started screaming and screaming. Everyone was turning around looking at us, but I was saying, 'That's my son!'"
"My family has been through so much," DJ said after Atlanta's 33-16 victory, which helped clinch an NFC South title. "To have a supporting cast like them – I started this NFL journey about three years ago, and they supported me 100 percent. It's never been easy. For them to get the last flight out here to come see me play, and for that moment to happen – I just dedicate all the glory to them. God has blessed us so much."
How would Don have reacted if he saw DJ's touchdown? Tami knows he would have been on the phone right away, calling everyone he knew and asking, "Did you see my boy? Did you see my boy?" If they would have had a chance to talk about it, DJ knows his dad would have said he loved him as he flashed his unmistakable grin.
He would have told DJ to work on his blocking, too.
"Dad would congratulate me when I did something good, but he'd always have something I need to work on, which is why I'm real hard on myself and want to be great in everything," DJ said. "So next time I get in there, I'm just going to do it even better."
The timing of DJ's emergence was not lost on Tami. To see him realize his dream, the dream he and Don shared, on Dec. 24 made a special occasion even more meaningful. The Tialaveas are deeply religious, and faith – in God, in a higher purpose, in each other – has a central role in their lives.
Faith kept Don going long enough to shape his son into a man capable of playing in the NFL. It guided DJ as he navigated a winding path to success. And it gave his family the peace of mind it needed as the fourth Christmas without dad quickly approached.
"We know within us, his father was with the team. That's our spiritual belief. So there's no doubt in our mind that his dad was there," Tami said. "I told DJ, 'I know that dad gathered everyone in heaven to watch the game with him.' That's kind of how he was. He would have been so proud."