Tami Tialavea was eight months pregnant with her second child when doctors told her she was about to become a single mom.
Her husband, Don, had recently come home from work struggling to breathe. His heart was failing. Extensive tests revealed he was suffering from viral cardiomyopathy, a rare disease that's extremely hard to diagnose, one that impaired his heart's ability to pump blood throughout his body.
Even with a successful transplant, specialists gave Don just a few months to live. So the family, which included 18-month-old Julianne, and would soon include a baby boy they'd call Donald Jr., planned for the worst.
Yet the worst didn't come.
Don surprised everyone by making it through the next year. He altered his lifestyle, ensuring he did what he could to improve his chances; he remained positive, upbeat, resilient enough to swat away the demons that tend to scourge those faced with deteriorating health.
One year turned into three, then five, then seven and so on, and the intense fear that emerged with the original prognosis gradually subsided. But Don had to cope with the fact that he'd been thrust into a new set of circumstances. He was frequently bedridden and confined to a wheelchair; he traveled in and out of hospitals and care centers. What's more, he had to abandon his career as a corrections officer.
But he was still able to do the job he valued above all: raising his children. And because of the lessons he passed down and the example he set, Don's son has become a man capable of defying his own odds.
Growing Up Fast
Due to his father's illness, Donald Jr., who goes by DJ, had to mature faster than most.
He began doing chores around the age of three and, at his dad's request, aided their neighbors, too. When snow blanketed Salt Lake City, a shoveled driveway in front of the Tialavea home wasn't enough. DJ had to make sure pavement was visible around the block.
And when the family baked Christmas cookies — they made around 70 plates a year — DJ would be tasked with delivering them door to door.
"The whole neighborhood absolutely loved DJ," Tami said.
When DJ, now a tight end ready to battle for a coveted roster spot with the Falcons, was nine, Tami and Don had their third child, a daughter named Abigail, who was born with cerebral palsy. As DJ learned how to take care of his little sister, Don explained the importance of accepting those who face major obstacles.
That lesson resonated with DJ. In middle school, two of his classmates — one a special needs student, the other a victim of bullying — would follow him around. He didn't mind. The pair naturally gravitated toward DJ, who stuck up for them and, most importantly, gave them the gift of friendship.
"DJ always reached out to those special ones," Tami said. "My husband taught him to look at what other people need. That's just how my husband was. We always had enough in our family; we always taught (the kids) that having a family was enough. We always looked for people who were in need."
The Man They Called 'Sweet D'
There are undoubtedly a lot of medical reasons why Don persevered through cardiomyopathy and, later, ankylosing spondylitis, an inflammatory disease that fused parts of his vertebrae together. What truly kept him going, though, was his unwavering faith.
A devout member of the Church of Jesus Christ of Latter-day Saints, Don made sure the word of God steered him through every chapter of his life — many of which were underscored by his desire to give back.
In the 80s, as a way to honor his late cousin, he started the The Big John Manumaleuna Foundation, a coilition determined to end the cycle of poverty and domestic and gang violence among at-risk kids. He also spent two decades running a Polynesian basketball tournament that attracted teams from around the country.
His humanitarianism didn't go unnoticed. In 2004, then-Utah Governor Mike Leavitt recognized his work by presenting the Tialaveas with the Pacific Islander Family of the Year award "in honor of their success and the service rendered to others by [Don's] family."
Don's altruistic nature earned him the affectionate nickname "Sweet D." And it created a significant ripple effect that's resulted in a lot of positive change.
"My whole life, he was sick. But even though he was bedridden, even though he was in a wheelchair, he still found the energy and motivation to serve others," DJ said. "I was always around his foundation, so I've always tried to help others, to serve others."
Molding a Pro Athlete
Don may have been known as a generous man, but he also knew how to be an assertive, candid father — especially when it came to athletics.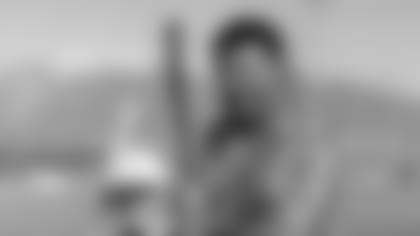 A bruising yet agile 300-pounder during his heyday, the Oceanside, Calif., native was a three-sport athlete in high school and played college football at University of Utah.
Naturally, he passed his love of sports down to his son.
At a young age, DJ excelled at wrestling, baseball and basketball. He finally picked up football in high school, and despite his inexperience, he contributed at defensive end, offensive line and tight end, thanks in large part to his size and fortitude.
DJ's height — he now stands at 6-foot-4 — was God-given. His mettle, however, was not. That was built from years of Don pushing and chiding him, sometimes at loud volumes: If DJ made a mistake during a game, Don's voice would often rise above the cacophony of spectator noises, and harsh criticisms would find his son's ear.
While no kid enjoys being scolded, DJ knew Don meant well. This was obvious to DJ's high school football coach, Mike Morgan, following West Jordan's second game of the 2008 season.
Down 37-34 in overtime, DJ caught a touchdown pass on 4th-and-11 to give WJHS a thrilling win over Mountain Valley. His teammates tried to swarm him in celebration, but DJ eluded them by running off the field so he could present the ball to his father, who, after wrapping his arms around the pigskin, had tears streaming down his face.
"DJ wanted nothing more than to please his dad," Morgan said.
'You'll Always Be in My Heart'
DJ's success in high school earned him a football scholarship at Utah State. At tight end he established himself as a technically sound, reliable blocker; he contributed in the passing game, as well, recording 30 catches for 198 yards in 40 games.
Although his senior year was cut short due to a fractured foot, DJ knew he had a chance to play at the next level. But NFL dreams took a backseat a month into his recovery. On Nov. 3, 2013, his father visited a hospital for the last time.
A day later, Don suddenly felt more tired than usual. He passed away shortly thereafter. He was 54 — more than two decades after he was supposed to die.
The funeral was well-attended. Among those who showed up were roughly 40 Utah State Aggies, who watched their teammate give a stirring tribute.
"You'll always be in my heart," DJ said at the podium of West Jordan's LDS chapel, "until we meet in heaven again."
DJ lost his dad, his hero, just before his pro career was supposed to begin. It took its toll, and matters didn't get easier when DJ went undrafted in 2014. Nevertheless, he was comforted by the encouraging words his father used to always tell him: "Son, they might not be calling you now, but just be ready when they call your number. They will call your number one day. You be ready."
DJ was ready when the Falcons invited him to training camp last July. And he was ready when Atlanta added him to its practice squad. He's impressed coach Dan Quinn and has a realistic chance to make the 53-man roster in 2016. If he does, he can help Kyle Shanahan's offense run the ball in its outside zone blocking scheme.
And if he doesn't, he'll be equipped with the guidance and mindset needed to bounce back.
"My husband always knew that DJ's talent wasn't the talent of other kids, but the determination is what would get him where he wanted to go," Tami said.
"He was always said you can do whatever you want to do. DJ had to fight through so many hard times. That really taught him to hang in there, watching my husband hang in there. My husband never felt sorry for himself. That made DJ who he is."
Following in Dad's Footsteps
Once he came of age, DJ knew he wanted to take on a leadership role similar to the one his father assumed. He began that effort this offseason by traveling to Haiti, assisting those affected by the devastating earthquake of 2010. Once DJ got back, he and a friend, Nick Thompson, began filing paperwork to establish the Don Tialavea Foundation.
They wasted no time getting started. Last month, DJ visited Primary Children's Hospital in Salt Lake City, where he rounded up a group of local football players for an event sponsored by the foundation. They spent quality time with young patients, talking about football, about Disney movies, about methods to deal with adversity.
DJ's plan is to honor his dad by continuing to help kids in need — from Utah to Georgia to third-world nations across the globe. According to his website, "These projects will lead to broader opportunities by lightening the load of an individual, increasing their confidence, and helping them envision their contribution to positive change in their community."
"Hopefully we can do some big things," DJ said. "Just create lots of positive opportunities for people who are less fortunate and don't have the resources to succeed like they want to. I want to push that and be able to give them what they deserve."
As DJ evolved into a man, and as Don's condition worsened, Tami remained a constant source of warmth and support. Being a mother under ideal conditions is an enormous responsibility; being a mother with an ailing husband is, of course, a unique challenge.
Because she was the Tialaveas' rock, Don was able to teach his kids many crucial lessons. Thinking back to that harrowing day in 1991 when she thought she'd have to tackle parenthood on her own, Tami understands how lucky Julianne, DJ and Abigail were to have their dad around for so long.
Now, she swells with pride knowing her boy is spreading Don's wisdom, kindness and charitable ways to those who need it.
"I've always known that my kids were going to be a monument to their father. And that's exactly what DJ is doing right now," Tami said. "To see DJ do that, and to pull our family into it, is overwhelmingly emotional, because I know how proud his dad would be."
Click here to learn more about the Don Tialavea Foundation.