ATLANTA – The Falcons rolled past the Carolina Panthers on Sunday, scoring a season-high 40 points in the process. As good as it was for the home crowd to witness the team's fourth win of the year, the feel-good moment of the day undoubtedly took place at halftime.
That's when Roddy White, one of the most beloved players to ever don the Red and Black, was officially inducted into the Atlanta Falcons Ring of Honor.
White, who owned a slew of Falcons receiving records when he announced his retirement back in 2017 (he sat out the 2016 season), was as adored by Falcons fans as he was productive during his 11-year run in Atlanta.
"I just didn't imagine when this thing started that it would be so good," White said earlier this week.
It was way better than good.
And that goodness, respect and admiration took center stage one more time, this time at midfield of Mercedes-Benz Stadium, as White's No. 84 and name were added to a list that includes Falcons legends William Andrews, Steve Bartkowski, Tommy Nobis, Jessie Tuggle, Mike Kenn, Claude Humphrey, Deion Sanders, Gerald Riggs and Warrick Dunn.
There's absolutely no denying that White put up Ring of Honor-worthy numbers by the time he finally decided to call it a career. He was not only the franchise's all-time leader in receiving yards with 10,863 at the time, but he held the mark for most catches (808), touchdowns (63), career 100-yard games (39), 10-reception games (11) and consecutive 1,000-yard seasons (six).
White was also a key cog in what is arguably the franchise's most successful five-year run, from 2008 to 2012, when the Falcons won 56 regular-season games, captured two NFC South titles, went to the playoffs four of those years and advanced to the NFC title game in 2012.
White was named to the Pro Bowl four times (2008–2011) and was a first team All-Pro in 2010 when he led the NFL in receptions.
But White's biggest impact was perhaps made off the field. And it continues to be felt to this day.
Not long after he retired, White decided to get into coaching and joined Matt Helmerich's coaching staff at Johns Creek High School in 2017. Helmerich, who won four Florida state championships and the 2010 national championship with national power St. Thomas Aquinas during his six-year stint as defensive coordinator at the school, knew White could be a difference-maker as he started to build his program in Georgia.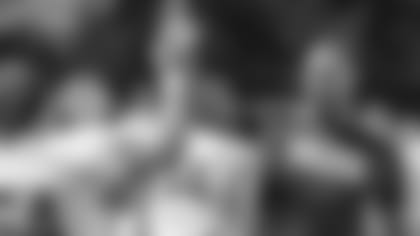 "I remember Michael Jenkins, Julio Jones maybe even Devonta Freeman all saying that the biggest influence on them when they got into the league was Roddy White," Helmerich said. "They said he showed up every day, had fun but went 1000 miles per hour, but that's how they learned how to be pros."
Helmerich told me that he believed that if White was a role model for those proven Falcons, "then he's going to be a role model for our kids."
White has been that and so much more, as the Gladiators have finished 3-7, 9-2 and 10-2 the last three seasons.
"To me, he's a made a world of difference when he's there," Helmerich said of White, who coaches two nights a week and then comes out on Friday nights. "We are a different team when he's there. He brings a spark, a sense of urgency. When he talks, everybody listens."
If that sounds familiar, it should. Julio Jones and Matt Ryan gush over White to this day, and always mention his off-the-field impact.
"He paved the way for a lot of guys, myself included being a wide receiver here," Julio Jones said of White. "He taught me the way to play the game, so I'm going to pass it down to these guys now."
Ryan said White was "one of the most fun people you could ever play with" and that he could "brighten up someone's day with his personality." He also said White "was the ultimate competitor and the ultimate teammate."
White is known for a lot of things – the legendary work ethic, the electric smile, the contagious personality, the physical talent and record-setting career.
Yet when White was asked what he hopes is his lasting legacy, his response was telling.
"I just hope that players who are on the team now and that I've been friends with are like, 'This is what Roddy was. He was an energetic guy, he came to work each and every day, and he gave us everything he had."
Mission accomplished, Roddy.
Take a look back at some of the best photos of Falcons legend wide receiver Roddy White both on and off the field as we celebrate his induction to the Atlanta Falcons Ring-of-Honor.