FLOWERY BRANCH, Ga. -- Under first-year offensive coordinator Steve Sarkisian, the Falcons' offense has been among the league's best, statistically.
Atlanta (4-3) possesses a plethora of talent on offense and one of the most versatile sets of skill players in the NFL. Sarkisian is learning how to put each player in the best position for them to succeed and create advantageous matchups.
One element of the Falcons' offense was on display in last week's victory against the New York Jets, the no-huddle. On their final possession of the first half, the Falcons ran their two-minute, no-huddle offense. It was effective as usual, covering 53 yards in 10 plays and ending in a field goal.
With a veteran quarterback like Matt Ryan behind center, Atlanta's no-huddle offense is tough to defend. Speaking with the media on Thursday, Sarkisian said it remains a big part of the Falcons' offense.
"I think we're very comfortable when we don't huddle," Sarkisian said. "I think that's shown in two-minute (drills). Just about every two-minute drive we've had, we've been very effective when we've been doing so. When we've gone traditional no-huddle within game, not into a two-minute scenario, it's been effective, and I think specific games depend on, when we're going in, is it going to be a bigger part of the plan or not as big a part of the plan based on who we're playing? And so, it varies from week-to-week. Oddly enough, last week it was probably going to be a little bit more a part of the plan; unfortunately, the elements were what they were.
"It's always going to be a part of who we are, it's just a matter of, week to week, how much that is. And so, percentage-wise, that's hard to say exactly but it is a real part of our offense, it's not something we just do every once in a while. It's a part of our offense, and it's effective for us."
Falcons running backs 'a heck of a matchup problem'
Among the primary offensive weapons for the Falcons are running backs Devonta Freeman and Tevin Coleman. Through the first eight weeks of the season, Freeman has gained 585 yards and five touchdowns while Coleman has 490 yards and two touchdowns.
Finding the right opportunities for each player can be challenging, but Sarkisian said he's always looking to try and get his two backs involved every week.
"They're a heck of a matchup problem for defenses," Sarkisian said. "Depending on formations and types of defenses we get – man coverage, zone coverage – you can try to create some opportunities that way. I know in the past couple of weeks, we've called a couple of things specifically for Tevin (Coleman). It wasn't the coverage we were looking for, and the ball ended up going somewhere else, which is natural in football. That happens when you're calling pass plays, sometimes the defense can dictate where the ball is going to go on specific plays.
"All in all, we know they're a great matchup for us against defenses, but ultimately depending on how they want to play that matchup, the ball can go somewhere else. We're fortunate to where we've got really good wideouts; we've got an emerging tight end in (Austin) Hooper, who's coming along, so we can spread the ball around."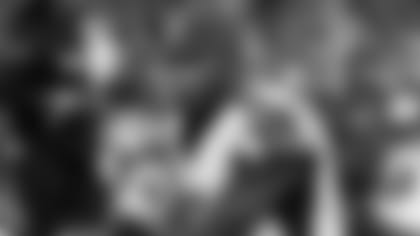 Adjusting to how teams play Julio
There's a notion that has developed in recent weeks that Atlanta has not gotten star receiver Julio Jones involved in the offense enough. However, Jones has 37 catches through the first seven games this season, which is only three less than the 40 he had after seven games in 2016.
Jones will always be an integral part of the offense but with so many options available, Ryan can spread the ball around and find the open man.
"I think without a doubt, philosophically, if a team's going to come in and say we're going to double Julio (Jones) the entire game and we're going to just make it so hard for you to throw the ball it can get difficult to find him the number of catches we would like him to have to really be a factor in the game – or at least targets," Sarkisian said.
"And so, that can dictate that. Or a team decides to only double him on third down, or a team decides to only double him in the red zone. All of those factors play into it, and a lot of times you go into a game thinking this team's not going to double him, they end up doubling him in the game. Or this team's going to double him 50 percent of the time, the only do it in the red area. You make those in-game adjustments as well to take advantage of your opportunities when you get them."