Whether it's that Julio Jones has never played in a Super Bowl or that Atlanta has played in just a few primetime games over the past couple of years, a sense of hesitation seems to arise for some pundits in declaring Jones as the best receiver in the game.
Prior to the start of the 2016 regular season, you'd often hear the words "arguably" or "could be" associated with Jones' name in regards to this conversation. And for those who did deem Jones the best at his respective position, within seconds another name was mentioned.
Now let's fast forward to the postseason.
In just two games, Jones has 247 receiving yards and three touchdowns, all while dealing with a toe injury. He's the only player in the NFL to have two postseason games with at least 180 receiving yards and two touchdown catches.
So, naturally the 'Julio Jones legacy' storyline has re-surfaced.
Although Jones' statistics are superb, they don't do justice in illustrating the receiver's impact on the field.
It's not just his stats, though.
Analysts have commended his route-running ability and his physicality.
"I can tell you all day about these numbers that I [have], but forget the numbers," NFL Network's Nate Burleson said of Jones. "His size, his weight, his speed, his ability to go inside and outside, his ability to travel and do the pre-snap formation that Kyle Shanahan has drawn up for this offense. Julio is not just the best receiver in the league. If you put one guy on him, he's unstoppable. If you put two guys on him, he's probably going to catch the ball. If you put three guys on him, he'll have a chance of coming down with the play."
There's a specific play in Atlanta's NFC Championship win over Green Bay that shows what Jones is capable of doing to a defense.
At the start of the third quarter, on second down with the ball at their 27-yard line, Matt Ryan faked the handoff to Devonta Freeman, dropped back and found Jones over the middle. What looked like a first down play turned into a 73-yard touchdown because of Jones' ability to make plays after the catch.
Jones put his speed and physicality on display for all to see, and it was noted by many.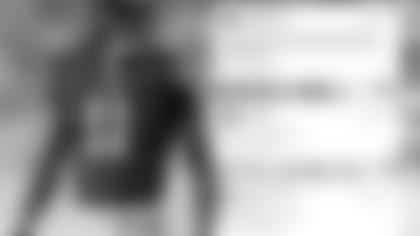 His quarterback summed up in just a few words what many were thinking after that play.
"He's a beast, he's just an absolute stud," Ryan said of Jones following his 180-yard performance.
Falcons head coach Dan Quinn was asked to put into perspective what his All-Pro receiver was able to do on Sunday.
"He never ceases to surprise us, because he makes the extraordinary plays seem ordinary," Quinn said. "And that's not a very typical thing to do. He's a heck of a competitor. For sure he was battling through it, and typical Julio fashion came through in the biggest way."
With the one game left to play on the biggest stage in the world, Jones has an opportunity to ease any hesitation the football world may have about his place among elite receivers.