Hey there, Falcons Fans! I find that I'm constantly being asked what all us ladies who make up the Atlanta Falcons Cheerleaders do when we're not practicing, doing promos or charity work, or dancing on the field.
We all have great jobs and careers, or are full-time students, and seven-year veteran Brandy K. is no exception. She easily has one of the coolest jobs of anyone I know.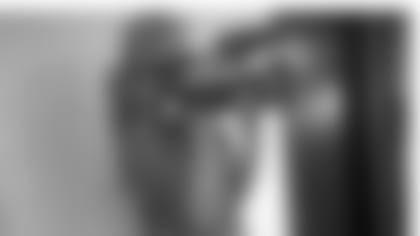 Brandy is the casting director for "Say Yes to the Dress: Atlanta" and "Say Yes to the Dress: Bridesmaids" on TLC.
As if that's not enough, she also serves as the field producer for both shows on weekends when she is on site at weddings, gathering footage for post-production (when it doesn't conflict with our football schedule).
Here's a little background for all those guys out there who don't necessarily sit down to watch the show every Friday night.
"Say Yes to the Dress: Atlanta" is a "docu-soap" that follows engaged women as they search for their dream wedding dress. "Say Yes to the Dress: Bridesmaids" is the sister show that focuses on the bridal party.
"Have you ever seen five women try to decide on one dress that they all have to wear? It's a natural disaster!" Brandy said.
In other words, it makes for great TV, not to mention funny experiences.
Brandy had a "groomzilla" (new vocabulary word). While filming during the spring, he got so fed up with the bridal party's complaining that he went and tried on a dress himself.
Another indelible memory? Brandy said it's when a girl literally got stuck in a sample dress and she thought she was going to have to call the fire department.
This job is awesome, exciting and hard work, so it's a wonder how it fits in with an extremely busy Atlanta Falcons Cheerleaders schedule.
The two shows are filmed simultaneously and she's on set six days a week, and each shoot day is about 8-13 hours (that's dedication, folks!). Combine this work week with our practices and promos, and you can imagine how exhausting it all is.
"I don't think of what I do as work. It's way to much fun to be called that," Brandy said. "I'm a master of time management and I try to squeeze the most out of every day. We do film on Sundays during the fall, so I have my laptop out at every game in the dressing room. I'm constantly checking my e-mail and phone for any last-minute issues that arise with the cast."
Say you're an engaged female Falcons fan and you want more info because YOU are interested in appearing on "Say Yes to the Dress: Atlanta." Head on over to the "Say Yes to the Dress" website for more information, and make sure to tune into TLC on Friday evenings as Season Two of "Say Yes to the Dress: Atlanta" and Season One of "Say Yes to the Dress: Bridesmaids" starts July 8.
I love talking to girls on AFC about what they do outside of the Dome, the gym and in uniform — it's so fascinating! Everyone has different interests and passions, and it's clear that Brandy kicks butt in everything she does.
Are you curious about what the rest of us do off the field? I'll have much more on other ladies on the team as the season continues.