Throughout the month of November, all 32 NFL teams are showing their support for United States military personnel. The national Salute to Service campaign shows appreciation and raises awareness for the sacrifices of the men and women who are currently serving or have served in the United States military.
In conjunction with the NFL-wide *Salute to Service *game, the Atlanta Falcons have dedicated a full week of activities to honor and pay tribute to the veterans and current members of the military.
While the Georgia Dome will be covered in camouflage, Salute to Service goal post wraps, banners and pylon decals, players from both teams will wear helmets with two decals, the standard camo-ribbon and a decal that represents one the five branches of the military.
The process of determining which military branch decal each Falcon will wear wasn't one of random selection; rather it was one of choice. Falcons' head coach Dan Quinn is an avid supporter of the armed forces and gave his players the opportunity to choose which of the five branches they would like to represent on their helmets.
"For the decals, I wanted that to be a personal connection for them," Quinn said. "For the guys who didn't have a connection, we would help educate them, to help them find something that is specifically meaningful to them. There are so many people that have cousins, family or friends that have served; it can bring a level of respect and honor to your own helmet. It's a pretty cool tribute for a guy to do."
Quinn's charitable foundation, Quinn's Corps, which he started in 2005, serves members of the military both at home and abroad. Quinn's foundation provides military families that are stateside tickets to games while sending special care packages to soldiers that are deployed overseas.
"It's a way for us to show our appreciation," Quinn said. "I have such great respect for the men and women who support one another, like the people in the Armed Services do."
This game is not only significant to the man leading the charge on Sunday; it will also be a special day for two players that will take the field with Quinn.
Fullback Collin Mooney, who is currently on injured-reserve with a bicep injury, attended the United States Military Academy. The West Point graduate spent three years fulfilling his commitment in the field artillery branch of the US Army stationed at Ft. Sill, Okla., before entering the 2012 NFL Draft.
Mooney's past has given him the ability to take a different approach to football than most.
"Having served and being in the Army, it definitely gave me a different outlook on football and life in general," Mooney said. "There are a lot of great men and women that are serving our country and it gives you a different perspective on football as a game. You realize that it's just a game and that it's not life or death."
Mooney is the only player on the team to have previously served in the US Military, but the Falcons actually have an active military member on their squad.
For 48 days straight in the offseason, Ben Garland, a practice squad player, honors his commitment to the US Air Force. Garland graduated from the Air Force Academy in 2010 and to this day is a captain in the National Guard at Buckley Air Force Base, Colorado.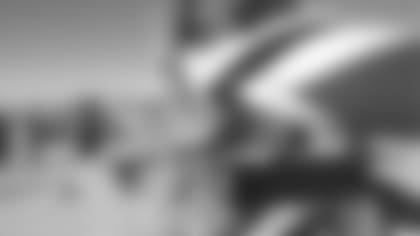 Garland and Mooney were both quick to point out the many similarities there are between serving in the military and playing football. Military members and football players need selfless, team oriented individuals to be successful.
"In the military, you are trying to develop the best team in the world," said Garland. "That's what the Air Force is. We have the best Air Force in the world, and you have to develop that team comradery. A lot of those things you learn there can really carry over to the team. Here (in Atlanta), we are trying to be world champions. So if you can develop that world-class team, that comradery and development, you can really become a great team."
Atlanta's starting left guard Andy Levitre's cousin was a sniper in the US Army. Levitre was in college at Oregon State when his cousin was serving overseas and showed his admiration and appreciation.
"I really respect what they do. Having seen a family member go through the military, it's hard to even fathom," Levitre said. "It brings pride to being an American and what these people do for us everyday."
The Falcons organization is proud to have these service members as a part of the team, and to recognize the commitment that all members of our armed services make to ensure and protect our freedom.
"Every day is a blessing," Mooney said. "It's a gift to wake up in this country every single day and to have freedom and know that there are people that have fought for that. You have to remember that a lot of people who have given their lives so that we can do what we do, go about our day with freedom and the ability to seek and explore opportunity."