Photo: Greater Gwinnett Championship
Five years ago, Atlanta Falcons quarterback Matt Ryan partnered with Children's Healthcare of Atlanta to set up his first celebrity amateur golf tournament with the understanding that half of the proceeds would go to the Matt Ryan Foundation and the other half would go to the Aflac Cancer Center at Children's.
Following the event and seeing first-hand the type of impact this type of fundraising would have on young cancer patients, the Ryan Foundation sent its check to the Aflac Cancer Center.
On Monday, for the fifth year, the Aflac Cancer Center received all the profits from the tournament, this time totaling more than $90,000.
"Money can go in a lot of different directions, but in my personal opinion, there is no better place for your money to go than to Children's Healthcare of Atlanta," said Ryan.
The event teed off with an early shotgun start as 29 fivesomes spread throughout Sugarloaf Country Club's three nine-hole courses to compete for the lowest round of 18. With an 80 percent chance of rain in the forecast, we were warned to listen for a siren to tell us we needed to go in, but neither the rain nor the siren ever came. Instead, a cool and misty April afternoon set up near perfect conditions on the well-groomed course that will host the Champions Tour's Greater Gwinnett Championship later this week.
My father, Craig Sager, has played in Ryan's tournament several times but his recent relapse with leukemia kept him from participating in it this year. I am nowhere near the experienced golfer (or dresser) he is, but they knew how much this tournament meant to him each year and they allowed me to fill in. I joined a team that included Georgia Tech's all-time assist leader, Drew Barry, and nine-year NFL pro and Falcons alum Coy Wire, now CNN's Sports Correspondent.
The PGA-level course got the best of our group. Barry kept us as close to shooting par as he could in the modified scramble format. He was clearly one of the better golfers on the course Monday, but it was just not our day. We birdied three of the four par threes and Barry even stole a longest drive from former Georgia quarterback and Falcons alum D.J. Shockley, but we could not even break par on the back nine and knew we had no shot at placing in the top three teams.
Before we had stepped on the course, Ryan had already been at morning workouts at Flowery Branch and even stopped by the range to get in a few practice cuts. He was definitely warmed up and he and four teammates; Brian Betkowski, Robert Amberg, Don Hallacy and Brian Mikes took first place.
"Never win your own tournament," joked event emcee and Falcons legendary play-by-play sportscaster Wes Durham.
The first place prize was a football autographed by Ryan himself.
"Good teammates are always the key," the Pro Bowler said after holding up his prize. "I was able to get the muscles firing before hitting the course with our morning workouts so that helped, too."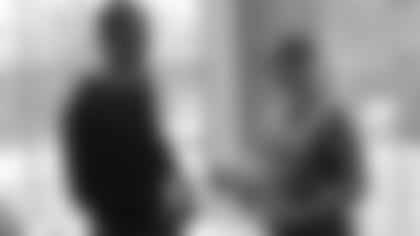 The event would not be complete without a look at the impact it has made in the community and cancer survivor Justin Berry, from Hall County, was there to share his inspirational story.
"I thank God for Children's Healthcare of Atlanta," said Berry. "They saved me and were there to walk me and my family through it every step of the way."
Berry, a black belt, and avid runner, collapsed with a shooting pain in his leg last August. After several misdiagnoses, it was finally discovered that Berry had Osteosarcoma in his tibia, a form of bone cancer.
He took the podium to share the journey he took with Children's Healthcare of Atlanta once he found out he had cancer. Berry battled through seven months of chemo that contained the cancer to the point where his tibia could be reconstructed with a donation from a cadaver.
Now, one bone transplant later, Berry was up on his feet in crutches and proudly showing off the scar that saved his life. Ryan handed Berry a personally autographed football after his moving speech and also had an autographed baseball from Chipper Jones for him.
"Having done this for five years now and doing two events annually with different kids that can speak about the hospitals they've been at with Children's Healthcare of Atlanta puts this in perspective," Ryan said. "It shows everyone why they are here today. Sure, they are here to have a good time and meet people they are looking forward to seeing, but at the end of the day, it is about an organization that gives so much back. When we can come together and raise this much, it is very rewarding, but at the same time, you can never raise enough."
Ryan's annual events raise between $250,000-$300,000 for Children's Healthcare of Atlanta.