If you've been to AtlantaFalcons.com recently, you might recall a post I published about Stone Sour guitarist Josh Rand being a huge Falcons fan. Since then, I worked to track him down.
I found success recently and spoke to Josh for about 40 minutes about all things Falcons. Below is the first part of the interview. I'll publish the second part of the interview in the near future, where Josh delves deep into the Falcons' roster and how he thinks the 2011 team will fare.
Jay Adams: You became a Falcons fan in an unconventional way. It's not often that there are too many Falcons fans walking around Iowa, right?
Josh Rand: Nah, I'm actually the only one. It's kind of a pain the butt because I have to order all the stuff that I want online. It's unfortunate for me that I can't go into a department store and even buy a hat if I wanted a hat.
JA: Being a Des Moines, Iowa native, you got behind Steve Bartkowski.
JR: The thing with Bartkowski, honestly, I was really young when he played. But the thing is is he was born on the south side of town. He's an Iowa kid, ultimately. It was like, somebody actually broke from here. It's not a massive, big city. This was, obviously, before (Slipknot, which began in Iowa, and Stone Sour) and Kurt Warner later on. It was more of, I would hear people talking like, 'Oh, he's from here,' and that's really cool. When I really started getting into football was the early '90s, so you had Deion (Sanders), Andre Rison and that whole cast and crew. I was hooked since. Being in Iowa, you're pretty much a Bears, Packers or Chiefs. My dad eats, sleeps and breathes Chicago Bears football. He knows that team inside out. Literally, since they won the Super Bowl — and this is no lie — he takes his vacation and he goes to their training camp. He's met everybody in the last 25 years that was a player or coach. It's insane.
JA: So things around your family are going to be kind of interesting the opening game of the season with the Falcons play at the Bears?
JR: Yeah. He wants me to go to that game. He's seeing Notre Dame and Michigan play the day before, so he's going to go from that game to the Bears game. And he asked me to come, but the only problem I have with it is that I'm getting ready to leave for South America, for one (for a concert), and two, I'll be honest, the vibe is just a little bit different in the Midwest than it is down south. They take it serious up here. I've come down (to the Georgia Dome) for a couple of home games and it's just a different thing. I don't know if I feel like being doused with beer if (the Falcons) win that game or get roughed up in the parking lot. With the fact that I have South America right around the corner. It really bums me out because I wanted to come down for the Philadelphia game. I saw that on the schedule and I was like, 'Oh, I've gotta be there.' And then, of course, I'll be in LA. (Being in Bears country) made it interesting in 2008 when Ryan threw that out to Jenkins. It was awesome. Dude, I was in the bar and I am the only Falcons fan. I swear to God, there were probably 50-75 Bears fans, and when they scored with less than a minute left, everybody was razzing me. I see them come back and win by that field goal, I jumped up when they won the game. A buddy of mine grabbed me and said, 'Sit down!' You could have heard a pin drop in this place. It was unbelievable.
JA: I saw in a recent interview you did that you described your interest in the Falcons as "borderline obsessive." What does that entail?
JR: I would have to send you photos. I actually have my 'man-cave,' as people like to put it, and it's completely done with Falcons. I have an authentic helmet signed by the '98 Super Bowl team, everybody. I have an authentic helmet signed by Roddy White, an authentic jersey signed by Deion, a Matt Ryan autographed jersey and I have 27 mini helmets signed by everybody from Tommy Nobis up to Jessie Tuggle. I wanted that one for a long time because I wanted him to sign on a red helmet. I've got footballs that are signed by everybody, and then my sports cards collection is ridiculous. Actually, that's what I've been working on the last week. I've been collecting Roddy White stuff since the end of 2006. I have boxes of him. I don't know if you collect at all, but I had everybody locally con me into doing the Beckett Super Collector. I have all the main stuff. I've got all the 101s, it's ridiculous. Same with Ryan. I've got some super, high-end Ryan stuff, too. So, I guess that would be borderline obsessive. I mean, you've seen the tattoo?
JA: Right. I was going to ask about that. What prompted that? That's a big commitment.
JR: I have two. I've got the old logo on the other side. I had to balance myself out [laughs].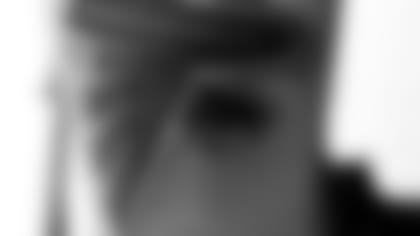 I kicked (the idea) around for a long time and, just by chance, Tokyo (Hiro) — the artist, who's really, really good — happened to come out on tour. (Get a look at Josh's new tattoo on the right). I'm not into that. I only have those two right now. But how many opportunities are you going to have for a guy who's legendary come in and tattoo you in your own dressing room? He did it basically for nothing. It hit me and I was like, 'I'm just going to do it.' It's something I can live with forever. That was my biggest thing with the tattoo. Is it going to be something 10 years from now that I'm going to look back and go, 'That was stupid?' You know what I'm saying? So, as long as they don't change the logo on me — well, I guess if they do, I've already got the old logo on me, I'll just have to get the new one.
JA: So, you are definitely a Falcons fan for life now?
JA: One thing I'm interested in knowing, just being a huge fan of the band myself, where do the NFL loyalties of your bandmates lie?
JR: Well, actually, (drummer) Roy (Mayorga) hates football. The guy hates football. Roy hates all sports, even though I got him into playing Madden at the end of the (most recent) tour.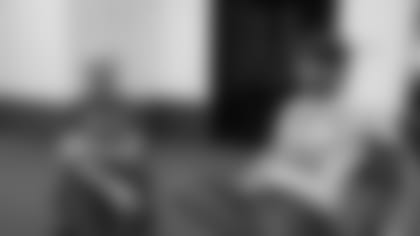 We'd have two buses. (Josh hangs out in his Falcons shirt with lead singer Corey Taylor on the right) We had a smoking and a non-smoking bus, and we're the only two that don't smoke and we were on that bus, so I got him playing football so he started getting into the Jets. He's from New York, so it makes sense. (Guitarist) Jim (Root) absolutely can't stand sports either, period. He hates it. (Bassist) Shawn (Economaki) is a Brett Favre guy. He literally flew up to watch Favre break all these records a couple of years back. He went to all those games. He has signed balls that are dated from that day. It's insane. So wherever Favre plays, that's where (Shawn) is a fan. But he's just a fan of the game. He's like myself: you have your team, but you'll also watch anybody. Corey likes the Colts. All he talks about is Peyton Manning. It drives me nuts. Manning this, Manning that. I'm like, 'Dude, please!' It would only be worse if you were a New England Patriots fan and I'd have to hear, 'Tom Brady this, Tom Brady that.'
JA: That's so disappointing. I caught your show on the Avalanche Tour in May and I saw you were wearing your Matt Ryan jersey on stage. Obviously, Atlanta is a good place to wear that, but do you wear your Falcons gear on stage in any other cities?
JR: Really, I only wear the jerseys in Atlanta. I wore the Ryan jersey this last time. When we came through last year on Uproar, I actually had several jerseys with me, so I did wardrobe change. That's very metal [sarcastically]. But I couldn't figure out which one to wear, and the way that the set was built, my tech was like, 'Why don't you wear all three?' I had Ryan in black, Roddy in red and Turner was white, because football was going on. I always wear whatever colors that the team is going to wear that week. It's part of my craziness. I ended up wearing all three and I swapped out all three through the entire show, like when Corey would sing "Bother," and stuff like that. But I wear them in Atlanta and the rival cities. I'll wear them in Charlotte, Tampa Bay and New Orleans.
JA: Wow, how does that go over?
JR: Ahh, nobody wants to be around me on stage, but that's what I do.
JA: One of our fans wants to know if you ever try to get show dates planned around Falcons games?
JR: I wish I could. [Laughs]. Unfortunately, that's out of our hands. That's all booking agents. When you do a tour, there's so much involved. You've got to make sure you get a venue in that city and the routing — it's so hard to do. That would pretty much be impossible unless we were going to do a one-off. I'm fortunate enough that we play late. I got NFL Ticket (from DirecTV) on the bus last year, and then I got some weird NFL package where I could stream the games online when we were in Europe. I got to see pretty much all the games as they were happening.
JA: Another fan wants to know, if you were to put together your ultimate tailgating playlist, what bands would you listen to before a Falcons game?
JR: Oh, man. Probably all the thrash metal bands. That's my favorite music, overall. So, Metallica, Megadeth, Slayer, Testament, Anthrax; that type of stuff — stuff that's aggressive.