(AP/Aaron M. Sprecher) FLOWERY BRANCH, Ga. – The NFL has implemented some new rules for the 2018 season and, as with any rule change, there's been a lot of discussion about how some of them might impact the game.
One rule change in particular, lowering the head to initiate contact, which will now be a foul, has garnered quite a bit of attention. Players who are flagged for the infraction will be subject to a 15-yard penalty and possible ejection.
Why the change? The rule is being adopted "for the players' own safety and for the safety of the people they are making contact with," said Falcons team president Rich McKay, who is also chairman of the NFL's competition committee.
"What we're really trying to do with a rule like this is we are trying to have the game changed at all levels with respect to use of the helmet," McKay said. "Do I think it's going to dramatically change the way football is played? No, because I don't believe the helmet was being used this way in the '70s and '80s close to the amount it is being used today – and I think that's what this rule is trying to get at."
On Wednesday at the Falcons' team headquarters, Atlanta defensive coordinator Marquand Manuel was one of several coaches who met with the local media where he fielded several questions about the rule change. Manuel explained how the coaching staff is teaching players proper tackling techniques through a series of videos.
"We just now have to do a better job of explaining exactly how we tackle," Manuel said. "You guys are going to see some of the drills that we show, implementing the fact of how you now take the helmet – not as a weapon – and utilize it as a safety tool. That means I'm now using my shoulder pad."
Both McKay and Manuel stressed that it'll be important for players to keep their heads up and eyes open.
"You know, it's simple as 30 years ago there used to be a phrase that everybody used which was, 'See what you hit,'" McKay said. "Well there has to be something more technical to that than just 'see what you hit' although that does get right to the gist of the rule."
McKay said the best way to teach the players is to simply show them. He said the league has created videos with the coaches' input. The video, he said, has to clearly show everybody what a foul is, and it has to show people how they tackle or block or collide into another person without creating a foul.
"You show both – what is a foul, what will be a foul and what will not be a foul," McKay said. "And you do that by video because video is very clear to players and to coaches that are coaching it much more so than just language."
Another word that comes repeatedly when discussing the rule changes with coaches is posture.
Manuel also emphasized how having proper leverage and posture when making a tackle, block or initiating any sort of contact will be key – for the players' overall safety as well as avoiding penalties.
"The posture is what we're working on a lot – what hits first," Manuel said as he demonstrated what proper technique should look like prior to contact for any player – offense, defense, special teams. "We cannot lead with the helmet. The helmet cannot be the first part of contact for anyone."
Falcons linebacker coach Jeff Ulbrich said he doesn't expect the Falcons players to have a difficult time making any sort of adjustments when it comes to tackling since they already teach their players to keep the head completely out of contact.
"Honestly, I think the challenges are going to be less for us," Ulbrich said. "Just from the standpoint that we've taught this rugby-style tackle for quite a while now. … It's just going to be another level of mindfulness on the tackles where in the past it's been very hard to avoid the helmet-to-helmet.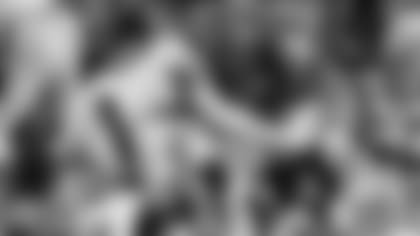 (AP Photo/Frank Victores)
"My understanding of it really is it's that posture they're trying to eliminate, and it goes back to some of the hits that you've seen guys get seriously hurt, going back to [Ryan] Shazier's hit," Ulbrich said. "That hit has to be eliminated. That hit was a hit that years ago was like praised. That was what you wanted, that was what you asked for."
As far as the hits that might be subject to ejection, they'll have to blatant and obvious. For example, when a player has an unobstructed path to another player and opts lower his head and use his helmet as a weapon (versus his shoulder), that's an obvious penalty and ejection is on the table.
Ejections will be made on the field, but will reportedly be reviewable by Al Riveron, the league's senior vice president of officiating, and his team in the officiating command center at NFL headquarters in New York.
Will there be challenges for players, coaches and referees alike? Absolutely.
"What will you call? How will you eject? Yeah, we understand it but how are you going to call it?" Manuel said. "I think the refs in practice helping us out when we start making full contact, because it's hard in the league to (assimilate) full contact.
"The first preseason game you see there's probably going to be a little more flags then everybody's accustomed to because we all want to get it right," Manuel said. "We all want to protect our game – and make it safer."