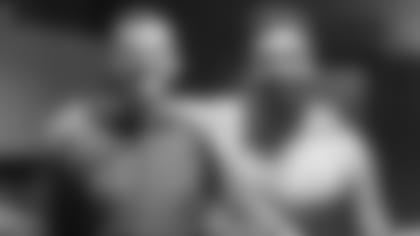 Falcons safety Ricardo Allen sat calmly with his family in a room in the back of Cross Pointe Church in Duluth, Ga.
Allen was actually waiting to meet a man he'd never met before, but already admires him. No, it wasn't a teammate nor a coach, either. He was there to meet Michael Pike. And just like Allen, Pike is a father of two young children.
When Pike finally entered the room about 20 minutes later, he was holding a guitar. It certainly didn't look like he'd just been given some of the sourest lemons life has to offer, either. In fact, Pike smiled and lauged as he was surrounded by his friends. Pike seems to carry himself with a strength that is more than just physical.
Three months before this gathering, Pike's wife of nine years - Lauren Pike - passed away unexpectedly at the age of 31.
Allen introduced himself, shook Pike's hand, and gave him a basket that included an autographed jersey and Falcons gear for his children. The two then talked about fatherhood.
"I appreciate being able to surprise Mike," Allen said. "He's such a strong powered man ... and just a good person. He's someone I can look up to."
'I refuse for this to be a sad story'
"Every time people talk about Lauren, we always use the word 'joy,'" said Jordan Sasser, a close friend to the Pike family. "She always included everybody, she would talk to anyone, and she was definitely an encourager."
Shortly after giving birth to a healthy daughter, Emma, Lauren Pike died following an amniotic fluid embolism, an extremely rare pregnancy complication that is unpreventable and unpredictable.
"She had a huge influence on people," Michael said. "She did more in her 31 years than people probably do in 90 years."
Lauren was a woman guided by her faith and known for her enthusiasm for people.
As a music teacher at Compton Elementary in Powder Springs, Ga., and a high school band director at Oglethorpe County High School in Lexington, Ga., before that, Lauren was adored by parents and considered a "second mom" by many of her students.
"A lot of people talk about how unimaginable this tragedy is," Michael said during Lauren's memorial service, which was more so a celebration of her life rather than a somber funeral. "I refuse for this to be a sad story."
'Rise Up' takes on a deeper meaning for the Pikes
When they first started dating, Michael would often take Lauren to Atlanta Falcons games in the Georgia Dome. Originally a big fan of quarterback Peyton Manning, Lauren eventually converted from a Colts fan to rooting for the Falcons.
"My wife was huge into football. My birthday is in September, so we used to always go to the home opener," said Michael.
Their shared love for Falcons football quickly passed down to their 3-year-old son, Liam, who can tell you exactly what Falcons fans do.
On the day before the Falcons battled the Philadelphia Eagles in the NFC divisional playoffs, Liam led an impromptu "Rise Up" chant with his father, Michael. Dad captured the moment with his iPhone and uploaded it to his Instagram.
"He wasn't even 2 years old yet when the Super Bowl happened last year … he knows all about the 'Rise Up' chant," Michael said about his son's love for the Falcons. "He knows who the good guys and bad guys are."
As Liam and Emma grow up, Michael will be reminded constantly of Lauren's smile, compassion, and energy.
"We still have a fun and enjoyable life," Michael says as he looks forward to continuing what he and Lauren started. "That's what she would want, knowing her. She'd want us to have just as much fun so we're trying to do that."
If you would like to support Michael and donate to Liam and Emma's college scholarship fund, click here and use the gift code GAzR8Y.