FLOWERY BRANCH, Ga. – Falcons receiver Julio Jones, who left during Sunday's 23-17 loss to the Bills with a hip flexor injury and did not return, is not expected to miss any games, according to an ESPN.com report.
The Falcons have a bye week coming up and return to action on Oct. 15, when they play host to the Miami Dolphins. A 1 p.m. ET kickoff is scheduled at Mercedes-Benz Stadium.
Jones, who has 19 catches for 295 yards through four games, was hurt in the second quarter against the Bills. He apparently tried to convince Falcons coaches that he was well enough to return, but he was held out.
"Yeah, he definitely [did], and we spoke on the sideline and he was hoping that he could explode and he really wanted to go," Falcons coach Dan Quinn said. "He had trouble just exploding, and if he can't be him, that's a unique thing for him. The speed, the explosiveness so when he wasn't able to do that, that's when we had to pull him. He definitely wanted to go."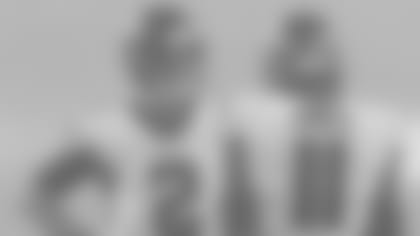 Receiver Mohamed Sanu also missed the second half of the Bills game with a hamstring injury. The depth to the defensive line took a blow when Jack Crawford's day was ended after he suffered a bicep injury.
"You never know when you're going to need a bye," Quinn said. "Sometimes it's late in the season, and it's good. Other times it's early and before the season you may think to yourself, that's early. In our team's case this time, we're hopeful that we'll get a good bit of the guys back. We had five that were inactive due to injury in this game and then had a couple injuries within the game. So we'll assess that tomorrow, get a look back, but a number of them are close to returning and that's encouraging for us. We'll have a look and see how the guys are that were injured today, but for the guys who were banged up, we're hopeful by the time the Miami week comes around, we should have a healthier roster."
Entering the Bills game, the Falcons were without safety Ricardo Allen, linebacker Vic Beasley, offensive tackle Ryan Schraeder, defensive lineman Courtney Upshaw and running back Terron Ward.