Welcome to Straight from the 'Beek! Got something you want to know about the Falcons? Send it my way and I'll answer it here. The Falcons are preparing for a Monday night showdown in Seattle against the Seahawks and you've got plenty of questions. Just remember that all opinions you see in this space are mine, unless otherwise noted.
Hi Beek. Quick response to that writer regarding you taking questions from people out of town: The more support the better. As for my question, Beek: Do you realistically believe the Falcons have a chance to win the NFC South, given the two teams ahead of them?
Matt: Thanks, David – and I couldn't agree with you more. Leave it to a fellow New Yorker to drop some common sense in Straight from the 'Beek. As for your question, yes, the Falcons still have a decent chance to win the division. Sure, they have some work ahead of them – and are currently chasing the 7-2 Saints and the 6-3 Panthers – but it's certainly attainable with five divisional games still ahead of them. Right now, though, the Falcons need to just take it one game at a time.
---
Hey Beek, first all I'm proud of the Falcons in every aspect. But going into next game, do you think the guys will have it easy in Seattle without Earl Thomas and Richard Sherman? And, also, I'm thinking the Falcons can run the table while everything is clicking.
Matt: Maybe they can (and will) run the table, but I guarantee you, Sy, that the Falcons are laser-focused on one thing right now: beating Seattle. How do I know that? Because I've been listening to Dan Quinn since August, a coach who is only focused on winning the day – and not looking ahead. Don't count on Earl Thomas being out, either. Based on a number of reports, it appears that he'll be ready to go for the Seahawks come Monday night. Richard Sherman, as most know by now, has been lost for the season with a ruptured Achilles. Regardless of who plays on their defense, it won't change who they are and what they like to do too much. They will, however, miss Sherman's leadership, fire and talents. It appears Jeremy Lane will be his replacement, too.
---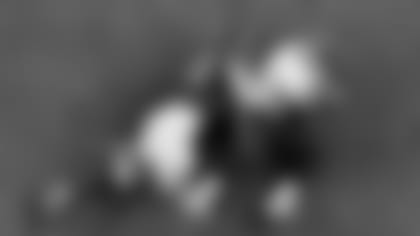 Thanks, Beek, for your column. I never miss it. Your answers are straight and it puts things in perspective and I love the positive spin to Falcons football. It keeps me hopeful. :) This is my first time writing to you. Man, what a game against the 'Boys. It was like watching the '16 Falcons blowing teams out. We have had bad games and if we look at the tough ones we won:
Lions: We outplayed them, we did not punt until the fourth quarter. Yes, it came down to some plain old luck in the end to win, but we dominated.
Packers: Wire-to-wire we dominated.
Cowboys: We dominated.
These were tough teams and we beat them. And, of course, we lost some winnable ones, including against the Panthers. From what we saw Brian Billick write about Falcons missing creativity on pre-snap moves and the offensive play calling, this game against the Cowboys, the Falcons were very creative and ran the offense like the machine we saw last year. You think this is the formula going forward? Be aggressive in play calling, throw in the creative wrinkles and trust the playmakers to make the plays? With this kind of play calling, Seattle does not look unbeatable. What are your thoughts to beat the 'Hawks?
Matt: Hey, Raj. Glad to know you're enjoying Straight from the 'Beek. Some teams are tougher than others, but every team is beatable in the NFL. And when teams stay relatively healthy, are clicking on both sides of the ball (making plays, creating turnovers, etc.), and even get a little lucky, well those are the teams that are stringing a bunch of wins together. I think we saw in the early part of the season just how narrow the margin of victory can be some weeks – and how a mistake here and there can be the difference between winning and losing. I've pointed out all season long that the Falcons offense has been moving the ball well – it's not my opinion, but fact. And I think they'll continue to. Yes, the Seahawks present some different challenges – Russell Wilson makes them go on offense and their defense is always tough. Plus, they really do have a home-field advantage with their loud and rowdy fan base. Not to oversimplify things, but if they can contain Wilson and force him into some mistakes, that'll be big. On the flip side, the Falcons need to play mistake-free and execute, especially on third down and in the red zone.
---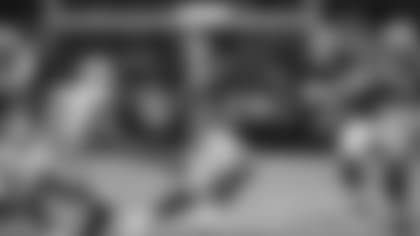 We should already know the difference running styles between Devonta Freeman and Tevin Coleman. The majority of Freeman's runs are cuts and jukes right down the middle whereas Coleman's runs are outside with the zone-blocking scheme. Why do we keep handing the ball to Coleman right down the middle when he's only getting like 1-2 yards? When we shotgun it or Matt Ryan throws a dump-off to him, Coleman averages like 5-plus yards! We need to use our zone-blocking scheme more.
Matt: First, don't count Devonta Freeman out just yet. Falcons coach Dan Quinn said he has not been ruled out yet. That said, Quinn said he expects to lean on Coleman more this week. "There's always ones that we like to feature with certain guys, but we'll definitely lean on him more if Free is not able to go," Quinn said. "The plays that we use, oftentimes they're the same ones, and there are a few that we have that are specific to both of them, but we'll lean on him more for sure." Look, you've got to trust the coaches, Chris. They see a lot more than we do – and the know the strengths and weaknesses of their personnel.
---
Jerry from Southington, CT
I feel like beating Dallas was our statement game of the season and a coming out party for our defense (especially the NFC Defensive Player of the Week! However, I'm still a bit concerned that we've had issues dealing with mobile QBs extending drives with their legs – with another one coming up Monday night in Russell Wilson.
Matt: Russell Wilson is definitely a challenge and the Falcons know what they're up against. "The hardest part to prepare for is some of the unknown," Falcons coach Dan Quinn said. "On some players, you say, 'Okay, he likes to [do this].' When a quarterback is scrambling to the right, he may run it. When he's scrambling to the left, he may remain a passer. With him, kind of anything goes in terms of where he may end up. Some people scramble to run way back deep in the pocket when the play breaks down. Some people remain a passer just as long as they can. He's got a little bit of both. He'll remain a passer, but when the opportunity is there to take a deep shot down the field, he's got a very strong arm. He's willing to do that. I guess that's on a designed pass play. On the designed runs that he's an option threat that way, those are by design, and if the look is there to pull it and run, then he does. When you look at all of his yards, they're not all on designed quarterback runs. Quite a few of them are on the ones that he extends himself on a pass play, so strong arm, excellent competitor, at his best when he's on the move, and he's an excellent two-minute player. He's got real command of what they do, how they do it, and good chemistry with the receivers. It'll be a full challenge for us."
---
Matthew from Tuscumbia, AL
What do you think went wrong with Brian Hill? I thought he would be able to play this year and get significant playing time while Freeman was injured. It's surprising that he was signed away.
Matt: I don't think anything necessarily went wrong, Matthew. The Falcons have two dynamic and proven running backs – arguably the best 1-2 punch in the league. Brian Hill was extremely productive while in college at Wyoming and the Falcons apparently thought he was worth a late-round pick. Once in training camp, Hill played well at times on special teams but didn't really have any exceptional games or runs during his opportunities at running back – in fact, he injured his ankle right during his best game (against the Cardinals). They liked him enough to keep him on the practice squad, but any player can be signed by another team there – and that's what happened. Now he's on the Bengals' 53-man roster and hopefully he'll make the best of his new opportunity.
---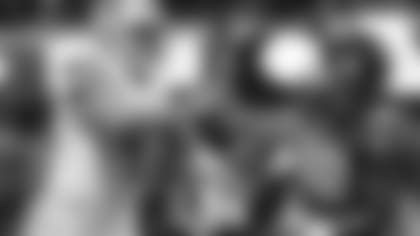 What's up, Beek? I've asked a couple of questions in the past. Have criticized the Falcons a bit, only because I LOVE MY FALCONS and I want them to succeed. That's why all the criticism. That game against the Cowboys was one in the right direction. Congrats to Adrian Clayborn. Six sacks – that's amazing. My question for today is, why don't we have Takkarist McKinley in the starting lineup? I know Courtney Upshaw is the started but he seems to not be doing much. After all, he is our first-round pick. I feel like we need to feature him more as a starter.
Matt: The coaches had a plan in place for Takk McKinley during the preseason – especially while he continued to recover from offseason shoulder surgery – and they're bringing him along now that the regular season has started. Like any rookie, he's still learning the game – and it's on-the-job-learning for McKinley. He's definitely had his moments and, hopefully, he continues to improve and develop. He played 19 snaps at defensive end against the Cowboys and four on special teams.
---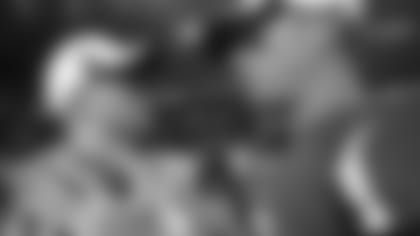 Back with another one! Do you know Colin Cowherd? If so I'm sure you're aware of how much of a Falcons hater he is, calling Matty Ice non-elite and a better version of Andy Dalton, and already calling Monday night an "L" in Seattle. He makes me sick. Why do you think Matty Ice still isn't getting the respect he deserves? And I'm worried about Devonta Freeman. That's his second concussion this year and that can't be good for a healthy brain. Your thoughts? Thanks, Beek. You're the bomb, literally not figuratively!!!
Matt: I'm not a regular Colin Cowherd listener, but I do check him out every so often. I do remember him talking about Matt Ryan and Andy Dalton once on his show back in October – here is the video clip and transcript. Cowherd says in the clip that he's not anti-Ryan, for what it's worth. Look, these guys on TV are paid a lot of money to blend entertainment, opinion and facts together – in that order. Of course they're going to push buttons. You can't worry about that stuff, Leroy. Matt Ryan was the league MVP last year – he gets plenty of respect and he's earned every bit of it. If you've read this space regularly since August, you know what I think of Matt Ryan. I did not hear Cowherd's prediction for Monday night, but everyone makes them, right? I mean the Seahawks are 6-3 and playing at home on how many days rest? I'm not surprised by that one, either. As far as Freeman goes, he's in the NFL concussion protocol and will not be given the green light to play until the doctor's say he's completely healthy and ready.
---
Malachi from Carrollton, GA
First things first, Beek. I would love your photograph, but i do have a statement/question. I noticed on Sunday that Matt Ryan seemed more in control of the offense, he was changing stuff at the line of scrimmage and everything. Do you think that Ryan and Steve Sarkisian should game plan together? Since Ryan is a vet and Sarkisian is a rookie NFL play caller? Also, do you think we can possibly win out or go 12-4 or 11-5? What are your predictions record-wise and statistics-wise?
Matt: Hey, Malachi. My photograph? Why would anyone want that? OK, to your questions. First about Sarkisian – he's an experienced coach, Malachi. He's coached in the NFL before and he's also been a head coach for some major college football programs. He knows what he's doing. Also, he works very closely with Matt Ryan and all of the quarterbacks – and he knows their strengths, weaknesses, likes, dislikes when it comes to plays, etc. So when game plans are put together, the quarterback – especially a long-time and proven veteran like Ryan – is heavily involved. As far as predictions for final records go, I'm not big on making them. That said, I did predict back in August that the Falcons would finish 12-4, including 4-2 in the division. Technically, they can still attain that as we head into Week 11. So I'll stick with it.
---
Danish from Princeton, NJ
Hey Matt, hope you're well. The game against Cowboys finally showed what this offense is capable of, now the only wish is that they stay consistent. Anyway, I read a very interesting article this morning in AJC which broke down Falcons' chances of making the playoffs if they have the following record in the remaining games:
8-0: 100% chance
7-1: 99%
6-2: 97%
5-3: 56.9%
4-4: 32%
I know you and coach Quinn don't like to look too far ahead but for argument's sake looking at the remainder of the season, which games do you think would be most challenging for us? (I know no game is easy in the NFL, but still ...) And do you think we can pull off at least a 6-2 record in the remaining eight games?
Matt: You're right, Danish, I think anything can happen week in and week out in the NFL and it's kind of pointless to make predictions too far down the road because the entire landscape can change so quickly. I don't know where the AJC got those percentages or what they're based on, but this much I do know: The Falcons control their own destiny and that's all you can ask for. They have five more divisional games and the two other remaining games are against NFC opponents still very much alive in the playoff discussion – Seattle and Minnesota. Let's take it one game at a time, first with Seattle.
---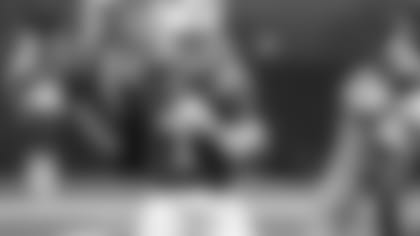 Preston from Lincolnton, GA
Beek, what all does concussion protocol entail. Just wanting to hear what all goes into it from a team source, wishing Devonta Freeman a speedy recovery -- and also to a rival Saints player, Daniel Lasco, after his injury Sunday.
Matt: We talk about or mention the "NFL concussion protocol" quite a bit and that's a fair question, Preston. Here is how the NFL diagnoses concussions. If a player shows signs or symptoms of a concussion, he must be evaluated by an independent neurologist. He will then undergo an examination using the NFL sideline concussion assessment tool. The results of this test are compared to a player's baseline test taken during the preseason. The NFL admits that an "athlete may have a concussion despite being able to complete the NFL sideline concussion assessment 'within normal limits' compared to their baseline, due to the limitations of a brief sideline assessment." A physician then determines whether or not a player has a concussion. If he has a concussion, he is not allowed to return. The Indianapolis Star recently broke down all of the steps after Colts quarterback Jacoby Brissett was placed in the concussion protocol. It also includes the return to practice protocol. I'd break it down here, but they did a fantastic job. Check it out. And, yes, here's hoping Saints running back Daniel Lasco has a healthy recovery.