Welcome to Straight from the 'Beek! The Falcons are a day away from kicking off their rookie minicamp and you've got plenty questions about some of those newcomers and more. Just remember, all opinions here are mine unless noted otherwise.
Let's get to your questions. 
Hey, Beek! This team has been good at finding gems in the late rounds and undrafted players. What undrafted and late-round guys do you think could surprise? I have a gut feeling about LB Foyesade Oluokun. I think he'll have more of an impact than expected. Also, Matt Gono, an undrafted lineman from a Division III school, was ranked in the top 20 of undrafted rookies in good situations on my NFL app. I took a look at him and agree. He's listed at tackle but can play guard. That'd be good for depth. What gems do you see?
Matt: Hey, Jesse. You're right about the Falcons hitting on some of their late-round picks in recent years. Several names come to mind, like sixth-round picks Wes Schweitzer (2016) and Matt Bosher (2011) and fifth-round picks Damontae Kazee (2017), Grady Jarrett (2015) and Ricardo Allen (2014). It'll be interesting to see how quickly Foyesade Oluokun adapts and what kind of impact the speedy 6-foot-2, 201-pound Yale product can make once training camp begins. He was productive in the Ivy League, recording 271 tackles, 18 pass defenses, 13.5 tackles for a loss, four interceptions and three sacks for the Bulldogs. Like most rookies, Oluokun will have to earn his stripes on special teams – and the linebacker (who clocked a 4.48-second 40-yard dash time during his pro day) offers a lot of potential. I can't tell you a ton about Matt Gono, but the 6-foot-4, 305-pound tackle out of Wesley dominated his competition at the Division III level. Like Oluokun, he'll have to adapt quickly to the speed and size of players in the NFL, but it's clear why the Falcons are bringing him in. He appears to have a ton of upside – and now it's all up to him. Should be fun to watch. As far as other undrafted rookies go, I'm definitely anxious to watch the two fullbacks compete – Daniel Marx (pictured above) out of Stanford and Nebraska's Luke McNitt. Sure, the Falcons could still make a move at that position before the season starts but for now, one of those two guys could very well end up dressing in Week 1 at Philly.
---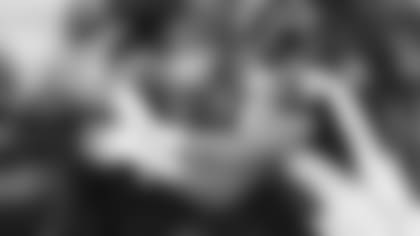 BEEK ... Missed you bro, hope you're feeling better! So, besides Sark becoming better as the OC, who needs to have more of an impact this coming season? Let's go with one player on the defensive side of the ball and one player from the offensive side. Also, do YOU view this season as "Super Bowl or bust"?
Matt: Hey there, Buc. Thank you (and everyone else who sent me get-well notes) for the kind words. Really appreciate the love, folks. The good news is that I'm on the road to recovery – and I'll leave it at that. As far as your question, I could in a lot of different directions here. But I'll go with tight end Austin Hooper and defensive end Vic Beasley. If Hooper continues on his current trajectory and can turn into a red-zone threat with more touchdown receptions in his third year, that will be a very good thing for this offense. On the other side of the ball, if Beasley can come close to the production he had in 2016 when he led the league with 15.5 sacks, that would also spell only good things for that unit. As far as this being a Super Bowl-or-bust season goes, that's the goal every single season, Buc. And this season is definitely no different. The Falcons have all the parts in place to make a postseason run. Now it's just a matter of executing and staying healthy. Oh, and having a few balls bounce your way always helps, too.
---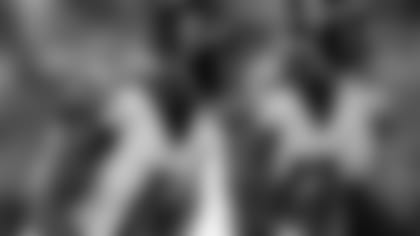 Donald from Stone Mountain, GA
How you think we look with Julio Jones, Calvin Ridley, Mohamed Sanu, Tevin Colman and Devonta Freeman in a five-wide? I think it's a touchdown. Every time.
Matt: I won't go that far, Donald, but the offense has the potential to be scary good. I think if that offensive line can give Matt Ryan time in the pocket, he has the weapons to pick defenses apart. I'm not sure you'll see all of those guys in a five-wide look often, but that offense should be more explosive this season (with Ridley's speed added to the mix) and will be fun to watch.
---
Harold from Jonesboro, GA
I understand the Falcons (and other NFL teams) take the month of June off to allow staff to get away for some R&R before the beginning of training camp and on to the season. Is this correct? Is the entire HQ shut down or are players allowed to come in for voluntary strength and conditioning? By the way, please thank the person responsible for writing and sharing the article on Miss B. What a fantastic lady and career. I had the great pleasure of meeting her back in the Jerry Glanville era.
Matt: C'mon, Harold, there are no days off! Seriously, the players and members of the coaching staff and personnel department do take some time off, but let's just say it's a bit more spread out. Here's a link to key NFL dates in 2018, including some important ones during the offseason. That should help. No, the facilities do not shut down and players and coaches are around, working out, etc., throughout the year. And, yes, it's been a remarkable journey for Brenda Johnston – a.k.a., Mrs. B – who recently retired after working nearly 40 years here for the Falcons. In case you missed the story that Will McFadden wrote about Mrs. B, you can check it out here. Mrs. B and all those wonderful stories will definitely be missed around these parts. Always smiling, always friendly.
---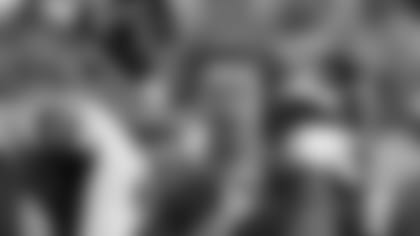 Noticed you said to keep fingers crossed on pending test results. Just wanted to send some luck, hope, well wishes, etc., your way. While I'm here, I'll ask your opinion on Sark. I'm forever the optimist when it comes to the Falcons, so I always argue the Shanahavian Curve. Do you honestly think Sark will make a similar step in Year 2?
Matt: Thanks for all the good vibes and thoughts, Ben! And, yes, I expect Year 2 will be even better for offensive coordinator Steve Sarkisian. I like the additions the Falcons made through free agency and the NFL Draft. I also think adding quarterbacks coach Greg Knapp – who's worked with Matt Schaub and veterans like Peyton Manning in the past – is a big plus. And I'm also fan of new running backs coach Bernie Parmalee.
---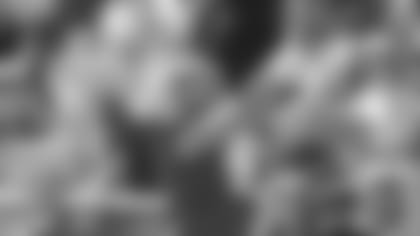 Who are your favorite undrafted free agents to make the final roster?
Matt: Man, I haven't even seen these guys run around on the field yet, but I'd have to go with one of the fullbacks for now, Luke McNitt (pictured above) or Daniel Marx.
---
Hey Beek, now that Matt Ryan has a new contract extension and the team has addressed some needs during the draft, what do you believe is the No. 1 priority the Falcons need to address before the end of the offseason?
Matt: I think the Falcons will always continue to try and add talent and depth at every single position, especially as other teams make roster moves and release players. I like the parts they've added. So, for now (and always), it's simply stay healthy.
---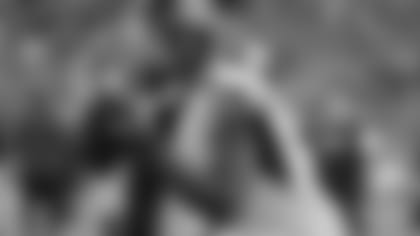 Hi, Beek. Thanks for setting me straight. My "thin ice" comment on Julio Jones was hyperbole. He is an outstanding football player. Excellent attitude and work ethic. Mainstay of the organization.
Matt: Hey, Mark. That's the purpose of this space -- to inform, keep things in perspective and have fun with it whenever possible, so no worries here. A lot – and I mean A LOT – of people overreacted to Julio Jones changing his social media profiles, timelines, etc. And certain members of the media (who should really know better) certainly fueled some of those fires. And I'll leave it at that.
---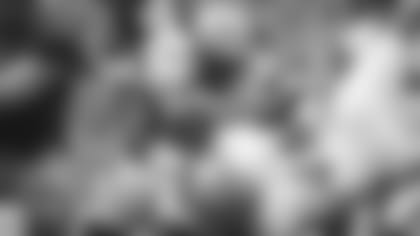 Matt! Glad to see you back on the air, so to speak, and prayers for a recovery from whatever ails you! Lots of action since we last heard from you! I thought all along that Dan Quinn and Thomas Dimitroff would not follow what the experts predicted them to do in the draft. Ridley's believe-it-or-not fall to the Falcons was a no-brainer, DT need notwithstanding. Great DB prospect, Isaiah Oliver, in the second round, though I believe they really wanted P.J. Hall. The real surprise was Deadrin Senat, who looks like a mean pick though I never heard of him and didn't think he was on our radar. I really like Ito Smith; I could see him being a contributor. Question is, is this a very good complementary draft, knowing we still have holes in the DL? Do you think that they'll resign the likes of Upshaw/Rubin?
Matt: You never know what twists and turns the draft will present, Charles, and I liked how the Falcons played their cards while still addressing some key needs. But that's how it all looks now. We'll have a much better idea once training camp and the preseason gets underway (and, yes, really looking forward to seeing Deadrin Senat lined up alongside Grady Jarrett). Of course, you can't realistically grade this draft haul for another three or four seasons, either. Regarding signing other players, yes, that's always a possibility. As camp nears and/or starts, things happen. Maybe the market dries up for some free agents still holding out for a deal. Players are released. And, unfortunately, injuries happen and force teams to make moves as well. So, stay tuned on that front. And thanks for the kind words, Charles. HAVE A QUESTION?