Welcome to Straight from the 'Beek. The Falcons are preparing for a business trip to New Jersey to take on the New York Jets at MetLife Stadium on Sunday. And you've got plenty about the Falcons – and I've got answers, whether you like them or not. Just remember that all opinions you see in this space are mine, unless otherwise noted.
In case you missed my note from the other day: I will not tolerate personal attacks. So if you send one in, rest assured it'll be deleted. Keep it to football. I'm not going to let this forum be taken over by a bunch of "Monday Morning Quarterback Thugs" who claim to be die-hard fans when you're really just a bunch of blow-hards.
Happy Wednesday. Now, let's have at it.
Hi, I've noticed a few of the Falcons' main issues this season, and the most glaring would be the run defense. In the three losses, it was clear teams were intent on exploiting our undersized/undermanned front. Now I'd say the loss to the Bills was a fluke, but the Patriots and Dolphins both went after our run defense and dominated the time of possession. It seems essential that we add some big bodies on the D-line, do you see us adding anyone to help? As for the offense, Sark's play calling/design has been tough to watch, regardless of the execution errors. Do you see any key differences in our play design this year compared to last year?
And lastly, Matt Ryan seems to be in a funk and we haven't seen him dominate like the MVP he was last year, would you contribute this to Sark or is he having some personal issues? I'm not certain, but it seemed like Kyle molded the offense to fit Matt's abilities (play action, using RB mismatches, etc.) and Sark seems to be failing to do this competently.
Matt: Hey, Jonmarc. Let's talk defense first. You're right about the Falcons run defense in the last two games. They were gashed up front by the Patriots. Their backs didn't have a ton of carries – but look at the yards per attempt: Dion Lewis ran the ball 13 times for 76 yards and averaged 5.8 yards a pop. Rex Burkhead only ran the ball six times, but he averaged 5.2 yards a carry. James White had four carries for 19 yards (4.8 yards per rush) and Mike Gillislee had eight carries for 31 yards (3.9 yards per rush). All total, the Patriots rushed for 162 yards – which isn't a ton, but they were very effective when they did. The Dolphins ran for 138 yards on the ground and were led by Jay Ajayi, who ran it 26 times for 130 yards – that's 5.0 yards per carry.
I've said this countless times, but when you win up front and can run on teams, it's demoralizing for a defense. Why? When you're piling up yards on the ground, you're moving the chains and eating up the game clock. The defense can't get off the field and they eventually wear down (which likely means more missed tackles, more mistakes, more big plays). The offense is extending drives and running more plays – which translates into more opportunities in the passing game as well. Last but certainly not least, it keeps the other team's offense on the sidelines and limits their possessions. That's why I'm a huge fan of the run game.
As for the Falcons offense, they're definitely not in sync right now. Why? It's a combination of Matt Ryan's play, mistakes, dropped balls and injuries. Ryan is not putting up anything close to MVP-like numbers right now and has tossed six interceptions and seven touchdowns. We all saw the fourth-and-1 play call in Foxborough. Even Falcons coach Dan Quinn said he wished he could have that one back. I just got through explaining why I'm such a proponent of the run game – so, yes, I would have definitely handed the ball off to Devonta Freeman there. Down 20-0 on the 1-yard line with practically an entire quarter to go, a team must be able to get that yard.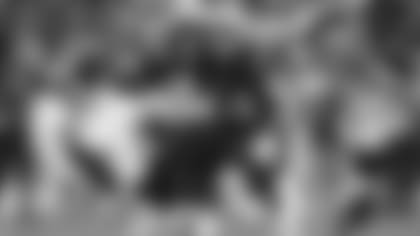 ---
Look, I like your articles, but all you do is make excuses for the team. They are not playing to their potential! Let's see all of quarterbacks that played the Patriots had 300-plus yards passing and last year's MVP couldn't. So, what's the excuse this time??
Matt: Did I make any excuses in the response above? No. Read it again. Did I not point out all of the 300-yard passers in Monday's Straight from the 'Beek? Oh yes I did. Click here, scroll down to Danish from Princeton, NJ's question and READ IT AGAIN. I listed the names and also pointed that the Falcons were terrible on third down, failed to convert two fourth downs (which are basically turnovers) and that they were a paltry 1 for 4 in the red zone. You read what you want to read but don't come in here tossing insults unless you have facts straight.
---
Preston from Lincolnton, GA
Beek, do you think signing former team members is going to improve us? If so, we better go hot after Shanahan!
Matt: You can do better than this. Next.
---
Sean Weatherspoon is back. Do you think that he will be effective after missing a lot of time? And also, I forgot that Jalen Collins is still on suspension. Do you think that both of them will give the defense a boost?
Matt: With Duke Riley out for an extended amount of time, there will obviously be some adjustments made on the defensive side of the ball. Of course, there will be the "next man up" approach, and they also went out and re-signed Sean Weatherspoon, who is popular in the locker room and with fans. He started for a Falcons defense that was much-improved during the second half of last season. During his six-year career, which includes five seasons with the Falcons, Weatherspoon has 338 combined tackles, eight sacks, 15 pass deflections and a touchdown. So, yes, I think he can come in and help the team, especially since he knows the defense. As far as Jalen Collins goes, let's wait and see when he gets back from his 10-game suspension. But I do think having another veteran player back who contributed last season should help this team.
---
Beek, I think our fan base was expecting us to pick up the pieces after the Super Bowl and win, win and win. Even though there is reason for concern, I don't think we need to panic. To me, the play calling is consistent with last year's calls. Matt Ryan or the receivers aren't in sync. What to do think? The defense may or may not come around. I think they are lacking a true leader, they all play like islands vs. a team. Your thoughts?
Matt: I agree with you about the offense, Clint. As I noted above, there are not in sync. Something is definitely off with this unit – between some of Matt Ryan's decisions and all of the dropped balls – and it's affecting the outcome of games. I think the defense definitely has some issues, too. The run defense hasn't been stellar the past couple of games (see my thoughts above) and they haven't generated enough pressure or turnovers. When they have created turnovers – they've been negated by some bad penalties. That needs to stop.
---
William from Charleston, SC
Hi, Matt. Our defense is not a hard hitting, punishing group -- watch De'Vondre Campbell -- he runs sideline to sideline but avoids even trying to get in on the tackle and sort of runs in the direction of the play. Dontari Poe is getting pushed around and is definitely not stout at point of attack. Have you noticed these things and what do you think? Love the forum and the Falcons. Thanks, William.
Matt: Hey, William. Glad you're enjoying the forum! I am, too, but I am surprised with the amount of negative comments from fans. The NFL is so competitive – games come down to a play or two sometimes – and the Falcons are loaded with talent. That said, they are 3-3 and have some issues – and you've pointe out one: the run defense. Check out my response above to Jonmarc from Athens, Ga. I agree with half of your point, though. The Falcons have had some gap control issues on defense and, as a result, have surrendered some big chunks of yards on runs. While Atlanta did get some pressure on Brady – both De'Vondre Campbell and Vic Beasley registered sacks – the pass rush has been inconsistent, specifically up the middle (vs. off the edges). I'll politely disagree with you regarding Campbell though. I think he's been one of the bright spots of this defense this year. You must've forgotten his performance against Chicago, too. His pass break-up in the end zone was one of the reasons the Falcons left town with a win.