Good morning and welcome to Straight from the 'Beek! The Falcons are preparing for a showdown with the Dallas Cowboys on Sunday – and you've got plenty of questions. Just remember that all opinions you see in this space are mine, unless otherwise noted.
Reginald from Atlanta, GA
Hi. Do you really believe the Atlanta Falcons are will ever get over the hump with Matt Ryan? And if so, why do we have so many dumb interceptions?
Matt: Hey, Reginald. If you've been reading this space since August when I started it, you'd know what I think about Matt Ryan. He's without question one of the better quarterbacks in the league and has been for quite some time. He's smart and he's a leader – and he led the Falcons to the Super Bowl last season, where they eventually fell in overtime. He's proven he has what it takes to get you there – and that's all any fan can hope for. Regarding your second question, you can't put all of those on Ryan. For whatever reason, there have been a lot of passes that were dropped, deflected and tipped through eight games, leading to some of those interceptions. Part of it is placement and the other part of it is the receiver must bring those in.
---
Jerry from Statesboro, GA
Hey Beek! My last post was about creativity in our offense. What I mean by creative was our alignments. Let's line up in three WR, one RB and TE set. That set always keeps the defense guessing. I'm not claiming to be a coach, but I love and watch a lot of football (Falcons season ticket holder since Matt Ryan's second season). In the stands we always try to guess the play based only off our alignments. I'm right about 75 percent of the time. Again, I'm not a coach, but if I can guess the play this easy, can't opposing defensive coordinators do the same? You are right about it being unfair that people comparing this year and last year's team. These people don't know football. It wouldn't matter if our defense was the '85 Bears and our offense was the '99 Rams. Do you feel like Marquand Manual and Steve Sarkisian need to make things simpler or just keep chopping away?
Matt: Hey, Jerry. Thanks for writing. Let's start with your comment – or more like a plea – for more creativity. I'm certainly not a coach, either, but I watch alignments and formations quite a bit – and the Falcons do operate out of three receiver-set with a tight end and back. In fact, on Atlanta's fourth play from scrimmage following back-to-back penalties, the offense lined up in that exact formation on first-and-20 at midfield. Check it out: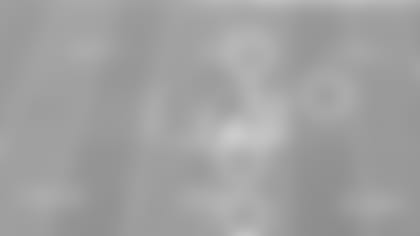 Regarding Marquand Manuel and Steve Sarkisian, I think they're doing a fine job. I really do. It's the mistakes – penalties, turnovers, deflections, etc. – and a lack of possessions which has hurt this team the most, not play calling. I've said that repeatedly, and will continue to unless I start seeing something different. But, again, that's my opinion – and that's what I give you here in this space. Thanks for writing in, Jerry.
---
Eric from Los Angeles, CA
Hey, Beek. Great job on the column. I look forward to it every day to get my Falcons fix. Keep it up. Once Jalen Collins is eligible to play after being suspended for 10 games, do you think they will start him at CB? And if so, what impact do you think he would have on the defensive side? Also, I've been feeling a bit pessimistic about this year's team over the last few games, pointing fingers here and there, but I'm not ready to give up on this team nor will I ever. But if you can throw something positive to hype me up this weekend against the Cowboys, I would appreciate it. Thanks.
Matt: I think the current starting cornerbacks – Desmond Trufant and Robert Alford – have played well so far this season. In fact, Alford was solid against the Panthers. As far as getting Collins back, I think it's a positive any time you can get a veteran player like that back in the fold. He's been a major contributor when he's been eligible. With suspensions in consecutive years, he'll need to prove he can stay on the field and work to earn some trust back. A third violation of the PED policy would result in a two-year suspension, according to the league's current policy. Do you really need me to hype you up for the Cowboys game? Well, you could always go back and watch the last time the Falcons played Dallas – Atlanta rallied from an early 14-0 deficit behind Devonta Freeman and Julio Jones. Or if you want something more current, just watch last season's top 10 plays. You're welcome.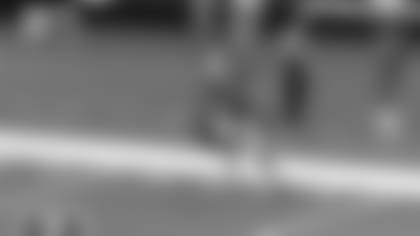 ---
Hey, Matt! I've been thinking about the comparisons between Kyle Shanahan's first year as OC here and Steve Sarkisian's first year here. I know that offenses gel over time, but I'm thinking we may have a case of the 2015 season on our hands. Do you think that these may just be "growing pains" for our offense and by next season we could be the hard running, explosive playmaking offense I know we can be?
Matt: Hey, Charlie. I really do not like to compare seasons and teams – it's fun for the fans and I get that it makes for great debates – but it's really pointless for the here and now. These are different players, coaches and schedules playing different players, coaches and locations. Chemistry and situations are all completely different, too. And this team is built to win now, not next year. I'm sure when certain players are drafted, etc., there's a long-term plan in mind for their development and all of that, but the core of this team is back and ready to win. The personnel and playbook is virtually the same, too. Let's scrap talking about 2015 and 2016 – it's as relevant as talking about 2018.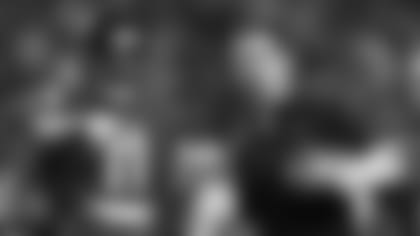 ---
Alan from Tallahassee, FL
Hello Beek, longtime fan and first-time writer. Here are my 2 cents on things. I don't see the backs in the passing game as much as they were. Wide open spaces are a beautiful thing. Also, it seems to me the other teams are making better halftime adjustments and the second half results reflect this. Enjoy the column. What do you think? Also, an FSU fan so I feel the PAIN. Thanks.
Matt: Hey, Alan. And thanks for the kind words. Here's the thing about the Falcons offense and, your concern, getting the running backs more involved in the passing game: They need more possessions. Plain and simple. If they can get the ground game going – just stick with it – it'll open things up. More plays mean more opportunities, and more chances to hit keep the defense on its heels and move the chains. They need to create more turnovers on defense and stop turning it over on offense. Also, the penalties are killing them at times. Regarding your so-called pain as a Florida State fan, you get no sympathy from me! You guys have it had it pretty good the last few decades. I went to West Virginia University and long before I got to Morgantown, the Mountaineer faithful ran off their coach – some chap named Bobby Bowden – and he landed in Tallahassee. Oh, and Jimbo Fisher is from West Virginia, too. (And you probably knew Nick Saban was, too.) The rest is history. So, you're welcome.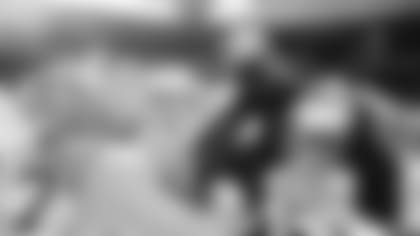 ---
Lorenzo from Americus, GA
Why would a professional team bring a college offensive coordinator in to call plays for them? The Falcons need a coach that has experience to make them better not to make them fall apart. That's what's happened. When they are not getting the right plays at the right time and we really need someone who knows what they are doing because they have the players. The defense can only do so much. If you can't score any points you can't win games.
Matt: I could answer this in a number of ways, but I'll just politely encourage you to do some research on Steve Sarkisian's past experiences. He's more than qualified to be an offensive coordinator in the NFL, including this veteran team with a number of playmakers. Sarkisian has coached in the NFL before and he's led some prolific offenses at some big-time programs, including Washington, USC and Alabama. He's also coached under some pretty good coaches, including Pete Carroll and Nick Saban. He's a smart guy and you can bet your bottom dollar the Falcons did their homework on him. Just be patient.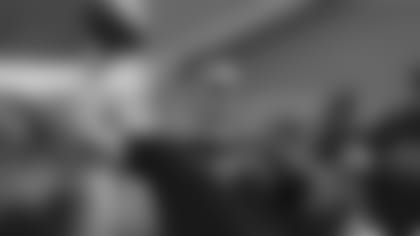 ---
Hey Beek, love reading your column every week. Do you think Dan Quinn will take over the play calling on defense at any point this season? With almost every starter returning plus great new additions to the defense, they have been drastically underperforming in terms of creating turnovers, getting off the field, and committing dumb penalties. Would love to see more energy from everyone, also.
Matt: Hey, Evan. And Straight from the 'Beek is not a weekly feature – it runs every morning, Monday through Friday. So get on board and tell all your friends! Regarding your question, no, absolutely not. A lot would have to go south for that to happen, plus the defense is playing well enough for them to win more games. The problem is that they're on the field too much – and the offense needs more possessions. I'll agree regarding the turnovers, though. They need to create more. Keanu Neal did a nice job last week against the Panthers with the two forced fumbles. That's a good start.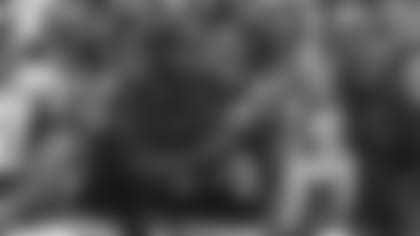 ---
Hi Matt, first-timer here. Been a die-hard Falcons fan since '66. Born and raised in ATL. Anyway, I feel like it's Super Bowl hangover. It's like in New York, the media can kill. My question is with all the Falcons fans out there, why don't these "Fans" go out and back the team. Lots of empty seats at the stadium? Try backing the Birds and quit (complaining). Thanks, Matt.
Matt: Hey, Tony. I'll say this much – there's a ton of football left to be played, and the Falcons have five games alone against NFC South opponents. That's huge. As far as fans go, I'll agree with you there – cheer the team on, win or lose. Show up, stay in your seats, be loud and proud.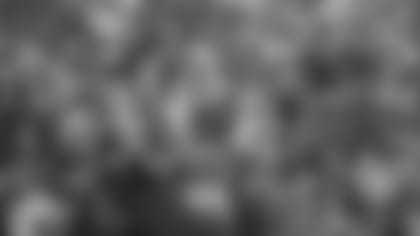 ---
Beek, I love your content and follow it weekly. I don't so much as have of a question for you but more so a statement to the fans … a statement I'd feel privileged for you to put out there and shine your opinion about it. So here goes nothing.
OK, something I have to get off my chest. I consider the Falcons' difficult first half of this season a compliment and I'll explain below. But first I want to say that I am so over fair-weather Falcons fans! The ones who point out that we don't seem like the same team as last year, and how we should replace Matt Ryan. Are you all insane!?! Firstly, I agree ... WE ARE NOT THE SAME TEAM AS LAST YEAR! Last year we were underdogs. We were underestimated. Our talent was barely even a SportsCenter talking point, but we went out every week doing what Quinn preaches Ball, Brotherhood and Battle. Next thing you know these underdogs from Atlanta are in the Super Bowl and destroying one of the most winning teams in recent Super Bowl history (even though I find them to be ruthless cheaters). No one saw it coming! No one thought we had a chance and, no, it didn't end the way we wanted. But we defied all odds nonetheless. This season was started out of the gates with high expectations – every fan and rival expecting the same exact outcomes as last season. But like I said we are a different team – not in talent, skill or playing ability – but because of expectations. No one feared us last season, no one even started to see us as a force to be reckoned with until playoffs. No one even truly acknowledged our beastly and dominating power until the first two quarters of the Super Bowl. But now, we aren't a secret anymore. Our talent and depth is well known. Players like Julio Jones and Matt Ryan are studied by the coaching staffs of competitors. The teams lined up to face us this season aren't coming into the games thinking they are playing just any other team. No, the opposite. They are coming in prepared to battle the titans they awakened last year, they are coming prepared after off season, camp and preseason getting ready to face us and our style of play. They are coming in trying to handicap our giants. I still believe in the power and talent of this team. And yes, I consider it a true compliment that no team has come into a game unprepared to go to war with us. We are no longer the overlooked we have become a standard. Be proud Atlanta! You represent a city of pride, strength and the ability to RISE UP from adversity. Don't turn away because this season is harder. Realize that it's harder because we rose up so high last year – and that leaves a lot of room to fall and very little room left to rise. But RISE we will again. Have faith and hold on. Our history is only beginning!
Matt: I've always said this space is where you, the fans, can voice your questions, thoughts and concerns. And once and a while, like today, I simply run your comments. I think Anna's thoughts capture what a lot of Falcons fans are feeling these days.