Good morning and welcome to Straight from the 'Beek! We're just days away from the Falcons' showdown against the Dallas Cowboys on Sunday – and you've got plenty of questions. Just remember that all opinions you see in this space are mine, unless otherwise noted.
When does the Jalen Collins suspension end? And is he practicing or allowed to practice? I think Brian Poole could use some help!
Matt: Hey, Kendall. Jalen Collins will be eligible to return to the Falcons' active roster on Nov. 21, the day after Atlanta's Week 11 "Monday Night Football" game in Seattle. Collins was eligible to participate in all preseason practices and games leading up to Week 1 of the regular season.
---
Hey Beek, I would like to see the Falcons with two backs in the backfield in short-yard situations. I don't understand why they continue to put one man in the backfield or everyone on the line in those situations. What do you think?
Matt: Hey, Quinten. The Falcons did use two-back sets in short yardage situations at times against the Panthers. The problem was the Panthers won in the trenches in those situations. Here are two different plays from last Sunday: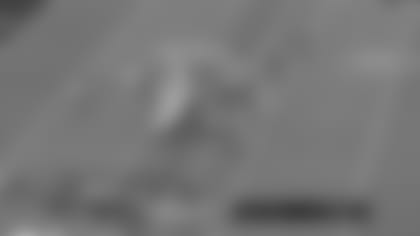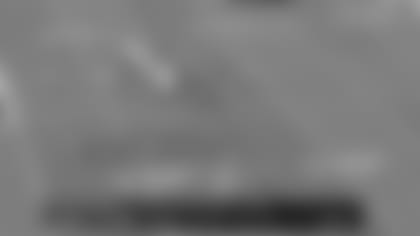 ---
Do you think that the offense trusts Steve Sarkisian? Or are we looking at a group of guys who are mourning the loss of what they were last season rather than being excited about what they could be this year?
Matt: Judah, I'll be as nice as I can here about this topic. This team has moved on from 2016. I've written this countless times and will continue to as long readers keep asking. They've moved on from 2015, too. And no one is talking about 2018. Also, no one is "mourning the loss" of any coach from last year. Coaches and assistant coaches move from team to team all the time, especially when it's a promotion or better position – and players get that. They move around, too. It's part of the business.
---
Jaydon from Stockbridge, GA
Why does Matt Ryan wear a glove on his non-throwing hand?
Matt: Ryan started wearing a glove on non-throwing hand after injuring his thumb in Week 3 of last season. It reportedly gave him a better grip on the football so he stuck with it. And he's been wearing it ever since. He did, however, take off the glove in the Falcons' win over the Jets a couple of weeks ago because it was raining so hard — and the glove lost its tackiness.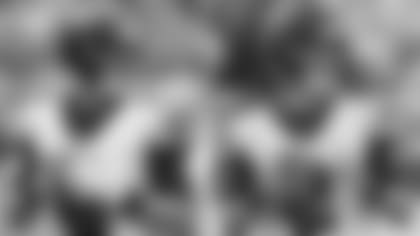 ---
So, 'Beek -- you've repeatedly stated that play calling isn't the issue with the offense. Yet, when asked on Thursday about the RBs, you stated that they need more touches, and that the offense needs to stick with the running game? Which is it, sir? Can't have it both ways.
Matt: I don't have a problem with the plays that have been called. I do have a problem with the lack of possessions – and so does Falcons coach Dan Quinn. Less possessions means less plays, Brian. And less plays, means less rushing attempts. This Falcons team needs to get the running game going in order for the offense to click on all cylinders. And there are a number of reasons why the Falcons have had less possessions – turnovers and penalties are the biggest culprits. And last week against the Panthers' top-ranked defense, the Falcons struggled in short-yardage situations. And, yes, I'd like to see more runs overall. So would Quinn, who said he'd like to see the carries in the "high twenties."
---
Do you think the Falcons can still win the division?
Matt: It's still possible and, yes, I think they still can, Mike.
---
Kayvon from Charlotte, NC
What's up, Beek? So, I don't know if this is just me being super optimistic and hopeful or what, but I really believe the Falcons are far from out of the playoff discussion. The Falcons could easily be 7-1 right now. The Patriots game was the only game that we did not have the ball with two minutes or less to go and a chance to win the game. I don't see this season over one bit, especially since we have only played one division game. With that being said, we must at least split these next two games with Dallas and Seattle. My question, though, is what are your thoughts on why this offense hasn't been able to stay on the field and keep possessions going? I was at the game last week and I could just see the defense completely gassed because the offense would come out run three plays and then punt the ball. It just seems odd to me with so many weapons. Going into the season, it seemed the only way we would lose is by getting outscored in a shootout. The truth of the matter is that our defense has been better. What are your thoughts on why this is? And do you believe it's fixable?
Matt: Yes, the key is to convert on third down. Against the Panthers, the Falcons were 4 of 12 on third down. They were also 0 for 3 on fourth down. If the Falcons convert those, that's at least three more offensive snaps each time – and it keeps the defense resting on the sideline.
---
Hey Beek! The Falcons offense does one thing that not many other offenses can: create bad matchups with all personnel sets. We have size, strength, and speed in all positions and it's tough to consistently matchup with that. At times it seems we are trying to be too "cute" instead of going right after the defense, especially in short-yardage situations. I know against Carolina on some short-yardage plays, their D-line stood up our O-line up and stopped the play; these are professional athletes and that's going to happen. But I would like to see more power, or "try and stop us" play calling. Exploit the bad matchups and get after these defenses for four quarters.
Matt: Thanks for your comments, Evan. I'm all for trying to create an advantage or a mismatch, too, but at some point you should be able to put a hat on a hat, and power ahead for a yard or two. Or even a quarterback sneak would be nice once and a while. But I'm no coach. I think at the end of the day, too, you have to give credit to the defense for making the plays. The Falcons have faced some pretty stout fronts during these first eight games.
---
Wow, Anna from Suwanee! You gave me chills. Have you considered motivational speaking?!!!
Matt: In case some of you missed it, I wrapped up Thursday's Straight from the 'Beek by posting a heartfelt email I received from Anna in Suwanee, Ga. Check it out here.
---
Carlos from Tallahassee, FL
Do you think the team is trying too hard to be like last year team offensively?
Matt: No, Carlos. This team is simply trying to win games and doesn't talk about last year or the year before. It's a different team with different players, coaches and a different schedule, too.
---
Malachi from Carrollton, GA
Beek, what do you think about our team's depth? I feel like we're really deep in certain areas but the players who we have aren't that good. I've heard a lot about drafting a receiver in the draft this year or a safety, but I think we draft a quarterback. Matt Ryan still has four or five years in him, but why not get Baker Mayfield, Mason Rudolph, or Lamar Jackson (who is very Micheal Vick-ish, with better throwing ability). They could sit behind Matt for four years, and learn, and re-sign to be our next QB. What do you think?
Matt: The pie can only be split so many ways under the salary cap, Malachi. Once teams start handing out bigger contracts to certain players, there's automatically less to go around. If teams are strong at a particular position and have depth there, eventually those players are going to want to be compensated – whether it's with their current team or elsewhere. If players, as you put it, aren't very good, is there really depth there? I'd argue there isn't. As far as the NFL Draft goes and drafting a quarterback, you're getting way ahead of yourself there. I'm all for taking the best available at any position in the first round, even if it's a quarterback. You don't know where the Falcons are going to be picking yet or if any of those would be rated high on their draft board – or even available. No player that talented is going to want to sit for four years, either. If you draft a quarterback in the first round nowadays, they're expected to play right away or by Year 2. I'm not saying I always agree with it, but that's the reality. Same with coaches. I think they should be given at least three to four seasons at the very least, but that's not always the case with the win-now mentality that's so prevalent.